Five takeaways from Chuck Martin announcement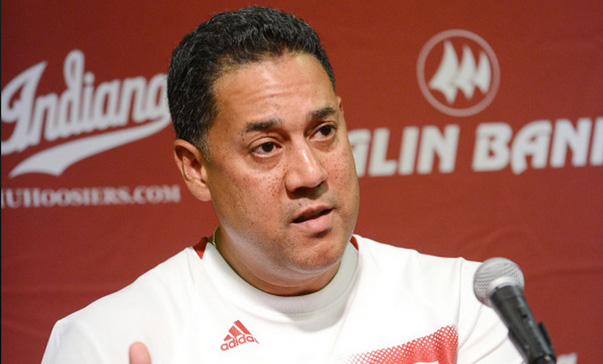 Indiana coach Tom Crean announced the hiring of new assistant coach Chuck Martin in a press conference on Monday afternoon at Assembly Hall, which officially fills a staff vacancy heading into three critical July evaluation periods.
Here's a look at five takeaways from the Martin announcement:
· Crean did his due diligence: While Martin has been in the fold since mid-June, Crean said he wanted to make sure that both Martin and his wife, Lee, could be in Bloomington to announce his hiring and with camps going on in Bloomington in recent weeks, Monday was the date that worked best to make the announcement. When the job opened in late April before the evaluation period, Crean didn't rush into anything and as the process moved on, Martin established himself as the best fit.
"Jayd (Grossman) had called Calbert (Cheaney) right away, when it looked like Kenny (Johnson) was going to leave to see what his stance was," Crean explained. "I don't think Calbert was in a situation where he was looking to move. I definitely talked or had one other person in and did some research on others.
"But, really, for where we're at with this youth and where we've got to go and continue to grow not only on the court but off the court maturity wise and all those things that come with having such a young team, when I kept hearing everything about just this is what he did here, this is what he did there, this is the kind of situation and how he deals with things and this and that, it was pretty easy."
· A comprehensive background: When his name emerged as a potential candidate, Indiana fans may not have been familiar with Martin. But his background suggests that he'll be able to add a variety of skills to the coaching staff. He's been an assistant coach at a major college program in Memphis, a head coach at Marist and also worked in scouting for the NBA for one of the league's top franchises.
His tenure at Marist didn't end like Martin would have wanted, but he said that experience, coupled with the other jobs he's held, have made him a more complete coach.
"I've always said when my tenure was up at Marist, I always felt like whoever hired me next was going to get a better version of me just because of the experience," Martin said. "And I'm certainly better for sure after being a head coach."
· Martin on his recruiting philosophy: Recruiting is the lifeblood of any major program, but developing players once they're on campus is just as important. This is particularly true when you're not primarily recruiting one-and-done players and Indiana has only had one of those under Crean in Noah Vonleh.
So what is Martin's approach to recruiting? Will he focus on landing the best available talent or finding the best fits for the program? The answer to that question, according to Martin, lies in finding the best combination of talent and fit.
"Clearly for me I would like to get involved with the better players in the country, but that doesn't always work," he explained. "It's about getting the right fit. I learned that with the Thunder. We've had guys who were very critical of the Thunder last year when we took Steven Adams from the University of Pittsburgh who averaged 4 points and three rebounds. He helped us win 15 games this year and get close to 60 wins and get to the Western Conference Finals. It's not always about how highly they're rated, it's about what is their talent – Can we use their talent – Does it fit with the scheme that we're trying to execute here in Indiana?"
· Expanding on his role in Oklahoma City: When Martin left Marist, he made the transition to scouting in Oklahoma City, one of the most successful organizations in the NBA. As an information driven franchise, Martin's attention to detail that he acquired while working in that franchise is something he said he hopes to bring in Bloomington.
"I think the biggest thing in the NBA is there is no timetable," Martin said. "Like in college there is a timetable. You have to sign someone in the early period, and you've got to sign someone in the late period. In the NBA it's just a draft in June, so it gives you … you don't have a knee jerk reaction. You watch him once. You watch him a second time. You go back home and you watch him on film. You speak to his high school coach, his collegiate coach, his AAU coach, you just keep going, keep going. As you continue through that process, you kind of connect the dots, and then eventually there is a picture, and you can see who this kid is on the court and off the court. That was something, quite honestly, that I did not have prior to the Thunder. I think that's something that I can bring to Coach Crean and Indiana. Just kind of keep plugging away, keep calling, keep digging, keep watching, watch film, game footage, practice, and eventually you'll get a chance to see who this kid really is.
"Again, on the court as a player, and then off the court we had a saying at Oklahoma, don't draft players, draft people. I think that's something I really learned with those guys that I'd like to bring here to Indiana. Just make sure you recruit on a collegiate level a complete person, not just a player, but someone that you feel good about."
· Crean talks about interview process: One of the more interesting nuggets mentioned in the press conference by Crean is how, when he brought Martin in, he actually had him workout some managers on the floor to observe how he performed in that capacity. He was asked to elaborate on that in a follow-up question and said that it's something he often does when bringing in a candidate.
"Absolutely, yeah, when I've done that in the past, it's good, you give them a couple things, ideals of what you're looking for and let them run," he said. "It's very unscripted."
Filed to: Chuck Martin, Tom Crean