Q & A: Noah Vonleh discusses future in Charlotte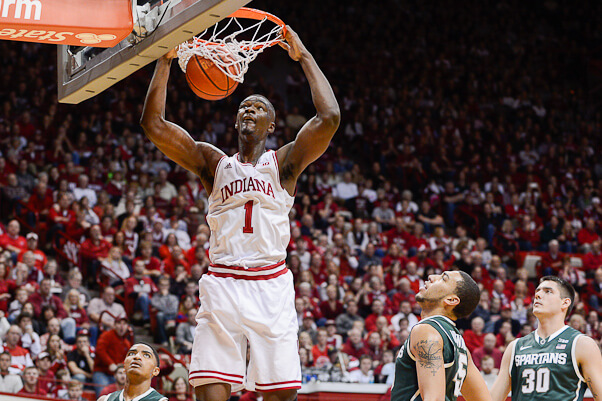 Former Indiana big man Noah Vonleh was the No. 9 pick in Thursday's NBA Draft to the Charlotte Hornets. Vonleh met with assembled media at the Barclays Center in Brooklyn afterward for a brief Q & A (transcript via ASAP Sports):
THE MODERATOR: Noah, if you'd start opening statements about being drafted by the Hornets.
NOAH VONLEH: This is a blessing. This is a dream come true to finally get picked up by a team. And just watching the NBA draft for so many years, I'm very excited to be able to go to Charlotte and start off my NBA career.
Q. Noah, congratulations. Charlotte made the playoffs. They've been making strides. Talk about how your game, especially being a stretch four, can help complement Al Jefferson's post game and Kemba Walker's outside shooting.
NOAH VONLEH: I think it can definitely complement those guys, playing in the pick-and-roll with Kemba, being able to pop, hit the shot from 18 feet, step out, hit some NBA threes, catch the ball, be able to take guys off the dribble, and just use my versatility to the best of my abilities.
Q. Noah, kind of known around the NBA Michael Jordan signs off on who gets picked. Being picked by Michael Jordan, what's that say to you, and what do you feel like?
NOAH VONLEH: It's a great feeling being able to be picked by the greatest to play the game. He obviously saw something in me. I didn't even come into Charlotte to work out, so I guess I was the best available on the board, and he saw something in me. And they ended up choosing me. So I'm very blessed and excited.
Q. Excited about Charlotte?
NOAH VONLEH: Yes, sir.
Q. Congratulations.
NOAH VONLEH: Thanks.
Q. Charlotte went and made the playoffs this year. What do you think you can do to help that team improve, maybe get a home court series in the playoffs? What do you think you bring to that team and help them improve?
NOAH VONLEH: I'm a young guy. I have a great work ethic. I bring — right away, my rebounding translates to the next level. I'm a versatile player.
Like I said before, playing in the pick-and-roll with Kemba, pop in for midrange jumpers, three-pointers, and just basically trying to showcase my game and help my team.
Q. Cody Zeller is already tweeting the flight from Indianapolis to Charlotte is only an hour and a half. I know you didn't play with him, but what's your relationship like with him?
NOAH VONLEH: I talked to Cody a little bit during the season and a little bit as I was getting into the process of getting ready to come out — deciding to come out for the Draft, and he just helped me out, gave me some pointers about the league and things like that. So that really helped out a lot. I think now that I'm there in Charlotte with him, we'll definitely have a better relationship.
Q. You're still only 18 years old. What made you so NBA ready at such a young age?
NOAH VONLEH: Just the gifts from God. I'm 6'9 1/2″. I'm 250 pounds. I was blessed with big hands and just a great body. Just the skills I possess, it's just a blessing from everything — a gift from God to have these abilities.
I thought that's why I was NBA ready. I just had a good year at Indiana, also. And it's always been a dream of mine to play in the NBA, and I thought it was time to come out.
Q. What do you look most forward to about going to the Garden, playing in your home state?
NOAH VONLEH: It's going to be great playing in front of family and friends. A lot of people, they thought I was going to be playing in the NBA, and now it's finally here. It's going to be great going back there and playing in front of them.
Q. I have to say, I love the bow tie. I've been seeing a lot of players doing it. Can you make your own bowtie? It's a skill I'm very envious of. How did you come up with the shirt? I like the fact that it's not monochromatic. You actually mix up the colors.
NOAH VONLEH: I wanted to go something different. A lot of people tried clean suits. I wanted to try colors out. A lot of colors look great on me. I wanted to try something different. And I went with the bowtie to try something different.
Q. There's been a lot of other guys from the New England area that have recently entered the league. Obviously, Shabazz is going to be picked soon. Nerlens Noel, Michael Carter-Williams, have you had discussions with these guys on just life in the NBA?
NOAH VONLEH: Me and Shabazz, we were talking a lot during the day about how it's crazy we're both going to be in the NBA. We are both from Boston, and it's a blessing how we're going to be chasing our dream in the NBA.
And I talked to Nerlens, too. He told me if I need any advice in the NBA, just let him know. It's great to have him in the circle.
—
Additionally, here is more from Vonleh from a post draft conference call:
(On his reaction to being selected by the Hornets)
"I was a little surprised because I didn't work out for the Hornets so it was a little bit of a shock, but I'm happy and excited that they saw something in me."
(On Charlotte)
"I know they are an up-and-coming organization in the NBA. They've got young guys like Kemba Walker, Cody Zeller, Michael Kidd-Gilchrist, Al Jefferson also, and a few other young guys. They're an up-and-coming organization in the league. I know Michael Jordan is the head of everything over there. It'll be nice to have him as a boss."
(On the skills he can bring)
"I think rebounding right away. That is something that will definitely translate. I think I'm versatile – I can be a stretch forward, make jumpers, hit the threes. I play pretty well in the pick-and-roll. I can play pretty hard and do whatever it takes to win."
(On not working out for the Hornets)
"My agent told me that the Hornets were interested in me but they didn't think I was going to fall to nine. I think they were surprised but it all worked out pretty well."
(On his relationship with Cody Zeller)
"I talked to him a bit every now and then. He helped me with the draft process so it was good to have him in my corner. He texted me, I saw his name pop up on my screen but my phone has been blowing up so I haven't gotten the chance to text him back yet."
(On his passing and ball-handling abilities)
"Growing up I was real versatile, I was playing like a point forward throughout high school. I didn't get to do too much of that in college, which was a little bit of an adjustment. But that's something I have always been able to do, handle the ball. I definitely want to be able to do that at the next level. In high school, I played point forward, taking the ball to the rim, pushing it even further down, so that's something I can definitely do."
(On reclassifying in order to go to college early)
"I re-classed in 2014 so I could jump back up to my original class and go to college early."
(On playing for Tom Crean at Indiana)
"I think he used me pretty good to what he thought would help the team, where he thought I'd be best and help the team win. I adjusted pretty well to where he put me. I wouldn't say it worked out because we didn't make any tournaments, but he put me where he thought was best for the team."
(On what fans can expect from him)
"Hard work and play. I've got a great work ethic and I will play hard from day one and try to make my way into the rotation. I bring a lot of energy to the floor."
(On Al Jefferson)
"I've talked to Al Jefferson a couple times. He's in the same agency I'm in so I've gotten to talk to him a few times, so it'll definitely be great to play alongside him and learn some things about the league, how to go about myself in games and things like that. I think it'll be pretty great to play on the court with Al."
Filed to: Noah Vonleh