Draft watch: Projections mixed on Vonleh's landing spot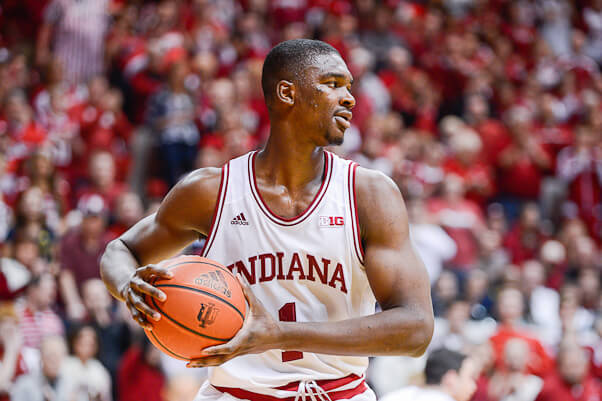 We're just a little more than 24 hours away from the 2014 NBA draft and also from learning where Indiana's Noah Vonleh will play at the next level.
Vonleh is already in New York for the draft, which takes place tomorrow at the Barclays Center in Brooklyn. In our final edition of draft watch, we'll take a look at the latest mock draft projections, where Vonleh thinks he may land and more:
Current projections (as of 6/25/14, 12:30 p.m. ET)
· ESPN's Chad Ford: No. 4 to Orlando
· ESPN's Jeff Goodman: No. 3 to Philadelphia
· Yahoo! Sports Marc Spears: No. 5 to Utah
· Sports Illustrated's composite: No. 5 to Utah
· Draft Express: No. 5 to Utah
· NBADraft.net: No. 5 to Utah
The injury news regarding Joel Embiid has caused a shake up at the top of the draft, with both Ford and Goodman moving Vonleh into the top four picks.
The latest scenario laid out by Goodman has Vonleh moving up to No. 3 to Philadelphia and Ford has Embiid sliding all the way down to No. 6 with Dante Exum moving up to No. 3 and Vonleh at No. 4.
In an interview with Andy Katz of ESPN.com on Wednesday afternoon, Vonleh said he believes he'll be picked in the top four. Considering Vonleh only worked out for six teams that we know of — Philadelphia, Orlando, Utah, Boston, the Los Angeles Lakers and Sacramento — he appears to be a lock to be drafted in the No. 3 to No. 8 range.
The complete order for the lottery is as follows:
1. Cleveland Cavaliers; 2. Milwaukee Bucks; 3. Philadelphia 76ers; 4. Orlando Magic; 5. Utah Jazz; 6. Boston Celtics; 7. Los Angeles Lakers; 8. Sacramento Kings;9. Charlotte Hornets (via Detroit Pistons); 10. Philadelphia 76ers (via New Orleans Pelicans); 11. Denver Nuggets; 12. Orlando Magic (via New York Knicks); 13. Minnesota Timberwolves; 14. Phoenix Suns
Latest buzz
A couple of interesting reads have come out since our last edition of draft watch, one from Ryen Russillo at Grantland and one from Seth Davis of Sports Illustrated, that have candid observations on all of the top draft prospects, including Vonleh.
Both pieces have quite a bit of information if you'd like to study up on the draft, but we've blockquoted a few of the more interesting takeaways below. First, from the Davis piece, an interview with "Finch," an NBA scout:
"He's not super explosive, but he will absolutely rebound the basketball. He plays with passion. He'll be a very solid NBA player for years. He's a little short for a four but he makes up for it with incredible length and big hands. He's a really thick human being. Why didn't he dominate at Indiana is a huge question, because he scores in a lot of ways."
And from the Russillo piece via "Scout 1," an unidentified talent evaluator:
His NBA team needs to let him dribble. Don't think he'll be a star. It's not his personality. He's a starter but has to be your third- or fourth-best player.

I like him — [I'm] not goo-goo-ga-ga over him. Work ethic is a question because he wasn't in great shape when I saw him. How is that possible? June 26 is the biggest night of your life. He said he was hurt, which I get … but does that mean you can't get on a bike? This is an audition. It's not an overriding factor, but you consider it.

Like him as a kid, not sure what happened at Indiana. He didn't get a lot of minutes, and I'm not sure he wanted to leave. Too good of a kid not to figure it out.
Our friends at CityLeagueHoops also put together footage of Vonleh from his high school days on the heels of his entry into the NBA:
Coverage of the 2014 NBA draft begins at 7 p.m. ET on Thursday on ESPN.
Filed to: Noah Vonleh