Class of 2015 big man Raymond Spalding "a big priority" for Indiana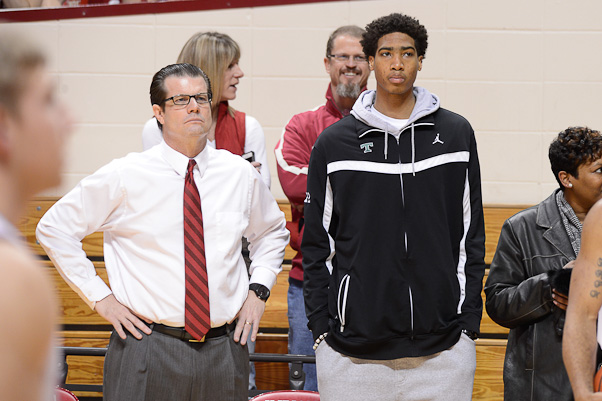 LOUISVILLE, Ky. — While it was only a summer league game played in front of less than 100 people on a Wednesday night in June, Louisville Trinity (Ky.) coach Mike Szabo was still working the sidelines and coaching his top player, rising senior Raymond Spalding.
Trinity reached the final four of the Kentucky state tournament last year, falling to Scott County 62-56 at Rupp Arena.
To get back there again in 2015, the Shamrocks need a big summer of improvement out of Spalding. Adding strength, becoming more aggressive on the glass and continuing to become more comfortable shooting away from the basket are just a few of the areas where Spalding can continue to grow.
"As a player, I need a coach like that to develop and be after me every minute of the game," Spalding told Inside the Hall on Wednesday. "I think he does a great job in practice, workouts and in games to push me."
A 6-foot-10, 210 pound post player, Spalding is a priority recruit for Indiana, which offered him a scholarship in March after scouting him frequently during his junior season.
Spalding took an unofficial visit to Bloomington last season for for IU's win over Michigan in early February.
"I'm a big priority to those guys. It's great, I love hearing stuff like that," he said. "In that program I feel like I can fit in well. Coach (Tom) Crean, he's a great guy. Coach (Tim) Buckley does a great job. They've done a great job recruiting me."
The Hoosiers, however, have plenty of company in their pursuit of the No. 82 player nationally, according to the 247Composite.
He recently took unofficial visits to Louisville, where he picked up a scholarship offer, as well as Xavier, another school making a strong push.
"I picked up the offer from Louisville last week when I went to visit with coach (Rick) Pitino," Spalding said. "I talked with those guys and it was great. Being a hometown kid, it's very exciting to get that (offer) from your backyard school, but I don't think it changes anything in my recruitment.
"I went up and visited Xavier two days ago. I talked to coach (Chris) Mack, got to see the campus. It's a great place up there. They do it big. They're great guys, the players are great guys. Remy Abell, I followed him around a lot on my visit. He's a very funny guy."
Spalding also mentioned Clemson and Vanderbilt as schools he's interested in, but he's yet to visit either of those campuses.
He played part of the spring with the Kentucky Travelers on the Nike Elite Youth Basketball League (EYBL) circuit, but has since moved back to his former AAU team, The Ville, for the remainder of the summer.
After battling an ankle injury for part of his junior season at Trinity, Spalding appeared to be moving fine on Wednesday night as he ran the floor, challenged shots, finished around the basket and showed off an improved midrange game.
"I've had a few injuries, but the only challenge is just getting back out there and playing hard," he said. "Here at Trinity, they do a great job of getting us healthy and getting us ready for AAU and for school ball. I think they've really done a great job with me."
One area where Spalding knows he must improve to be able to contribute right away in college is with his aggression.
"Coaches tell me that all the time," he said. "I'm a nice guy off the court and sometimes I'm a nice on the court. Sometimes that needs to change over. The only way I think that's going to change is on me and based upon the coach who is coaching me."
As far as a timeline for a decision, the Trinity senior said he's beginning to think more seriously about recruiting, but hasn't finalized any plans for official visits or when he wants to make a decision.
"I've thought about it," Spalding said. "But I haven't really sat down to talk to my parents about any official visits yet."
Filed to: Raymond Spalding