Class of 2015 forward Juwan Morgan impressed by Indiana visit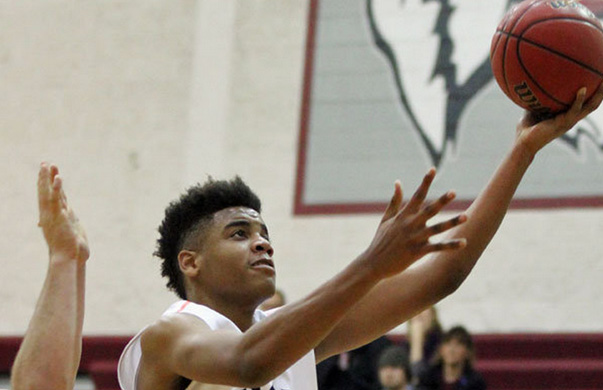 Class of 2015 Waynesville (Mo.) forward Juwan Morgan wasn't expecting to see a fanbase that has an uncommon passion for its basketball program when he arrived in Bloomington.
When his visit was over, it was clear the support he saw for Indiana basketball over a two-day unofficial visit surpassed his expectations.
"Yes (it met them) and more, actually," he told Inside the Hall on Tuesday evening. "At first I thought the fanbase was just like any other fanbase. But after seeing videos and things like that of games and the fans going crazy, it's like you could feel it while you're sitting there watching it on the screen.
"The whole place was nice and the people who were around the campus love the basketball team. Even just riding around the campus, there were people walking past the (golf) cart saying, 'Go Hoosiers,' and things like that. It was just a great experience."
Rated the No. 98 prospect nationally by the 247Composite, the 6-foot-8, 210 pound Morgan has become a major priority for the Hoosiers in recent weeks.
Indiana scouted him with his MoKan Elite team in the Nike Elite Youth Basketball League (EYBL) session in late April in Sacramento and in late May, began making a strong push in his recruitment.
"It was probably three weeks to a month ago," he said. "At first it was just me talking to coach (Steve) McClain once or twice a week, but then after the Minnesota (EYBL) session was when it really started getting stronger and then they wanted me to come for a visit and that's when they offered, which was like two weeks ago."
The coaching staff is also pursuing Morgan's AAU teammate, class of 2015 guard Shake Milton, who was on also on campus on Monday for an unofficial visit.
"Shake and I are real close," Morgan said. "That was a great thing (that we visited together) because before we joked about going to college together and then a school like Indiana, if Indiana wants you to come play basketball for them, you don't take that lightly. It was just cool that they are actually recruiting us both and it was just great being there with him."
Morgan said he spent time meeting with the coaches, touring the campus and also playing in open gym while on his visit.
One of the things that stood out for Morgan was how the coaching staff and players interacted with him and made him feel like he was already on board with the program while on campus.
"It was a great experience, all of the coaches were real nice, real good people," he said. "It felt like I was already a part of it with how they were treating and talking to me and with all of the players, how I fit in with them and everything."
Getting a chance to play in open gym, he said, was a valuable experience because it allowed him to measure himself against talent similar to what he'll face at the next level.
"I felt like I did pretty good for the most part," he said. "On the rebounding, I could still get on the glass and get boards against bigger and stronger people. I do have to work on getting stronger and faster because that was like a whole other level playing with them."
Morgan, who is averaging 10.9 points on 69.2 percent shooting in EYBL play to go along with 6.2 rebounds per game, already has a plan for the rest of the summer and the fall as far as recruiting goes.
Besides Indiana, he mentioned Creighton, Wake Forest, Vanderbilt, Washington, Northwestern and Arkansas as the schools recruiting him the hardest.
"I'm still just taking visits and everything and officials will come probably around September or October," Morgan said. "And then I'll be making my decision in November before the high school season starts."
Filed to: Juwan Morgan