Video, notes and quotes from Tom Crean's speech at Huber Winery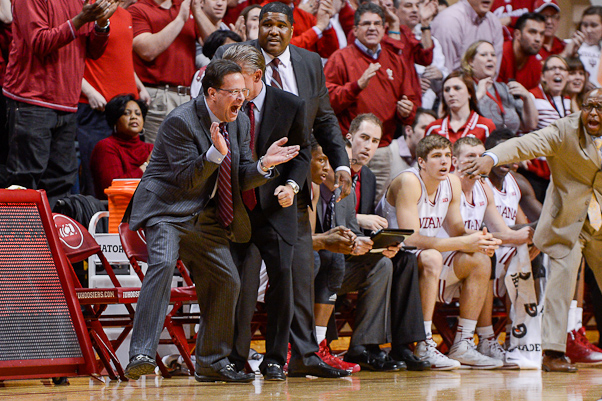 STARLIGHT, Ind. — The first stop on the Indiana Athletics "On the Road" tour for 2014 was Wednesday night at Hubery Winery in front of more than 500 Hoosier fans.
Athletics director Fred Glass addressed the crowd, as did men's soccer coach Todd Yeagley, women's basketball coach Curt Miller, football coach Kevin Wilson and men's basketball coach Tom Crean.
We'll have more over the coming days from the event, but here's the complete video from Crean's speech as well as some notes and quotes:
· Crean discussed some of the core issues that led to Indiana's 17-15 a season ago, highlighted by turnovers: "Our decision making, our turnovers, our ability to make timely shots was not where it needed to be. We were 2-5 in the Big Ten in games that came down to one possession."
· All of those issues, Crean said, were addressed by the staff throughout the season: "We got better at some things throughout the year. But our turnovers and things like that continued to grab us. But it wasn't because we weren't working at it, it wasn't because they didn't care, it wasn't because they didn't work hard. They didn't always know how to put that foot down and just absolutely bear down and say 'we're going to get it done.' We didn't do that."
· Crean said IU's deflections last season were at an average of 50 per game, which is two higher than the Big Ten championship team in the 2012-2013 season.
· Indiana began offseason workouts one week after the season ended and they've had 21 individual workouts in the spring while the team was still in school and 35 weight lifting sessions.
· Crean on the offseason mindset of improvement: "We weren't going to take the spring and summer and just say, 'well, we'll just get better.' No, we're going to force feed what needs to be done. Constant improvement. Daily basis, no question about it, has to happen."
· Crean said players are expecting to begin arriving back on campus this weekend and the work begins next week.
· Indiana will take a foreign trip to Montreal in August and Crean explained the reasoning behind that destination: "Because it's close, it's logistically easy for us to get to, it's easy for our fans to get to if they want to get there. We don't have to spend a lot of time traveling back and forth and they can still get a little break before they come back to school at the end of August. And we're going to see some teams that can play."
· Crean confirmed non-conference games with Butler, Georgetown, Louisville, Pittsburgh and SMU. "I wish we could have had one of those games move into last year. Just one of them. And we made some decisions schedule wise that we had some things sitting out there that didn't work out that way, but now they come to fruition this year."
· Crean said he expects Indiana to one of the youngest teams in the Big Ten once again.
· Both Collin Hartman and Hanner Mosquera-Perea are in Bloomington for the first summer school session.
· On what Indiana will add shooting wise: "We lost two guys that made four 3s in the Big Ten. (James) Blackmon Jr., (Robert) Johnson and Max Hoetzel will make that in a half, early this year."
· Crean said that Blackmon Jr. and Johnson will have to play this season and that he believes Hoetzel will play as well as "he's been well coached and he's getting better."
· On the two late additions, Tim Priller and Jeremiah April: "They've got upside. They've got skill level that they bring in."
· On continued recruiting efforts for the 2014 class: "We're still active right now. We have two scholarships. We may use them, we may not. But we're active, we're active. A lot of it is underground, but we're active because we want to continue to build this team the best possible way that we can."
· On the kind of players the program wants to attract: "No. 1, they can bring something to the chemistry. No. 2, they're not frontrunners. When things are going well, there they are. When things aren't going good, there they go. We don't need that."
Filed to: Tom Crean