Draft watch: Vonleh sets four workouts, stock on the rise?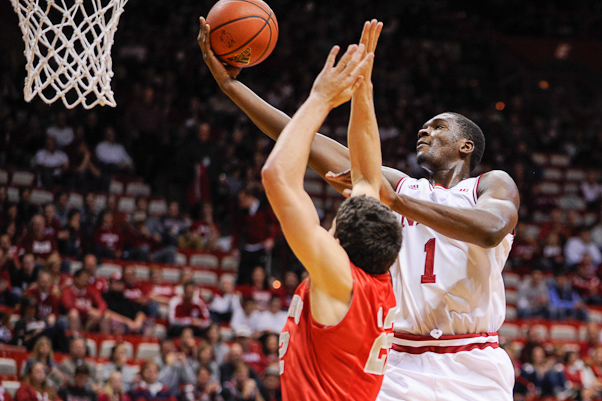 Less than a month remains until the 2014 NBA draft at the Barclays Center in Brooklyn and Indiana's Noah Vonleh continues to prepare to become the program's third lottery pick in the last two years.
In our latest edition of draft watch, we provide another update on Vonleh's draft stock, look at where he has workouts scheduled over the next couple of weeks and also examine where his stock may be headed after an impressive workout on Wednesday:
Current projections
· ESPN Chad Ford: (5) to Utah
· ESPN Jeff Goodman: (7) to Los Angeles Lakers
· Draft Express: (7) to Los Angeles Lakers
· NBADraft.net: (5) to Utah
Workouts
Per ESPN.com's Jeff Goodman, Vonleh has the following workouts scheduled:
· June 2: Sacramento
· June 4: Los Angeles Lakers
· June 9: Orlando
· June 12: Boston
Latest buzz
Vonleh worked out on Wednesday in New York and according to Chad Ford, could see his stock rise if the following notes from NBA executives are any indication:
· "Vonleh's got elite physical tools and is very skilled. He should be in the same group with (Andrew) Wiggins, (Joel) Embiid, (Jabari) Parker & (Dante) Exum"
· "Vonleh was good. Didn't shoot it well but everything else was very good to ridiculously good" according to 1 NBA exec.
Also in that workout were Syracuse's Tyler Ennis, Iowa State's Melvin Ejim, Ohio State's LaQuinton Ross, UNLV's Khem Birch and Missouri's Jordan Clarkson. That group has been training together in preparation for the draft with trainer Jay Hernandez.
Additionally, Ford was asked in a recent chat over at ESPN.com to evaluate which prospect — Vonleh, Julius Randle or Aaron Gordon — has the most long term potential.
"Between those three — Vonleh probably has the best chance of being special," Ford wrote. "Unique combination of physical tools and skills. I'm a fan of all three, however. Gordon has some Andrei Kirilenko and Shawn Marion in him which could be a nice fit."
Filed to: Noah Vonleh