Glass: "We're looking forward with great optimism"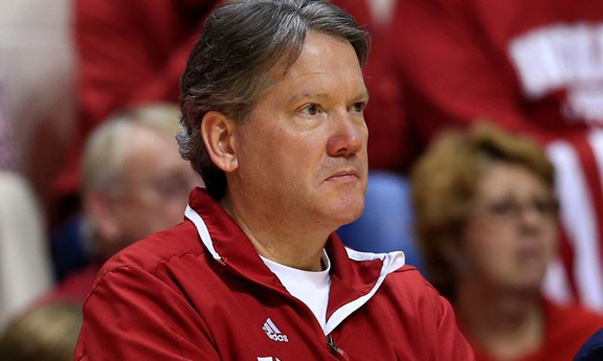 Indiana athletics director Fred Glass was on The Zone with Jason Anderson on Thursday afternoon on ESPN 680 in Louisville and discussed a variety of topics, including his outlook for next season, fan frustration, his thoughts on Tom Crean and much more. Glass also discussed the Indiana baseball team, which opens regional play on Friday as well as the football program.
Here's a transcript of some of his basketball-related comments:
On whether it's easy to turn the page from last season:
"Well, it's always more welcome to turn the page when you didn't really like what that page was. Like in Louisville and Lexington and all of the strong programs right in the heart of your listening area, if at IU we're not in postseason play, it's by definition a disappointing season. There certainly were bright spots, we had a lot of big wins and we were nurturing a really young team and playing in a really tough conference and so forth and so on, but ultimately, Tom Crean would be the first one to say that this isn't really where we want to be.
"So we're looking forward with great optimism. We're going to have, I think, a really exciting team next year, a couple of McDonald's All-Americans in the backcourt, maybe the best point guard in the country in Yogi Ferrell, some exciting other players. We'll be playing an uptempo, fast style that I think our fans will enjoy so we're very much looking forward and excited about what Tom Crean has built and I think last year was a little blip on the screen not to be unexpected when you're reloading from having five guys that are playing professionally now on that team two years ago."
On his "We're Indiana" quote in regards to rejecting a CBI bid and whether he believed it would get the feedback that it did:
"I really didn't and sometimes I get in trouble with my big mouth. But I stand behind it because I think it's just better to call a spade a spade. I just think a program with our legacy and the stewardship that I feel to help guide what is a premier program shouldn't play in that tournament. And that's not to say that it can't be a great tournament for programs that are in other places. I just think that for Indiana basketball, that's not what we want to be doing. And so I was honest about it and maybe would have chosen my words a little different because I didn't mean to be provocative, but ultimately I stand behind it and don't really apologize for the approach there.
"I'm a double alumnus, grew up in the state, I'm probably a fan, well I am a fan first before being the athletic director and I like to think that I get it, I get what Indiana basketball is about, I get what it means to Hoosiers. And we're going to comport ourselves accordingly and do what needs to be done and say what needs to be said and continue reestablishing ourselves as an elite program. I think Tom Crean is doing exactly that, not withstanding kind of a rebuilding year last year and I'm really excited about our trajectory and we're about championships, Big Ten championships and national championships and all of the other stuff is nice, but that's how we measure ourselves and how other elite programs should measure themselves."
On whether he's ever wavered in his confidence that Tom Crean is the right man for the job:
"Not for a nanosecond. Tom Crean is the whole package. We're really fortunate that he came here, we're fortunate that he's stayed after he saw how in shambles the place was and what he'd really gotten himself into. I think he's terrific. He's a smart guy, a great recruiter, a great developer of talent, great X's and O's guy. He was the guy who when they asked, 'well why would you leave Marquette to come here? He said, It's Indiana.' So he understands it. I think we're seeing evidence all around of his ability to attract, find and develop talent. We're probably going to have another guy go in the (NBA draft) lottery that he helped find and develop and I couldn't be more enthusiastic about Tom's leadership here and I look forward to continuing to support him and work with him for a long, long time."
On whether he hears any of the frustrations from fans:
"I'm just really glad people care so deeply. I get it. I understand it, I grew up with it. The passion of the fans is one of the pieces of our secret sauce of having Indiana basketball be what it is. The same passion that drives people to follow all of these blogs and websites, waiting hours in the rain to get autographs and pack Huber Winery next week in the middle of Southern Indiana and have 800 or 900 people there, all of those things are the same things that some people get a little nervous when the water gets choppy. People understand basketball here and they've got an opinion because they've played and they've coached and they're coaching their fourth grader's CYO team, they played JV and varsity and all of those things. That's the wonderful, wonderful part of Indiana basketball that are fans are so knowledgeable and care so much, but they can get kind of excited and maybe feel like the sky is falling when maybe it's really not. But that's a whole part of the package so I embrace it, I don't let it bother me. I listen to it, the criticism that I think is well stated I address and the other criticism I kind of let roll off my back. I'm just glad that our fanbase cares so deeply and really, really embrace that."
Filed to: Fred Glass