Austin Conway likes consistency of IU's approach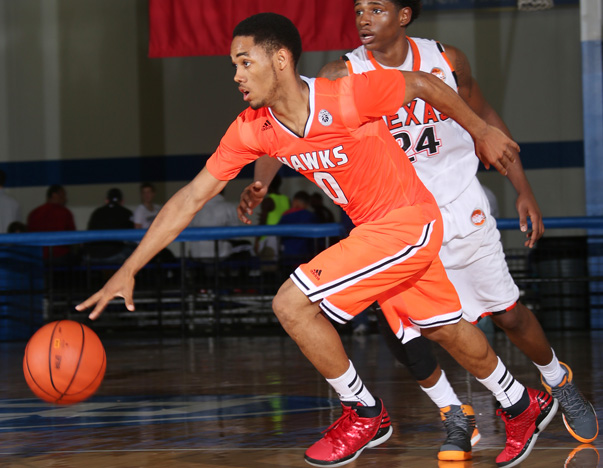 Class of 2015 Aurora (Colo.) point guard Austin Conway had a decision to make last month that may have been tougher than his college choice that looms over the next few months.
A two-sport athlete at Overland High School, the 5-foot-10 Conway had multiple Division I offers for basketball and football.
Ultimately, Conway went the basketball route because many of the schools recruiting him for football wanted him as a wide receiver, not a quarterback, his position at Overland.
"Being a quarterback on the basketball court is being a point guard so I am playing quarterback just a different sport," Conway told Aaron Matas of KUSA-TV in Denver.
With that decision out of the way, Conway can now focus on where he'll play college basketball.
Indiana has been involved in his recruitment since 2012 and he recently made his first visit to the campus following the adidas Gauntlet stop in Fishers.
"Basically they've said they're looking for a point guard," Conway told Inside the Hall earlier this month. "They're losing a point guard here in a couple of years, they're looking for someone to fill that spot and they could see me filling it. They've been talking to me and making sure that I'm improving to fit their system."
The No. 156 player in the country according to the 247Composite, Conway is averaging 11.1 points, 3.4 rebounds and 3.3 assists for the Colorado Hawks on the Gauntlet circuit, which is in its first season.
As a junior at Overland, he averaged 10.5 points, 4.4 rebounds, 4.2 assists and 2.2 steals per game.
Besides Indiana, Conway said Missouri, Wyoming, Harvard, Pennsylvania and Princeton are involved in his recruitment. He said he's appreciative of the consistency that the Indiana staff has shown in recruiting him.
"I like the way that they've constantly been in contact with me since my freshman year," he said. "Not only are they helping me become a better player, they're helping me become a better person, too. They're also talking to me about my character, trying to stay motivated, being great in the classroom as well as on the court.
"I already have a feel for the coaching staff, they're all about me as a player and a person. That's huge in the recruitment process."
(Photo credit: adidas)
Filed to: Austin Conway