Hoosiers remain strong with 2015 forward Alex Illikainen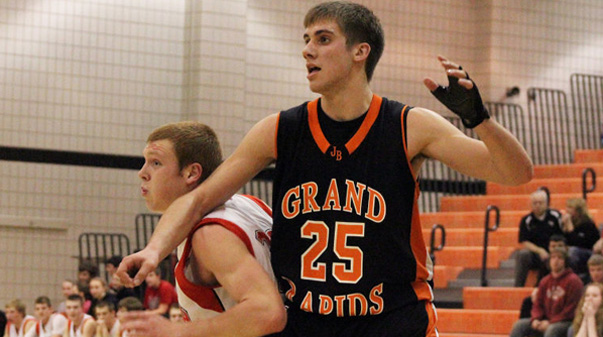 After receiving a scholarship offer from Indiana last summer and then taking an unofficial visit to Bloomington in January, class of 2015 Grand Rapids (Minn.) forward Alex Illikainen remains in regular contact with the Hoosier staff.
The 6-foot-9, 210 pound Illikainen is playing with Howard Pulley on the Nike Elite Youth Basketball League (EYBL) circuit this spring and summer after previously playing with the Minnesota Cyclones.
The move to Howard Pulley, which is based in Minneapolis, has increased the amount of travel necessary for Illikainen. His home in Grand Rapids is more than three hours away from where the team practices.
"I live three and half hours away and come down Tuesdays and Thursdays for practice," he said. "For the EYBL sessions, I usually stay over and we fly out early Friday morning for the EYBL. So, it's kind of tough to keep up with it (and) stay fresh and that kind of stuff and still go to school, but I manage and just keep track of my time and make the best of the situation. It's been absolutely worth it."
Pulley finished the EYBL regular season with a 10-6 mark, which qualified for the Peach Jam in July, Nike's premier event of the summer. Illikainen is averaging 10.6 points and 4.8 rebounds and is shooting 44.8 percent on 3s.
He admitted there was a transition period in getting acclimated to EYBL play, which features many of the nation's top players.
"Yeah, absolutely. Just coming out of high school and coming to this. It was a huge change," Illikainen said. "Even just coming to practice for the first couple of days, preparing with these type of players was really hard. I feel like I've transitioned really good. Now I feel more comfortable, I can slow down and it's a lot easier now."
As a junior at Grand Rapids, he averaged 26 points and 15 rebounds per game and also surpassed the 2,000-point plateau for his prep career.
Recruiting wise, not much has changed in recent months for Illikainen. He took his first official visit in January to California, which now has a new coach in Cuonzo Martin, and is also considering offers from Creighton, Iowa State, Minnesota, Nebraska, Oregon and several others.
"I'm just going to go to Peach Jam and then after that I'll kind of figure everything out," he said. "If I want to take more visits or want to narrow it down … so, pretty much after the Peach Jam."
In terms of his interest in Indiana, Illikainen remains in contact with two members of the staff who are most involved in his recruitment.
"Took my unofficial there (in January). Went to the (Northwestern) game and that was a great visit," Illikainen said. "I'm still in touch with the coaches a lot – coach Tim Buckley and coach (Tom) Crean also."
At the college level, Illikainen projects as a stretch four because of his ability to step out and knock down perimeter shots. The 247 Composite ranks him as the top prospect in his class from Minnesota and the No. 65 prospect overall in the country.
As the spring and summer move on, he has a detailed list of areas where he wants to continue refining his game.
"Be better dribbling, be more comfortable around the floor," he said. "If I get a guy bigger than me (guarding me), be able to take him to the hole and not get stripped or anything like that. Just gotta touch up on some around-the-basket post moves. The guys are just so athletic that you need to have a little trick move in there to get it up to the basket. And then I'm just going keep shooting."
J.B. Bauer contributed to this story.
(Photo credit: GrandRapidsMN.com)
Filed to: Alex Illikainen