Oladipo, Zeller earn NBA All-Rookie honors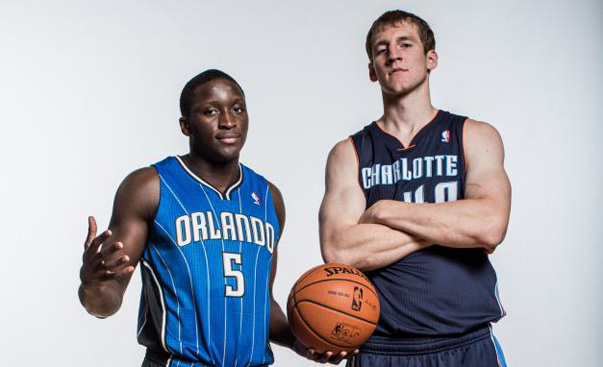 Former Indiana All-American and Orlando Magic guard Victor Oladipo was named to the 2013-2014 NBA All-Rookie first team, the league announced on Thursday afternoon.
Oladipo, who finished as the runner-up to Philadelphia's Michael Carter-Williams in Rookie of the Year voting, averaged 13.8 points, 4.1 rebounds and 4.1 assists in his first NBA season.
Joining Oladipo and Carter-Williams on the NBA All-Rookie first team are Utah's Trey Burke, Brooklyn's Mason Plumlee and New York's Tim Hardaway Jr.
Former Indiana forward Cody Zeller, who was drafted fourth overall in last June's NBA draft by the Charlotte Bobcats, was named to the All-Rookie second team.
Zeller averaged 6.3 points and 4.3 rebounds for the Bobcats, who made the playoffs for just the second time in franchise history. In four playoff games, Zeller averaged two points and 2.3 rebounds in 13.1 minutes per game as the Bobcats (now the Charlotte Hornets) were swept by the Miami Heat.
Joining Zeller on the NBA All-Rookie second team are Boston's Kelly Olynyk, Oklahoma City's Steven Adams, Milwaukee's Giannis Antetokounmpo and Minnesota's Gorgui Dieng.
Oladipo and Zeller are the first NBA All-Rookie selections that have played at Indiana since Eric Gordon earned second team honors during the 2008-2009 season as a member of the Los Angeles Clippers
(Photo credit: Nick Laham/Getty Images)
Filed to: Cody Zeller, Victor Oladipo