Interest continues to grow in 2016 guard Kyle Guy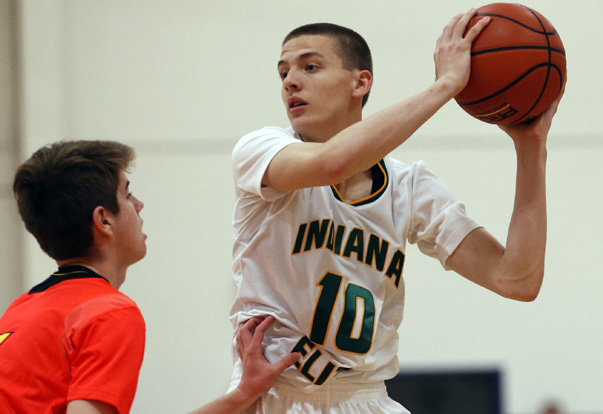 FISHERS, Ind. — Lawrence Central guard Kyle Guy is one of just two class of 2016 prospects on his Indiana Elite squad that is playing this spring and summer on the adidas Gauntlet circuit, a new grassroots league featuring some of the nation's top talent.
Guy, a 6-foot-2 guard, could have taken a larger role on a different team, but the move to Indiana Elite had a purpose: He wanted to play against the best competition possible.
"It helps a lot because the schedule I play in high school is relentless, and then the teams we play out here and who I play with, it helps tremendously," he said last weekend at the Best Choice Fieldhouse. "I just want the college coaches to know I can play against anybody."
College coaches in Indiana have known about Guy for a while now.
As a freshman at Lawrence Central, Guy averaged 13.5 points per game. That number grew to close to 15 per game in his sophomore season as the Bears finished 11-8, falling to eventual class 4A state champion Indianapolis Tech in one of the state's toughest sectionals.
At the adidas Gauntlet in Indianapolis, he averaged 16.4 points and 4.4 rebounds per game and had an effective field goal percentage of 65.6.
Indiana, Indiana State and Purdue extended early scholarship offers, but his recruitment is beginning to take off with interest coming from a variety of conferences across the country.
"Almost all of the Big Ten schools (are interested)," Guy said. "Butler, Xavier, Tennessee, California and Louisville."
His profile on 247Sports also lists interest from Colorado, Dayton, Memphis, Notre Dame, Oregon, Saint Louis, Stanford, Vanderbilt and Xavier, among others.
The Hoosiers have been a constant in the recruitment of the No. 77 player in the country according to the 247Composite. Indiana was the second school to offer Guy, a moment he called "surreal" at the time.
"They just tell me that I can come in and be an impact (guy)," he said. "Obviously I'll have to work to make an immediate impact, but they just think that I fit in well with the program and with the people they think they can bring in and the people they already have."
Purdue has also taken an aggressive approach with Guy. The Boilermakers had him on campus for an unofficial visit last October and then followed up with a scholarship offer in December.
"I like (Matt) Painter a lot. We talk once a week or so," Guy said. "He's told me I can make an immediate impact. He said they need a guy like me that can run their motion (offense) and play on both sides of the floor."
When he returns to Lawrence Central for his junior year, Guy will be playing for a new coach as J.R. Shelt, who led the program the last seven seasons, recently resigned. Shelt will remain at the school as the dean of students, but increased administrative duties led him to step down.
Guy isn't looking at the change as a negative development despite his close relationship with Shelt.
"It's Lawrence Central basketball. It's starting to become a national-type job with all of the talent we have there," he said. "I don't know who the new coach is going to be. I know a lot of people have already applied. I think change is good. I loved coach Shelt, he's been a family friend forever and he's been a great coach, but I think whoever the new coach is will have the mindset that we can win a state championship."
In order for that dream of winning a state championship, Guy knows he'll have to take on an even larger role in his first season as an upperclassmen.
At just 155 pounds, he admitted that adding strength and weight is a major focus for him this offseason, but it won't come easy.
"It's pretty hard, I'm not going to lie. I'm on all of this protein stuff, I've got weight training every day," he said. "At my school, the weight training coach is amazing. It's pretty tough, I'm really lanky so what I really work on is just my core where I'm going to be taking most of the hits."
(Photo credit: Vernon Bryant/adidas)
Filed to: Kyle Guy