"Best basketball ahead" for 2017's Matur Maker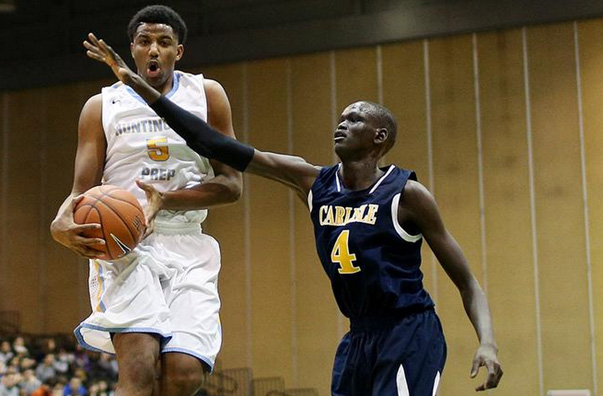 While his older brother, Thon, has already become a household name among those who follow college basketball recruiting, Matur Maker is proving that he's more than capable of making a name for himself.
Thon Maker has the attention of the nation's top programs and is already being pegged as a potential No. 1 overall pick when he becomes eligible for the NBA draft.
The younger Maker, a class of 2017 prospect, is beginning to emerge as a major prospect in his own right.
Both Makers, who attend the Carlisle School in Virginia, came to the United States from Australia with coach Edward Smith, the guardian for both players. Originally from the Sudan, the family moved to Australia when Thon was six. Smith said the family now goes back and forth between Australia and South Sudan since it became a new nation in 2011.
"Thon came to live with me when he was 13. I had run an academy in Sydney," Smith explained last weekend at the adidas Gauntlet. "He came and lived with me. Ever since then, I've been his guardian and I brought him over here (to the United States). And after we had him over here and he did so well in school, his parents decided to send his younger brother to join the process."
Matur, who is 6-foot-10, played well over the weekend in Fishers, averaging 7.2 points and 4.4 rebounds for Team Loaded Virginia, which finished the second adidas Gauntlet stop with a 3-2 record.
Interest in Matur has picked up recently as Indiana was the first school to offer a scholarship to the rising sophomore earlier this month.
"Coach (Tom) Crean really felt like, 'hey, he's going to be really, really good, we want to get involved with him early,'" Smith said. "Matur's best basketball is ahead of him. He's put on 20 pounds — you can't really tell — since he's been here. He's going to be really good. He's different (than Thon). He's more of a slasher. He's quicker and he understands how to get to space."
A built-in advantage for the younger Maker is that he trains with his older brother, who is rated the No. 3 prospect nationally in the 2016 class according to the 247Composite. Thon Maker is also two inches taller and arguably the best rim protector in the country.
"He's getting better. He's growing every day," Thon Maker said of Matur. "He's picking up things pretty fast. He hasn't gotten as much time to work on his fundamentals with the high school season going on and then right into AAU season. He hasn't got much time, he's using all of the time coach Smith and I are putting in with him and he's picking up things a lot faster."
Both players have sacrificed being away from their family for the opportunity to come to the United States and pursue a dream, but Smith said they remain in regular contact with their parents.
"Their parents come from a soccer background, so they understand sports," Smith explained. "When they first saw me come and get involved, they said 'hey, if you really think he's going to be that good,' they had the mentality of a soccer manager taking him and guiding him through the process.
"One of the things they understand is that you have to train and you have to get better. They trust that you have to get better and stay engaged."
(Photo credit: Sholten Singer/The Herald-Dispatch)
Filed to: Matur Maker