adidas Gauntlet Q & A: 2016 center Thon Maker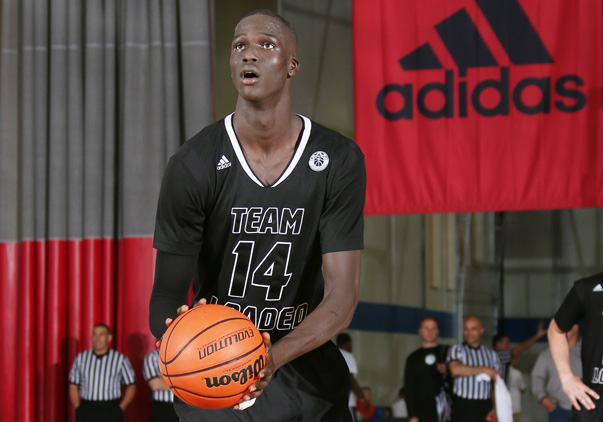 FISHERS, Ind. — It's not hard to notice class of 2016 Carlisle (Va.) big man Thon Maker.
The Sudan native has a unique skill set for a 7-footer that allows him to shut down the paint defensively while also playing both inside and outside offensively. Maker, who moved to Australia at the age of six, has lived in the United States since he was 13 with his guardian, Edward Smith.
Rated the No. 3 player nationally by the 247Composite, Maker will have his pick of schools when it comes time to make his decision. As the headliner of the new adidas Gauntlet circuit, Maker made the move from Boo Williams on the Nike EYBL circuit to Team Loaded Virginia this spring.
Maker talked to the media about a variety of topics on Friday night at the Best Choice Fieldhouse and a complete transcript of his comments, including his thoughts on Indiana, is available below:
On the move from Boo Williams to Team Loaded:
"It allows me to move around a little bit more and just establish my game a little bit more."
On his progress as a player:
"I've gotten a lot stronger. I've worked on my shot a lot, trying to perfect it. I work on my ball handling and just being a complete basketball player."
On how much weight he's put on since the beginning of the high school season:
"I would say 15, 17 pounds."
On where he wants to improve the most:
"Just overtaking the game, basically. Just dominating the game and just coming out with that winning attitude to overtake the game."
On where he is defensively and where he's trying to get offensively:
"Defense is always going to take care of itself. That's on lock already. If you can't defend, you can't play anywhere else, in any league. That's automatic. Offensively, that's where you've got to put the things you work on in practice, put everything together and be able to use your energy on both sides."
On whether he has a defined position on the floor:
"I just want to be a complete basketball player and dominate the game from there."
On whether he patterns his game after anyone in the NBA and who is favorite player is:
"I let the media handle that. I just play basketball. I watch the NBA a lot. It's by far the best league. I would say KD (Kevin Durant). Same build, but then again I've got to have the same mindset of a Kevin Garnett or a Kobe Bryant, just that killer instinct."
On the sacrifices he's made moving to the United States at 13 and his plan basketball wise to pursue his dream:
"I stopped being normal, as people say. I just have a straight up dream and block out everything else and just try to get to it the best I can."
On whether he's had a chance to visit any schools:
"Last weekend or the weekend before, I visited Miami. It was just right down the road from where we stayed at adidas Nations. That was a beautiful campus. I would say I've visited six or seven schools (total)."
On how much he's concentrating on the recruitment process:
"It gets serious now, right after the AAU season. Your junior year, that's basically when you really need to assess schools and begin to work on your decision after that."
On what he's looking to find in a school:
"It has to be the best fit for me. I've always talked about my style of play, but teams will adjust according to what they need. Then again, I just have to look for the spot that fits me best."
On the scholarship offer from Indiana and the offer for his brother, Matur:
"We were on our way to our camp (adidas Nations) and coach told me about it on the plane. He told me IU offered both of us. That was his first one, too, so I was like, 'that's special.' That's a good one."
On whether he'd like to play with his brother in college:
"It would always be nice playing beside him. And also playing against him, making him tougher. Nobody else is going to be tougher on him than I am."
On how Matur is growing as a player:
"He's getting better. He's growing every day. He's picking up things pretty fast. He hasn't gotten as much time to work on his fundamentals with the high school season going on and then right into AAU season. He hasn't got much time, he's using all of the time coach (Edward) Smith and I are putting in with him and he's picking up things up a lot faster."
On how his brother can grow working out with him:
"First of all, toughness. I go at him probably harder than I go at anybody else in the whole country. Coach always asks me, 'why don't you attack everybody else also like the way you attack him in our workouts?' He's learning to just take that in, use the same mindset and same work ethic."
(Photo credit: adidas)
Filed to: Thon Maker