IU "as strong as anybody else" for T.J. Leaf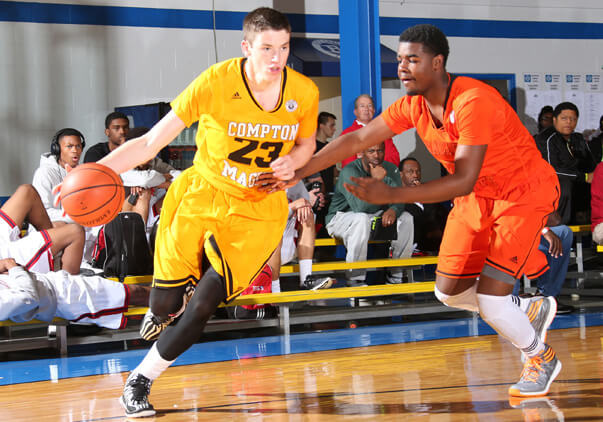 FISHERS, Ind. — T.J. Leaf is no stranger to basketball in Indiana.
His father, Brad, who is also his high school coach at Foothills Christian near San Diego, California, grew up in Indianapolis and was a standout collegiately at Evansville. And now T.J., one of the top 25 recruits nationally in the class of 2016, is a primary recruiting target for Indiana.
Leaf made three unofficial visits to Bloomington last year, including two stops for games and it's clear that the program is squarely in the mix to become his landing spot in the fall of 2016.
Tom Crean and associate head coach Tim Buckley are leading the recruitment of Leaf with Crean making a trip to Las Vegas in December to watch Leaf and another stop at his high school last month to watch an open gym before the April evaluation period.
"They're as strong as anybody else," Brad Leaf said on Saturday at the adidas Gauntlet at Best Choice Fieldhouse. "He understands more and more (how important basketball is here). We watch basketball on TV a lot. There's nothing like, in my opinion, Big Ten basketball. How many years in a row have they led the nation in attendance? He just wants to go somewhere that they're passionate about basketball."
"In my opinion (the Big Ten) is definitely the best conference in the country hands down," T.J. Leaf said. "To play in that would be great. All my family is from back here so it's almost like coming back home a bit too."
Speaking to reporters following a loss for Compton Magic, Leaf's AAU team, the 6-foot-9 rising junior stopped short of calling IU his leader while still handing out heavy praise for the Hoosiers.
"They're obviously up there," he said. "They are a great program, but I mean at this point I'm really not leaning anywhere. Anything that comes up would be great but I'm blessed for all the schools that are recruiting me thus far."
With the versatility to play a variety of positions, it's no surprise that Leaf has become the subject of an intense recruiting battle between major programs like IU, Michigan, UCLA and Arizona.
The Wolverines are the only program of the four that haven't offered a scholarship — that's expected to happen on June 15 — but Michigan will get a shot at improving its standing with Leaf when he's on campus Monday for an unofficial visit.
"I'm just looking forward to seeing the program," Leaf said. "Talking to the coaches a little bit, going around campus and seeing where I fit in there."
Brad Leaf noted that he believes his son, who averaged 26.5 points, 12.6 rebounds, 7.3 assists, 3.8 blocks and 2.0 steals per game as a sophomore, could play a variety of positions in college, which is a reason they're taking a close look at Michigan.
"He (T.J.) likes the versatility of how they play their players at the 2, 3 and 4," Brad Leaf said.
Closer to his home, Leaf is also a target for Arizona, a perennial power in the PAC-12 and UCLA, which is entering its second season under Steve Alford. Both programs have prioritized Leaf. He's taken unofficial visits to UCLA, but has yet to see Tucson.
"They are powerhouses. I like the way they are recruiting me," Leaf said. "I'm just a big fan of both, how they play, how they run, how the coaches let the wing players play."
Leaf said he isn't sure if his parents would move to the midwest if he chooses to play at a Big Ten school, but he's definitely come away impressed with what he's seen from the league and the midwest in general from a fan support perspective.
"Basketball is a lot crazier out here than it is on the West coast," he said. "Every gym is packed and people want to watch basketball. On the West coast it's a bit different, sometimes you don't get full arenas. It's definitely basketball fever.
"The atmosphere here is just a level above out there. Compared to the other schools on the west coast, yeah, it's pretty crazy out here."
(Photo credit: adidas)
Filed to: T.J. Leaf