2015 Carmel guard Ryan Cline enjoys Indiana visit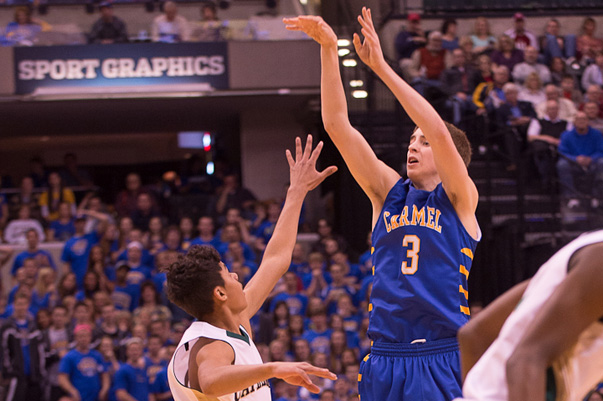 In the months since the 2013-2014 high school basketball season ended, the stock of 2015 Carmel guard Ryan Cline has continued to rise.
In late March, Cline was announced as part of the Indiana Junior All-Stars team that plays Kentucky on June 6 and June 7. On April 18, he took an unofficial visit to Purdue and was offered a scholarship. On April 30, he was offered by Ball State.
Today, Cline was on an unofficial visit to Indiana, participating in an open gym that included current players. The 6-foot-4, 180-pound guard said he "had a lot of fun" during the visit, in which he toured Cook Hall and got to know the program a bit more.
"I got to know all the coaches, played with the players and talked to them," Cline said. "I also talked to the strength coach (Je'Ney Jackson) and it was just a fun experience."
Cline said he grew up following the Hoosiers — "I feel like everyone in Indiana does,"  he said — and that the Hoosiers have started showing interest in him as a prospect.
He mentioned IU as one of the schools recruiting him the hardest right now, along with Butler, Purdue, Indiana State, Ball State, Belmont and Creighton.
He has additional offers from Belmont, Lipscomb, South Alabama and Northern Kentucky, as well.
"But (the Indiana interest) means the same to me as any other school," Cline said. "Just trying to keep my options open."
Cline is particularly regarded for his shooting ability, averaging 16.9 points per game and 43 percent 3-point shooting for Carmel in his junior year. But Cline told the Indianapolis Star's Kyle Neddenriep in April that "It kind of upsets me a little bit when people think I'm just a spot-up shooter."
"I feel like I bring a shooter, a good passer, a leader, and a guy who knows how win and wants to get himself and his team better," he told Inside the Hall. "I need to work on my athleticism and my ball handling the most."
And how does he plan on achieving that, as his stock continues to rise?
"Gotta put in the work in the weight room," he said.
Filed to: Ryan Cline