Run-N-Slam Q & A: Class of 2015 wing A.J. Turner hearing from Indiana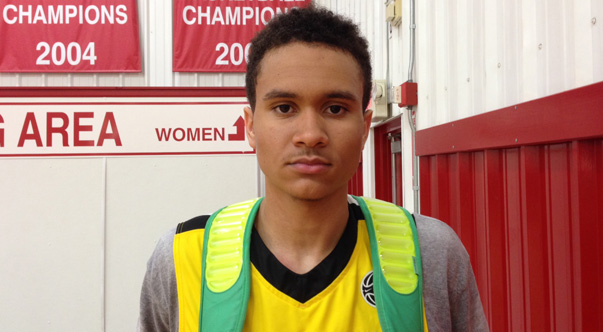 FORT WAYNE, Ind. — Prior to the start of his senior season at De La Salle in Detroit, Michigan, A.J. Turner decided he needed a change.
So the 6-foot-6 wing decided to repeat his junior year at the New Hampton School in New Hampshire and become a member of the class of 2015. The move has given Turner, now rated just outside the top 100 of the 247Composite, additional recruiting exposure, the chance to mature away from home and another season to grow his game before college.
This past weekend at the Hensley Memorial Run-N-Slam, Turner, who plays for The Family on the EYBL circuit, torched Mac Irvin Fire for 30 points, including five 3-pointers, in a pool play victory. After the game, he talked to Inside the Hall about his recruitment, the move to prep school, his thoughts on Indiana and more:
On the schools who have offered scholarships:
Boston College, Iowa State, Wake Forest, Stanford, Harvard, a bunch of MAC schools, Robert Morris, Tulsa, Rice.
On the schools who are on him hard that may be close to an offer:
Definitely Michigan State. I talk to Tom Izzo and he's very impressed and I think they're close to offering. I talk to Michigan, VCU and Shaka Smart, Indiana, Wisconsin, Gonzaga. I think that's it.
On what's changed for him that has led to more schools becoming interested:
I think my mindset. Last year, I was very inconsistent and I can say that I wouldn't play hard all the time. I think coach (Pete) Hutchins really helped me to play hard every possession, compete, rebound, run the floor and defend and make hustle plays.
On the recent contact with Indiana:
It was after the California EYBL session. It's real early. I haven't talked to coach Crean yet or anything like that. I talked to coach (Tim) Buckley. He called me to say they were going to start recruiting me. He was very impressed with how I played in Sacramento. And they had Noah Vonleh, who went to New Hampton, so there's a connection there. He just said he's going to keep following me and see where my progress goes.
On the move to New Hampton Prep last season:
I just felt like I needed another year at prep to mature and get better and do the things I needed to do to become the best player possible. The move, it was kind of rough being away from home. But after that, once I got it into my head the reason why I was there, it worked wonders.
On how being at prep school is helping him prepare for college:
I think it's going to help a lot. Being 15 hours away from home, just living in dorm, living on my own kind of, I think it's going to help me a lot.
On whether he'd like to play in the Big Ten:
Yeah, I think about it all the time. I'm not really banking on it that Michigan or Michigan State offers me or anything like that, but I grew up in Big Ten country and I think it's a great conference.
On what comes to mind when he thinks of Indiana:
They play hard, they compete and Tom Crean is a great coach. I think I could fit in there.
On how big this summer will be for him playing in front of college coaches:
I think this summer is huge. Hopefully God blesses me with the ability to play well. This summer I'm coming out with the right mindset and confidence of just being ready to compete every day and just go hard and hopefully win some games.
Filed to: A.J. Turner