Run-N-Slam Q & A: Class of 2015 big man Matt Heldt updates recruitment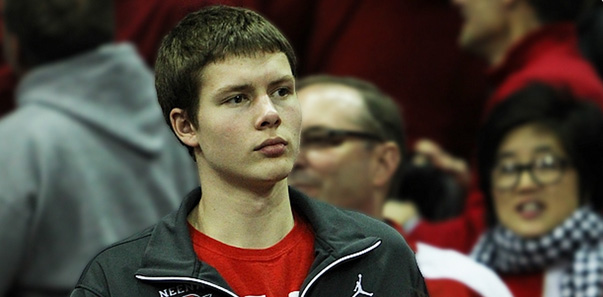 FORT WAYNE, Ind. — Class of 2015 Neenah (Wi.) center Matt Heldt was one of the top rising senior post players last weekend at the Hensley Memorial Run-N-Slam at Spiece Fieldhouse and he's also a prospect that Indiana has been tracking for several months.
On the opening night of the April evaluation period, Tom Crean was in Milwaukee watching Heldt compete with the Milwaukee Spartans and the Hoosiers also hosted him for an unofficial visit last fall for Hoosier Hysteria.
Inside the Hall caught up with the 6-foot-10, 210 pound Heldt in Fort Wayne for the latest on his recruitment, his thoughts on Indiana and more:
Inside the Hall: Indiana has been recruiting you for a while, you visited last fall for Hoosier Hysteria, what's been their interest level to this point?
Matt Heldt: I think it's been pretty moderate to this point. I'm sure they're going to be out in July again once they can (to see me). It kind of sucks for the D1 schools this year because they only get the one evaluation period and it was last weekend and they have to wait all the way until July.
ITH: The fact that they were there, Tom Crean was there to watch you the first night of the April evaluation period, does that tell you anything about their interest in you?
MH: It definitely told me they are sincere, that they're really avid about getting out to see me and that they're not just blowing smoke. They're in there to recruit me. It was a big thing for Crean to be there.
ITH: When you visited for Hysteria, what was your takeaway from that?
MH: The fan support is amazing. When you have a line out (of the building) the day before for a free event like that, it's crazy. And obviously, the basketball tradition at Indiana is probably the best in the country. Their facilities are really, really nice and I think the players like to play tough and hard.
ITH: I know Marquette and Xavier both offered recently. What has their message been to you?
MH: Marquette, coach (Steve) Wojciechowski came out to see me right away. I visited down there last week and he offered me. He wants me to come to Marquette, he likes my skill set and he thinks I fit into the way they're going to run their offense. And then Xavier, coach (Chris) Mack called me two days later and said that Xavier knows how to use their bigs, he likes my skill set and he wants me to come to Xavier.
ITH: Which other schools have been active in recruiting you?
MH: Clemson has been pretty active. Also Northwestern has been talking to me a lot.
ITH: Are you open at this point? Are you even thinking about a decision right now?
MH: No, not at this point.
ITH: When you go on a visit to a school, what kind of things are you looking at?
MH: The teammates to see how they interact. I want to be on a family as a team, I don't want any big egos or guys that are just worried about themselves. And also good academics, I don't want to go to a school that doesn't value their academics.
ITH: Are those things you saw when you visited Indiana?
MH: Yeah, those guys definitely like to play together. Indiana is like the stomping grounds for how to play the right way, team basketball.
ITH: What's IU message been to you when they've talked to you?
MH: I've just got to play as hard as I can. They like tough bigs that can rebound. If I continue to get stronger, more athletic, I think I could fit in well there.
ITH: It seems like you're comfortable using either hand. Is that something you've always had or have you had to develop it?
MH: My mom actually would always make me play one-on-one against her and only use my left hand. Around the basket I'm kind of ambidextrous, it's pretty much even.
ITH: What's the biggest thing for you to work on this summer?
MH: Probably athleticism and strength. I'm trying to put on as much weight as I can.
(Photo credit: 247Sports)
Filed to: Matt Heldt