Run-N-Slam Q & A: class of 2016 big man Nick Rakocevic talks recruiting, upcoming IU visit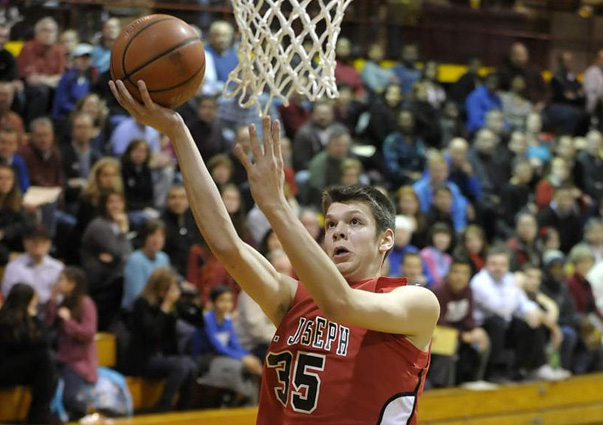 FORT WAYNE, Ind. — It's not hard to see why class of 2016 St. Joseph (Ill.) big man Nick Rakocevic is quickly becoming a target for several Big Ten schools. At 6-foot-10 and 195 pounds, Rakocevic isn't a traditional back to the basket big man. He can certainly score in the paint, but his ability to run the floor and also knock down perimeter shots makes him an intriguing prospect.
Following a pool play game at the Spiece Fieldhouse at the 2014 Hensley Memorial Run-N-Slam Classic, Inside the Hall caught up with the Mac Irvin Fire standout to get the latest on the visits he has planned this spring, which schools are showing the most interest and much more:
Inside the Hall: How's the spring been going for you so far? What do you feel like you're getting out of the experience of playing in an event like this?
Nick Rakocevic: It's definitely exciting. I like running with my team. Mac Irvin Fire is one of the best teams out here. It's really fun to have coaches come and watch you play. It's really been a fun time this spring.
ITH: Last weekend, when coaches were able to come out to watch you, did you notice who was there watching or do you try not to pay attention to that?
NR: Sometimes I try not to pay attention, but when you see someone, you see someone. I'm not really looking out for anybody, but I just saw schools like Illinois, Purdue and some Big Ten schools. I just try to play my game and whatever happens, happens.
ITH: If you had to name one or two things you want to get better at this summer, what would they be?
NR: I'm trying to be like a small forward, like KD (Kevin Durant) style. I definitely think I need to get stronger. To be a small forward, I think I need to improve a little bit on my midrange shot and definitely my ball handling.
ITH: I know you're planning some visits this spring, which schools are you going to see?
NR: I'm visiting Indiana on Thursday and the weekend after that, I'm going out to Xavier and then at the end of May I'll be going out to Florida.
ITH: What led to Indiana getting you on campus and what have your conversations been like with them so far?
NR: They've been recruiting me for a while now. Coach (Tim) Buckley, he's just been telling me how my big man game compares to the big man game they play. They've been trying to get me on campus for a while now, so I'm trying to get out there.
ITH: What are you looking forward to most about going down there? Is there anything you want to see when you're on campus?
NR: I definitely want to see the facilities and just see how the coaches are and how they have their workouts and things like that.
ITH: Which schools have offered to this point and which other schools are in the mix?
NR: Right now, Wisconsin, Miami (FL), Creighton and Illinois have all offered. In the mix are Duke, Florida, Oregon, Iowa, a few other Big Ten schools like Northwestern.
ITH: When you think of Indiana basketball, what comes to mind?
NR: I definitely think they're a major program. They've had a lot of NBA guys. They do well with developing players and I'm definitely excited to go down there.
ITH: How long has Indiana been involved with you? How often do you talk to them?
NR: I talk to them once or twice a month. They've been involved with me for a while now. I want to say three or four months or so, back to the high school season.
ITH: How would you describe your game for those who haven't seen you play?
NR: Some people like to put my game at like a Dirk Nowitzki-type. A big guy that can stretch the floor. I definitely need to get stronger and play like a big guy and not just like a wing. I need to be able to go inside and outside and I think as I continue to grow, I think I can do that.
(Photo credit: Tracy Allen/For Sun-Times Media)
Filed to: Nick Rakocevic