Recruitment growing for class of 2015 wing Gavin Block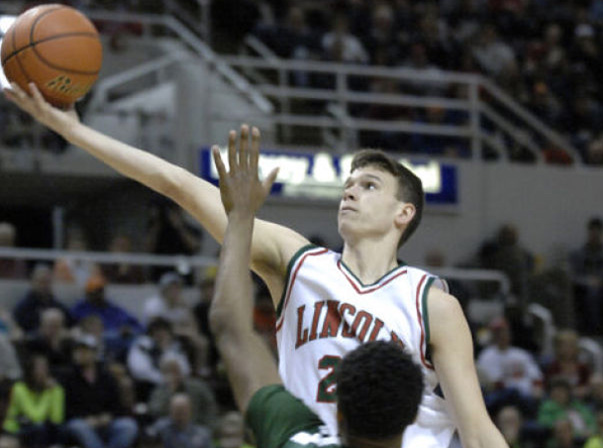 Class of 2015 Lincoln (Ill.) wing Gavin Block is looking at this spring and summer as an opportunity to grow his recruitment.
After leading his high school team to a 34-3 record and a runner-up finish in the Class 3A state tournament, the 6-foot-6, 195 pound Block now has four scholarship offers and growing interest from a number of mid-major schools.
The biggest name to express interest, however, is Indiana. The Hoosiers took notice of Block during Lincoln's run to the state championship game and recently hosted him for an unofficial visit.
"Coach (Kenny) Johnson and coach (Tim) Buckley were at the state tournament and watched me there," Block told Inside the Hall. "I went on the visit on April 11 and met with coach Johnson and the whole coaching staff. Went on the campus and through Assembly Hall. I also got a chance to sit down with coach Crean and talk to him quite a bit and just get a feel for Indiana basketball."
Johnson's recent departure from the IU staff hasn't had an effect on Block's interest. He's maintained contact with Buckley and director of basketball operations Rob Judson, who is filling in until Johnson's position is filled.
Judson was in Kansas City last weekend at the Jayhawk Invitational during the April evaluation period and watched Block compete with Net Gain Elite.
"I've stayed in touch with coach Buckley and coach Judson," Block said. "And even a few days after the visit coach Crean texted me and asked how I liked the visit and told me he was really interested and that he really liked how I play the game."
As a junior at Lincoln, Block averaged 15.9 points and 5.7 rebounds. His four offers to-date are from Bradley, SIU-Edwardsville, UMKC and South Dakota State.
Besides IU, schools like Evansville, Northern Iowa, Loyola-Chicago, Illinois State, Bucknell, Dartmouth, American and Valparaiso have also taken a look.
The Big Ten, however, is a league from which Block hopes to draw more interest.
"Playing in the Big Ten has always been a dream of mine and hopefully that may come true," he said. "I've always watched Big Ten basketball. Hopefully in the next year or so, some more Big Ten schools will get a little more interested in me."
Unranked by the major recruiting services, Block says he tries not to look at the rankings and is focusing on continuing to improve. He gave up baseball this spring to get more work in on the hardwood.
"I kind of like not being on top," Block said. "It gives me something to work for and it makes me realize that I'm not the best out there, of course.
"If I want to succeed, I'm just going to have to put that much more work in than everybody else."
(Photo credit: Carlos T. Miranda, The Pantagraph)
Filed to: Gavin Block