Five-star guard Josh Langford talks Indiana offer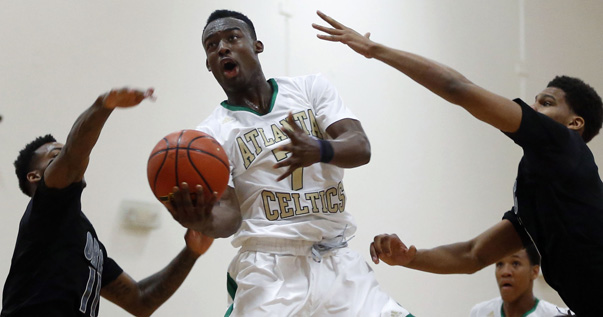 Taking the floor for the first time since a hand injury cut his high school season short, Josh Langford showed few signs of rust last weekend at the adidas Gauntlet in Dallas, Texas.
The 6-foot-5, 200 pound guard, rated the No. 18 player nationally in the class of 2016 by the 247Composite, helped lead the Atlanta Celtics to a 5-0 record at the Gauntlet while averaging 16.6 points, 4.4 rebounds and three assists.
"It felt good to get back. I had just gotten cleared to play the weekend before," Langford told Inside the Hall on Thursday. "It had been three months since I had been able to play against anybody. I was just real excited and hopefully I can just keep going and keep getting better."
His strong play in Dallas caught the eye of the Indiana coaching staff, which didn't wait long after the weekend to offer a scholarship.
Langford, who plays at Madison Academy in Alabama, said both he and his father, Tellus, spoke with Tom Crean earlier in the week and the offer was extended in that conversation.
"Coach Crean was real excited to talk. They seem like they're real interested in me and my future," Langford said. "Indiana is a great program and coach Crean is probably going to be a hall of fame coach. He coached Victor Oladipo and Dwyane Wade at Marquette.
"I just think it's a great program that believes in winning, loves to win and takes everything serious."
Langford took multiple unofficial visits last season, including stops at Vanderbilt, Louisville, North Carolina State, Duke and Kentucky.
He said his father handles most of the recruiting while he focuses on continuing to improve his game.
"I want to work on everything. I don't think there's a perfect player," Langford said. "So I think I can get better everywhere, but mainly it's just working on shooting a consistent 3-ball right now. I feel like I can shoot it, but sometimes I take it (into the lane) too deep and sometimes I can just save my body and take the beating off my body by shooting the jump shot. Just shooting it more consistently."
During his conversation with Crean, Langford said he was able to pick up some additional areas to work on this spring and summer.
"He told me that I reminded him of a young Victor Oladipo, like in his sophomore year," he said. "I asked him what I could get better at and he told me that I can work on my off the ball defense, holding the follow through on my jump shot and being lower when I drive.
"He just told me the sky is the limit if I can just get those things right and keep working."
(Photo credit: Vernon Bryant for adidas)
Filed to: Josh Langford