Recruiting roundup: Indiana coaches on the road for April evaluation period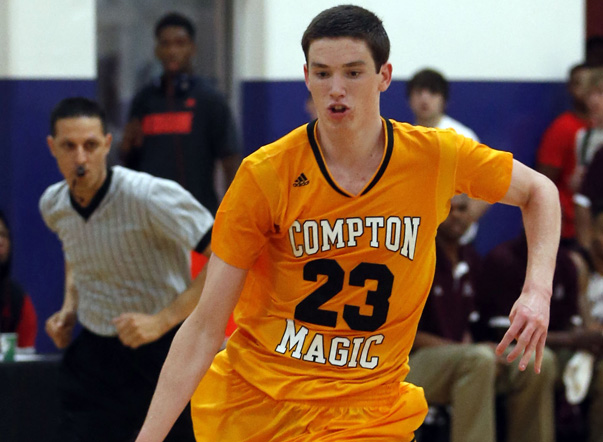 This past weekend marked the only NCAA live period of the spring, which means it was a busy weekend for college coaches to see players and make evaluations in advance of July, arguably the most important recruiting month of the year.
Indiana coaches were spotted all across the country at various events, including the NY2LA Spring Extravaganza in Minneapolis, the Under Armour Jayhawk Invitational in Overland Park (Kan.), Nike EYBL Session 1 in Sacramento and adidas Uprising in Dallas.
Here's a roundup of the weekend, which includes a look at how some of IU's top recruiting targets performed along with a look at some of the players the Hoosier staff watched:
· In somewhat of a surprise, Tom Crean started off Friday night in Minneapolis, where he was spotted watching a pair of 2015 prospects in Matt Heldt and Evan Bourdreaux. Heldt, a 6-foot-10 post player from Neenah, Wisconsin, was a visitor for Hoosier Hysteria last fall. Bourdreaux is a 6-foot-7 forward from Lake Forest, Illinois and a prime recruiting target for Fran McCaffery of Iowa.
· With Crean in Minneapolis, Rob Judson, IU's director of basketball operations, was in Kansas City. Judson was on the road in place of Kenny Johnson as IU works to fill its third assistant coaching position. Associate head coach Steve McClain, meanwhile, started in Dallas at the adidas event while associate head coach Tim Buckley was in Sacramento for EYBL Session 1.
· Among the prospects watched closely in Dallas by Indiana was class of 2016 forward De'Ron Davis, the No. 20 player nationally according to the 247Composite. The Hoosiers have recruited Davis diligently for a couple of years now and getting an early look on Friday night from McClain shows that is still the case.
· Under Armour had two events over the weekend: The Jayhawk Invitational and the Pittsburgh JamFest. The Kansas-based event had several players IU has either offered or been mentioned with. The Indy Hoosiers team, which features class of 2017 standouts Paul Scruggs, Kris Wilkes, Zach Gunn and Justin Roberts, won its division. In a 66-35 championship game rout of the Louisville Magic, Gunn had 25 points while Wilkes added 15. In a 74-67 semifinal win over Louisiana Elite, Scruggs had 29 points.
· Other players participating in the Jayhawk Invitational that IU watched included class of 2015 Lincoln (Ill.) guard Gavin Block, Brownsburg guard K.J. Walton and Columbia (Mo.) guard Jimmy Whitt. Block recently look an unofficial visit to Bloomington.
· By Saturday, Crean had made the move to Dallas for the adidas Gauntlet, which included a strong stable of IU recruiting targets for the 2016 class. Among them: Braxton Blackwell, Eron Gordon, Kyle Guy, Thon Maker and T.J. Leaf (pictured). Besides Maker, all of those prospects have been on unofficial visits to Indiana.
· The event most loaded with talent was EYBL Session 1, which had an Indiana presence all weekend. As noted, Buckley was there on Friday, continued there on Saturday and Crean and McClain made the trip for Sunday, the final day of the live period. With detailed stat keeping and an organized league, the Elite Youth Basketball League makes it easy to track the performance of everyone who participates. Here's a look at how some of IU's top targets played:
– Allonzo Trier, Athletes First: The Oklahoma native leads the EYBL in scoring after the opening weekend, as he amassed 114 points (28.5 per game average) in four games. It's also important to note that his team went 4-0 as Trier shot 54.8 percent from the field. We've currently got Trier at the top of our 2015 recruiting board, but it will be interesting to see what effect, if any, the departure of Johnson to Louisville has on his recruitment.
– Caleb Swanigan, Spiece Indy Heat: Indiana offered Swanigan earlier in the spring and the Hoosier staff tracked him closely all weekend as he averaged 17.2 points and 11.2 rebounds. Swanigan, who plays at Homestead, is rated the top prospect in Indiana in the 2016 class and his play over the weekend did nothing but validate that opinion.
– Quentin Goodin, St. Louis Eagles: After playing with Kentucky-based Hoop Dreams last year, Goodin made the move to the EYBL and is teaming up with Jayson Tatum, another IU target for the class of 2016. The Campbellsville (Ky.) point guard already has an IU offer and averaged 6.8 points and 3.2 assists in his first weekend on the EYBL circuit. Tatum, meanwhile, averaged 21.2 points and 6.2 rebounds.
– Bryant Crawford, Team Takeover: The Gonzaga Prep (D.C.) point guard emerged as an IU target back in 2012, shortly after Johnson's hiring in Bloomington and took two subsequent unofficial visits to Indiana, including Hoosier Hysteria in 2012. Reports from a couple of Louisville sites say that the Cardinals are expected to take a long look at Crawford. The 6-foot-2 guard averaged nine points on 33.3 percent shooting in Sacramento.
– Tyus Battle, Team Scan: The numbers suggest it was a tough weekend for Battle, who has been to IU on unofficial visits and is a top 10 player in the class of 2016. He averaged 7.5 points, but shot just 26.3 percent. Much like Crawford, Battle was a player who Johnson was heavily involved with, but his father, Gary, told Inside the Hall's Jordan Littman last week via text message that the family is still interested in Indiana.
– Daniel Giddens, E1T1: The Atlanta big man has the Hoosiers among his finalists and he averaged 3.7 points, 4.3 rebounds and 2.3 blocks in 14.3 minutes per game in Sacramento as E1T1 went 3-0.
(Photo credit: Vernon Bryant, adidas)
Filed to: April evaluation period