Paul Scruggs brings energy to loaded Indy Hoosiers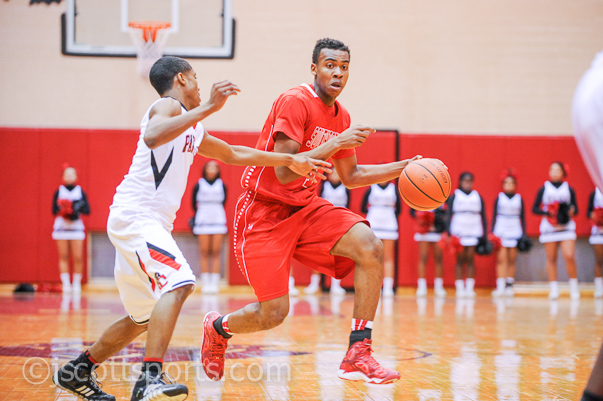 INDIANAPOLIS — During a game this past Saturday at the Indyball Shootout, 2017 guard Paul Scruggs slowly brought the ball up the court, then suddenly burst into a sprint toward the hoop, catching the defense off-guard and assisting to an open player for the lay-up. It's a common occurrence.
Scruggs is a big part of the 2017 Indy Hoosiers squad that has won AAU National Championships and is back playing with them after finishing his freshman season at Southport. And before he even started his first high school season, the 6-foot-3 freshman had an offer from Indiana.
"All I can really say is I'm just blessed," Scruggs said.
Scruggs has made his mark alongside AAU teammates and fellow IU offer recipients Kris Wilkes and Zach Gunn. While Wilkes brings athleticism to the table and Gunn specializes in shooting, Scruggs said he is proud of his on-court energy.
"When I come into the game, I just bring the hypeness, bring the energy," he said. "Try to get people going, get a couple steals and points and stuff like that."
In his first season at Southport, Scruggs tried to do just that. After a rocky start to the season, the Cardinals won seven of their final eight games before losing to Pike in the Ben Davis sectional final, finishing the season 15-8 after going 1-19 just a year ago. But the result still left Scruggs unsatisfied.
"I expected a lot more out of us," he said. "But I mean this was our first year playing with each other. We still have to get our chemistry right and stuff like that."
On Saturday, though, Scruggs was back with the team he has been with since third grade. And in their first two games of the season, playing against teams a year older, the Indy Hoosiers won by scores of 73-34 and 63-35.
There's an undeniable chemistry, he says, that makes playing with his teammates that much more enjoyable.
"It's so fun," Scruggs said. "I just love playing with these guys. We've been through our ups and downs but at the end of the day we're still going to be like a family. Brothers. I feel like they're a part of my family."
Scruggs also acknowledged that he knows playing with Indy Hoosiers won't last forever with college awaiting after three more high school seasons. He said he took visits to Indiana, Ohio and Xavier this season and has heard from UCLA, Memphis and Tennessee, additionally. But Scruggs' only offer is from his home-state school. He said he "loves" that offer.
And when he talks about Indiana, one thing about the Hoosiers sticks out to him.
"They just play like they are family," he said.
But Scruggs said he can't focus too much on the future, that he needs to focus on the "day-to-day, getting my books right and stuff like that." And for now, playing with the Indy Hoosiers, once again, is all the satisfaction Scruggs needs.
"I just love playing with these guys," he said. "We have really good chemistry together."
Filed to: Paul Scruggs