Draft watch: Vonleh a lottery pick in every projection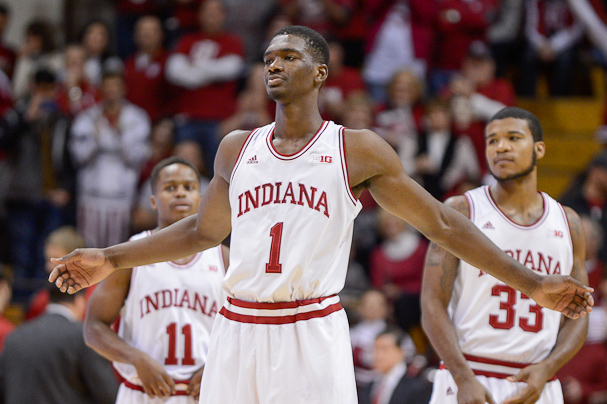 With his decision to enter the NBA Draft now in the rearview mirror, the question of whether Noah Vonleh will be back in Bloomington next season has been answered. What hasn't been answered, and won't be officially until Thursday, June 26, is which franchise will select Vonleh in the 2014 NBA Draft.
In our latest edition of draft watch, we take a detailed look at where Vonleh's stock stands following his lone season in Bloomington:
Projections
ESPN: (7) Draft Express: (7) NBADraft.net: (6) Sports Illustrated: (8)
· Analysis: Since our last update before the Big Ten tournament, Vonleh moved up a spot in ESPN's rankings, down a spot in NBADraft.net rankings and down two spots in the SI rankings.
We won't have a good idea on which teams could potentially target Vonleh until after the NBA Draft lottery, which takes place on May 20. Right now, however, he's a consensus top eight pick if you go by the four major mock drafts we've been tracking for most of the season. Those projections are consistent with the feedback Vonleh says he got from NBA.
"I heard I'll be somewhere in the lottery, but that's unknown," Vonleh said on Thursday. "I've got to go into workouts and showcase my skills and hopefully end up where I want to be."
Besides selecting an agent, something Vonleh said yesterday he'll do in the next few weeks, the next major step in the process is the draft combine, which will take place next month. That event only helped to propel the stock of Cody Zeller and Victor Oladipo and it could yield similar results for Vonleh, assuming his foot injury is behind him by that time.
"I've been getting treatment trying to get my foot right," Vonleh said. "It's feeling a lot better. I've been resting it. So I'm back on the court, doing some stationary shooting, some ball handling drills and things like that and keeping my conditioning up with riding the bike and doing the StairMaster and things like that. I'm going to start doing individuals with the team and just doing some conditioning and stuff when my foot feels 100 percent."
· Expert opinion: "He's a lock for the Top 10. The question really is: How high can he go? Two players who play his position, Kentucky's Julius Randle and Arizona's Aaron Gordon, are currently ranked ahead of him right now. Randle is more NBA-ready, and has more offensive skills in the paint at the moment. Gordon is the best athlete of the group, and is already an elite defender. But Vonleh is bigger than both, has a more established outside game than either player and is a terrific rebounder. He's probably less ready than Randle and Gordon to come in and compete as a rookie, but many scouts believe that in three years, he might be the best of the bunch.
His biggest fans in the NBA agree with Kevin Pelton's Chris Bosh comparison. If that's accurate, he should be a top-5 pick. If he's something less than that, then we probably have him accurately pegged at No. 7 on our Big Board. Workouts might be key for him. NBA teams are going to try to get these three in for workouts together, and if Vonleh can dominate there, he'll likely leapfrog both." – Chad Ford, ESPN.com
· Vonleh on what he proved at Indiana: "I think I proved that I've got a pretty good skill set. I can step out, shoot threes. My post game has gotten a lot better, still a work in progress. I can still improve on it. I can still improve on a lot of things in my shot, getting my release quicker, being able to push the dribble out and do different things like that, just to make myself an overall better player."
Filed to: Noah Vonleh