The Inside the Hall Mailbag: March 21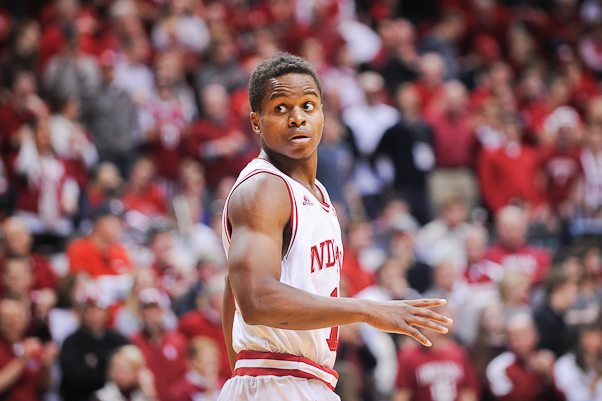 The Inside the Hall Mailbag is a collection of questions tweeted to us via Twitter (@insidethehall), submitted on our premium forum and sent to us via our Facebook page. Submit your questions and we'll answer as many as we can.
rmclelan on the premium forum writes: How will playing time in Indiana's backcourt play out next year? Assuming Yogi Ferrell commands 30 plus minutes per game, how will James Blackmon Jr., Stan Robinson and Robert Johnson share time? With the likelihood of Noah Vonleh turning pro, do you foresee Indiana playing a three guard lineup (reminiscent of Dee Brown, Deron Williams and Luther Head several years ago at Illinois)? Unlike this past season, competition seems very steep at the guard position for Indiana next season.
You're definitely going to see a lot of three-guard lineups next season. There were plenty of three-guard lineups this past season, too, but the major difference will be that IU should be able to surround Ferrell with a couple of more versatile scorers in Blackmon Jr. and Johnson. Those guys should also help guys like Robinson and Troy Williams as well because defenses won't just be able to sag off and help when they attack the basket with Blackmon Jr. and Johnson roaming the perimeter.
In most cases, Indiana should be able to get away with three guards and even an undersized four (Williams, Devin Davis) on the court at the same time. The frontcourt situation obviously still has a lot to play out and is perhaps the most interesting storyline of the offseason. — Alex Bozich
kmark22 on the premium forum writes: IU did not get into the NIT, was the feeling the CBI was beneath IU or was it not really an option?
I never got the sense that the CBI was a serious consideration for Indiana for a couple of reasons. The first and most important reason is that Indiana had little to gain from participating in the event. If you go out and win it, there's still going to be criticism. It's a third-rate tournament. And if you lose, there's definitely going to be criticism. Kentucky lost in the first round of the NIT last season and look at the shots they took nationally.
If IU went into the CBI, which is a clear step below the NIT and did the same, you can imagine what the reaction would be. I also think fan interest in the CBI, which would have been held at Assembly Hall, would have been marginal at best. The NIT struggles attendance wise and I'm sure the CBI, which admittedly I know little about, is even worse. As much as some of IU's young players could have benefitted from continuing to play, I think the right call was made to just end the season and move on. — Alex Bozich
kleeman20 on the premium forum writes: Another CBI question, the sense I got from Fred Glass was IU was "above" the CBI. This contradicts Crean's remarks after B1G tourney that this team really wanted to keep playing more basketball and really needed to. Was it more of a no-win situation or is the feeling that IU is truly "above" that.
Similar question to the first one, but I think Crean was talking more specifically about potentially playing in the NIT, not the CBI. Any coach who is competitive is obviously going to want the season to continue, so it shouldn't be surprising that Crean said what he did following the loss in the Big Ten tournament.
I think Glass' initial comment about "We're Indiana" certainly gave the impression that IU felt it was above the CBI, but he later backed off that stance a bit in the interview with JMV. Overall, I just don't think Indiana wanted to set any precedent that the CBI was acceptable in any way and I think it was absolutely the correct decision to turn it down. — Alex Bozich
airnel48 on the premium forum writes: Assuming Noah goes pro and ignoring any potential JUCO transfers, who on the current roster has the best chances of starting at the 5 next year? Does Hanner have that position? Or is there a chance that Devin Davis takes it?
Those are the only two legitimate options at this point if I'm following the parameters of your question. Mosquera-Perea showed a lot of improvement this season, but not enough to be trusted just yet in every situation. For example, with Vonleh out, he was very good against Ohio State, but barely played against Nebraska because it was a poor matchup defensively for him going against a guy like Walter Pitchford. It's a big offseason for the Colombia native with a lot to play out. His arrest in February still has to be resolved in the court system. And if he's going to be a regular in the rotation next season, he needs to commit himself to significant improvement which means becoming consistent enough for the staff to trust him in any situation.
As for Davis, I think he's best served, for now, as an energy guy off the bench who can help with hustle plays, rebounding and an ability to finish around the basket. He's not going to be a featured scorer given how loaded IU's backcourt should be, but every team needs guys who can bring energy, dive for loose balls, hustle and do other little things that don't show up in the box score. If Davis embraces that role, his value should be tremendous. — Alex Bozich
IUfaninKY on the premium forum writes: How do you see Jeremy Hollowell fitting in at IU next year – or does he?
The 2013-2014 season didn't bring a lot of positives for Hollowell. His numbers were bad. There's no way to sugarcoat that fact. He shot just 38.7 percent on 2s and 21.9 percent on 3s. It's hard to argue that he should have played more with that type of production and there's a pretty compelling argument that he should have played less, especially early.
As for how he fits in moving forward, I've long been intrigued by Hollowell's talent, but he's yet to put things together with any consistency at this level. Much like Mosquera-Perea, it's a pretty big offseason for Hollowell as well. With his size, the best way he can help moving forward is with defense and rebounding. — Alex Bozich
HoosierFan76 on the premium forum writes: In your opinion, if/when Noah Vonleh leaves early and is selected in the 2014 NBA draft lottery, will the positive buzz of IU's first lottery-pick one-and-done since Eric Gordon be enough to counteract the negatives from IU's disappointing season when it comes to recruiting high-level talent in 2015 and beyond, especially at the power forward and center positions?
IU has been able to attract a McDonald's All-American for four straight years now and putting another player in the NBA certainly can't hurt recruiting going forward. It will definitely be interesting to see how the class of 2015 shakes out as IU currently doesn't have any commitments in that class, so there's a lot of intrigue on how that will play out.
As for the disappointing season, I think with the right pitch, IU can probably turn it into a positive with some recruits, particularly in the frontcourt. Some schools will definitely try to use this past season against Indiana, but the Hoosiers will be able to offer major post minutes right away for 2015 prospects. I'm sure the staff views the situation as a challenge they must overcome and given that IU was able to land recruits when the program was winning six, 10 and 12 games, it's not an impossible hill to climb, either. — Alex Bozich
@mattyork1941 on Twitter writes: Who seems to be the biggest priorities for the 2015 recruiting class?
One of the offseason priorities around here will be updating the 2015 recruiting board, which, quite frankly, needs an overhaul. We'll also have a better idea of who the biggest priorities are after the three-day evaluation period in April when coaches can attend various events around the country and watch prospects.
Here are just a few names to keep in mind for 2015: Allonzo Trier, Raymond Spalding, Bryant Crawford, Daniel Giddens, Alex Illikainen and Doral Moore. — Alex Bozich
Filed to: Twitter Mailbag