Anthony Lee talks transfer process, calls IU "a front-runner"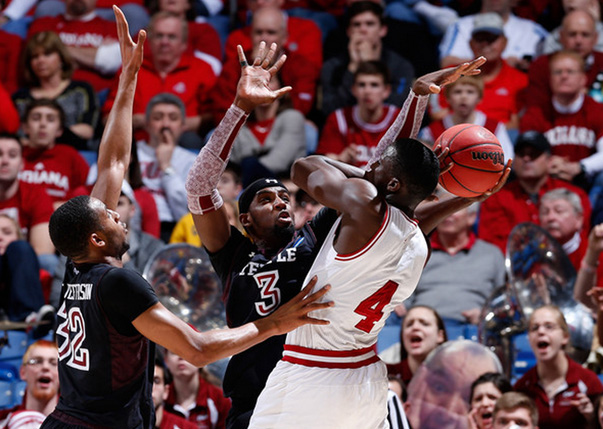 In the days since 6-foot-9 forward Anthony Lee announced his intention to transfer from Temple, he has been receiving interest from colleges across the nation.
Off the top of his head, he could rattle off the names of schools: Louisville, Indiana, Oklahoma State, Minnesota, Purdue, Ohio State, Iowa State, Illinois, Northwestern, Florida State, USC, BYU, Pittsburgh, Providence, St. John's, Georgetown. There were others, too.
"It's been real crazy," he told Inside the Hall on Thursday afternoon.
Lee is a hot commodity as one of the first graduate transfers on the market that has extensive college experience who will be eligible next season. As a redshirt junior with the Owls, Lee led the American Athletic Conference with 8.6 rebounds per game. He also averaged 13.6 points per game.
But Temple suffered a 9-22 finish this past season. It was a far slide from last year's squad that went to the third round of the NCAA tournament — before losing to Indiana.
Lee felt as if Temple took him as far as it could take him. And so he told Owls coach Fran Dunphy on Monday evening that he planned to transfer, and he has been granted his release from the program.
The news leaked Tuesday morning. He appeared on a Temple student radio station and confirmed he was leaving. Since then, he has dealt with the high-major recruiting process he never was able to experience before his freshman year.
"It's been unbelievable," he said. "Just being able to hear all the schools that want me and deal with that, it's been fun."
Since he made the announcement, he has received a ton of attention — especially on social media. And of all the schools that have approached him, there has been one that has stood out: Indiana.
"The fan base is crazy," he said. "They've been showing me a lot of love, the most love out of anybody. I mean, I've been getting tweets from everywhere saying they're Indiana fans. I mean I've gotten tweets from a bunch of schools, but nothing like Indiana. I mean, I'm probably getting — in the last four days — maybe about 300 or 400 tweets from Indiana people."
And the coaching staff has been involved, too. Lee said the Hoosiers offered a scholarship right off the bat and have spoken to him every day since. He wants to take a visit to Bloomington, too. "It's a definite," he said.
On Thursday morning, Lee spoke with Hoosiers freshman Troy Williams, as well. And while speaking to Lee, Williams pitched to Lee why he should play at Indiana.
"He was just telling me about the program and how it's helped him so far," Lee said. "He said it would definitely be a good fit for me to play with him. But I know he was highly-recruited and he had a pretty good year this year and was able to do some good things. And I know the next level is also looking at him. And because it's my last year and because they're hungry, he was just telling how it would benefit me, how he's gained weight and how he's developed very quickly and how I could just be a part of it."
So with all the contact he has had with Indiana, where do they stand?
"They really are a front-runner right now," Lee said.
Lee said he wants a school that will help take him to the next level, especially with his final year of collegiate eligibility ahead. This will be his final chance to get there.
He said he has one visit set already — to Iowa State on April 11. He said he would like to play in either the Big Ten, ACC or Big 12. And he wants to make a decision some time after the National Championship game.
But for now, Lee said he is enjoying the process and listening to all potential suitors.
"It's been fun," he said. "I'm just happy I'm in this position."
(Photo credit: Joe Robbins/Getty Images North America)
Filed to: Anthony Lee