A year after a No. 1 seed, Hoosiers take a step back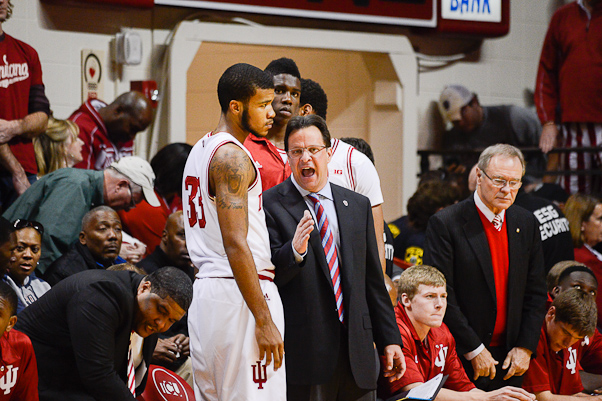 The scene in the Indiana locker room following Thursday's opening round Big Ten Tournament loss to Illinois at Bankers Life Fieldhouse in Indianapolis was hard to process.
Less than a year ago, Indiana players sat in front of their lockers in Chicago following a loss to Wisconsin in the Big Ten tournament with disappointment on their faces, but with hope for what was still possible in the NCAA tournament.
This year's scene had no such hope, aside for one of an NIT bid, as the looks of defeat on the faces told the story. The season was over.
No, it wasn't surprising that the Hoosiers had just dropped their third straight game to close the season to Illinois, a team that had won four of five heading into the Big Ten tournament.
What was surprising and difficult to comprehend, however, is just how hard and far Indiana had fallen. Less than a year removed from winning the outright Big Ten championship and earning a No. 1 seed in the NCAA tournament, the Hoosiers would be staying home in March.
Earlier in the season, after the first Illinois game to be exact on the timing, I warned of a transition year in Bloomington.
Many IU fans didn't want to hear it, but the general vibe from watching up close was that the Hoosiers would have a difficult time making the NCAA tournament again given what had transpired through the first 14 games. It wasn't an excuse, just the reality of what I was seeing given the turnover problem and challenges offensively. It was a sign of what was to come when Indiana lost its Big Ten opener at Illinois even after a brilliant offensive performance from Yogi Ferrell.
Ultimately, I wrote that this Indiana team should be judged by adjustments and improvements over the course of the season.
The problem, which became crystal clear with the news last night that IU failed to make the NIT, is that this wasn't a year of transition.
It was a step back.
At Indiana, the expectation is to make the NCAA tournament every season and compete for Final Fours and national championships. It was an expectation that was justifiably forgotten for three years as Tom Crean navigated through the mess he inherited.
Crean deserves major credit for resurrecting the Indiana program, advancing to two Sweet 16s and winning the Big Ten last season. But in year six, the expectation is to reach the tournament every year.
Indiana didn't get there this year, nor to the NIT, which could have been a decent consolation prize for a young team, and the fan frustration that comes along with it is completely justified. This team should have been better than it was.
So where did things go wrong this season?
Start with the turnovers. After Indiana put together a pair of high turnover efforts in home games against Nicholls State and Kennesaw State, two teams that finished a combined 20-40, the IU players said the issue would get fixed.
It never got fixed, at least not consistently. Indiana finished with a turnover percentage of 21.8, which ranked 330th nationally.
This was a team that raised expectations at times by beating a pair of two NCAA tournament two seeds in Michigan and Wisconsin at home, only to lower them back down by losing to Northwestern and Penn State in Assembly Hall. At its best, Indiana could compete with the Big Ten's best. And at its worst, it was capable of falling to the league's worst teams.
Continue the list of issues with the fact that no Big Ten team had more of its shots blocked than Indiana and only one Big Ten team had a worse 2-point field goal percentage defense than the Hoosiers in conference play.
Also throw in that Indiana led at halftime in 10 of its 18 conference games but only won four of those games. IU also finished 3-11 in games away from Assembly Hall. The non-conference home schedule, another area of criticism, is already being addressed for next season with the addition of SMU, a likely top 25 team.
The problems weren't isolated to the court, either, as the Hoosiers had Luke Fischer transfer midseason, Jeremy Hollowell benched for three games for an undisclosed reason and Hanner Mosquera-Perea arrested on an OWI charge. A metal beam also fell into the seats of Assembly Hall, causing a postponement of the Iowa game.
Add it all together and you arrive at the conclusion that it's fair to call the season a step back. But the season is over, which means what happens next is where the attention now turns.
The roster will look different when practice begins next fall, but should have the talent to get back to the NCAA tournament and into the top half of a Big Ten that will have 14 teams. That's exactly what needs to happen, too.
The program cannot afford a transition season or another step back in 2014-2015. It is, after all, Indiana.
Filed to: 2013-2014 season