Indiana left out of NIT field, will not play in postseason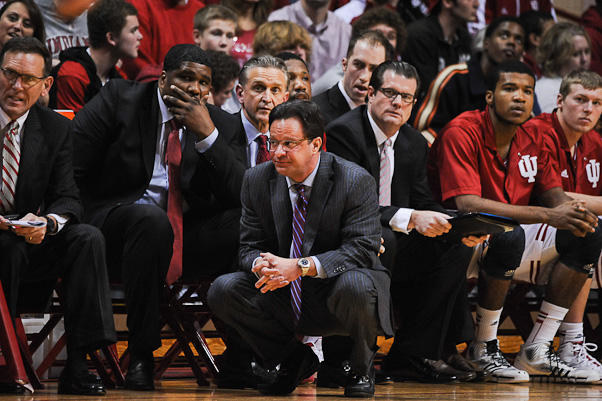 Indiana was not selected into the 2014 NIT field when it was announced Sunday night, leaving them without a postseason bid for the first time since the 2010-2011 season.
The 17-15 Hoosiers held an intriguing résumé, one that included three wins against teams in the top 25 of the RPI but also four losses to teams outside the top 100.
Their non-conference strength of schedule left much to be desired, as well — 216th out of 351 teams.
Each of the past two years, Indiana had made the Sweet 16 of the NCAA tournament, however, it lost four starters over the offseason and dealt with inconsistencies throughout the 2013-2014 season.
It finished eighth in the Big Ten regular season standings and lost by 10 points to Illinois, a team included in the NIT selection seeded No. 2, in the opening round of the Big Ten tournament this past Thursday.
The NIT field also had only 19 at-large bids available after 13 teams secured auto-bids. (Auto-bids in the NIT are given to regular season conference champions who lose in their conference tournaments.)
Minnesota is the other Big Ten team in the field and earned a No. 1 seed.
Though the Hoosiers will not be playing in the NIT, they could, potentially, still play in the College Basketball Invitational (CBI). It is unclear whether Indiana would accept a bid into the CBI, though teams have to pay to play in that tournament.
UPDATE (9:18 P.M.): Indiana athletic director Fred Glass has told Inside the Hall that Indiana will not play in the CBI, thereby ending the 2013-2014 season.
Hoosiers coach Tom Crean had this to say, via his Twitter account Sunday evening: "We would have loved to be able to keep playing. Our determination and confidence was high. Our desire to improve has been strong. Not much I will add now but we certainly appreciate the great support of our Indiana fans and students. See you next year."
Filed to: National Invitational Tournament