Five takeaways from Indiana's loss to Illinois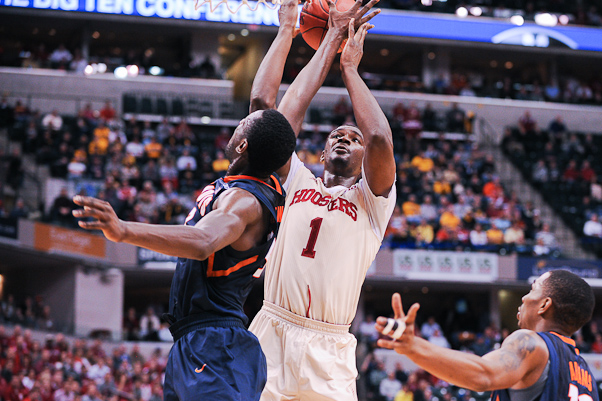 INDIANAPOLIS — Indiana's existence in the 2014 Big Ten tournament was brief as the Hoosiers fell 64-54 to Illinois on Thursday afternoon in the event's opening game.
Here's a look at five takeaways from Indiana's 15th loss:
· The same problems that plagued IU in December plagued them Thursday: At the onset of the second half, it looked as if Indiana was gaining control and would put their early second half woes that have been a problem all season to rest for the day. But once the Hoosiers went up 38-33, Illinois quickly responded with an 11-0 run to take the lead for good.
So what changed after IU gained its largest lead? Here's a summary of Indiana's possessions from the 13:53 mark of the second half to the 9:39 mark, a span of four minutes and 14 seconds:
– Possession one: Yogi Ferrell missed jump shot, Devin Davis offensive rebound, missed putback, Davis offensive rebound. Illinois foul. Ferrell missed layup. Three shot attempts, zero points.
– Possession two: Stanford Robinson turnover.
– Possession three: Ferrell missed jump shot.
– Possession four: Noah Vonleh missed 3-pointer.
– Possession five: Will Sheehey turnover.
– Possession six: Robinson missed 3-pointer, Jeremy Hollowell offensive rebound, Ferrell missed 3-pointer.
A little bit of everything in this stretch, but most glaringly of course are turnovers and poor shooting. Two missed 2-point jump shots, three missed 3-pointers, two missed layups and two turnovers. By the time Indiana called timeout after the sixth possession, the Hoosiers were staring at a six-point deficit and never recovered.
· Indiana's 3-point shooting disappeared after halftime: The Hoosiers trailed by just two at halftime despite scoring just two points in the paint. That's because Indiana knocked down six of its 10 attempts from behind the 3-point arc. Illinois, on the other hand, had 16 points in the paint in the first half, but was much more balanced offensively.
As the second half went on, it became clear that Indiana would not be able to sustain its offense without hitting 3-pointers. IU did manage 18 points in the paint after halftime and attacked the basket hard coming out of the locker room, but missed all 10 of its 3-point attempts.
Illinois hit four 3s in the second half, several of them coming at key times, to put the game away.
· Once Indiana got down, its body language changed: As the misses and turnovers began to pile up midway through the second half and Illinois mounted its run, Indiana appeared to lack cohesiveness on the floor. Sheehey looked visibly frustrated on a couple of occasions at some of the defensive mishaps made by his teammates and Vonleh and Robinson looked over at the bench as if they were unsure what to do.
And in the aftermath of the loss in IU's locker room, Ferrell offered the following explanation when asked his team's issues when the opposition mounts a run:
"Lack of communication when the other team starts to make a run. We just get quiet and I feel like we just don't have that same energy that we've had. I'd say that's been the main thing."
Following up on that, Ferrell was asked why that's been the case and what can be done to fix it:
"I think maybe we just don't know how to overcome adversity yet. Next year, I think you just have to hold guys more accountable, make some guys angry, get in some guy's faces sometimes."
· Illinois deserves some credit, too: The Fighting Illini, once 2-8 in the Big Ten, were presumed finished, but turned their season around by winning four of their last five regular season games.
Both teams have similar records, but there's one glaring difference when you examine the profiles. With yesterday's loss, Indiana fell to 3-11 in games away from Assembly Hall. Illinois, with its win, improved to 9-7 in games away from the State Farm Center.
· Vonleh's struggles down the stretch magnified on Thursday: Whether he hit a wall or the foot injury took a bigger toll than originally thought, the finish to Noah Vonleh's season has been less than impressive.
Over the last three games, the Big Ten freshman of the year averaged just 5.6 points and six rebounds. He also shot poorly (1-of-6 on 3s) and turned it over five times over that three-game stretch.
"The injury has definitely been there," Tom Crean said postgame. "He was very limited in practice this week. I think you can see that in his energy at times in the game. We've really had to hold him back in the practices. And it's part of it."
Filed to: Illinois Fighting Illini, Noah Vonleh