The Minute After: Illinois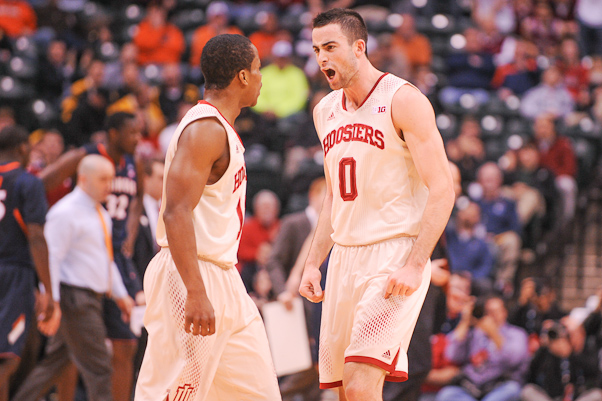 INDIANAPOLIS — Thoughts on a 64-54 loss to the Illini:
Less than four minutes into Indiana's opening round meeting with Illinois on Thursday afternoon in the Big Ten tournament, it appeared as though the Hoosiers would offer up little resistance to a Fighting Illini club that had come in with wins in four of its last five games.
Just before Illinois took a 9-0 lead with 16:23 to play in the first half, Tom Crean turned to his bench and uttered one sentence that said it all: "There's no attack to the game right now."
Crean was right.
Illinois was the aggressor out of the gate and how Indiana would respond over the next 16 minutes would tell us plenty about how the afternoon would transpire.
The Hoosiers answered out of the timeout with an 8-0 run, thanks to five points from Will Sheehey, who finished the opening 20 minutes with 11 points. Yogi Ferrell, ever the reliable contributor all season for these Hoosiers, would step up as well, pouring in 10 points before intermission.
When halftime hit, the Hoosiers would enter the locker room trailing by just two at 30-28, thanks in large part to a 6-of-10 performance from behind the 3-point arc and despite a turnover percentage of 30.4.
The opening of the second half was a different story as the Hoosiers reversed a trend of starting slow after intermission. IU scored ten of the first 13 points after halftime to grab a 38-33 lead.
It was a major change from the game's opening minutes as IU got into the lane, racked up fouls on the Illini and got to the free throw line. As the Hoosiers mounted their advantage, the question would quickly shift to whether they could sustain it.
The answer, which has pretty much defined IU's season, was no.
After Illinois roared back with an 11-0 run, the Hoosiers would never regain the lead the rest of the way. That Illini run, which included 4:14 of scoreless play by IU, was the ultimate difference as the Hoosiers were the first team bounced from the Big Ten tournament.
Indiana would pull within one at 53-52 with just under three minutes to play, but Tracy Abrams, who finished with a season-high 25 points, answered with a huge 3-pointer to give Illinois a four-point cushion and seal the victory for the Illini.
The Hoosiers failed to hit a 3-pointer in the second half, turned it over on 25 percent of their possessions and a season after winning the Big Ten outright and claiming a No. 1 seed in the NCAA tournament, will await word on their NIT fate come Sunday night.
Filed to: 2014 Big Ten tournament, Illinois Fighting Illini