With season entering final stretch, Hoosiers prepare for Illinois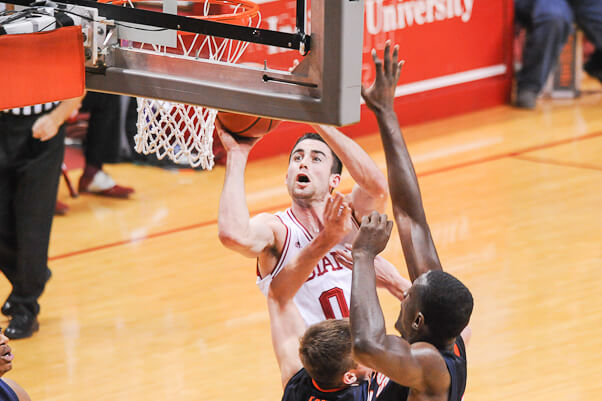 Will Sheehey knows his days as an Indiana Hoosier are numbered.
The senior forward has already experienced his senior night and perhaps his final game at Assembly Hall. But he doesn't want the ride to end, just yet. "I'd love to win every game out," he said on Wednesday.
That urgency, he hopes, will translate into Indiana's Big Ten tournament opener on Thursday, in which the 8th-seeded Hoosiers (17-14, 7-11) will play the 9th-seeded Illinois Fighting Illini (18-13, 7-11) at 12 p.m. in Bankers Life Fieldhouse.
"Obviously (I'm) making sure that they take each game seriously and each practice seriously," Sheehey said, "knowing that potentially it could be coming down to one of the final ones."
As the Hoosiers enter postseason play, Sheehey said the only difference it holds compared to the regular season will be the frequency at which the games come. His teammates, he said, will have to take care of themselves health-wise throughout the whole process. That is, if they get that far.
With top-seeded Michigan looming, Indiana's focus is on Illinois. The two teams matched up twice in Big Ten play — once in late December and once in late January — with each team winning on its home court. And the Hoosiers have looked at those tapes — the second game occurred while the Illini were in the midst of an eight-game losing streak — as well as more recent games, in which the Illini have won four of their past five.
"They are ever improving," Indiana coach Tom Crean said, "because they have so many different guys that can score."
The key to winning in the Big Ten, Crean said on Wednesday, comes down to who is making shots. And on Illinois, the weapons are plentiful.
The Illini have the veterans in Joseph Bertrand — who Crean said can beat you on the 3, the drive and on the offensive glass — and Jon Ekey, who hit a 3-pointer against Iowa just before the buzzer to defeat the Hawkeyes in Iowa City.
It also has seen the emergence of freshman Kendrick Nunn, who Crean called "lethal" from the corners of the court.
"They just score the ball in a variety of ways and have a lot of guys coming off the bench and starting for them," sophomore Yogi Ferrell said. "They're a very good team."
But perhaps Illinois has no bigger threat than transfer Rayvonte Rice, who in his previous two games against Indiana this season has scored a combined 49 points.
"We don't have one guy who you would look at and would say that's a really good match-up for Rice," Crean said.
"That's been the one type of player this year that we've struggled with more than any other type of player is that bigger wing that's really, really strong and powerful and can really get to the rim."
And so, Crean said, the Hoosiers will have to execute on defense especially well on Thursday. Sheehey said they're going to have to limit Rice's touches, somehow.
"You've got to have help," Crean said, "but at the same time you can't over-help in this league."
And on the defensive side of the ball, the Hoosiers compared the Illini to Ohio State, the nation's No. 2 squad in defensive efficiency.
Crean mentioned how the Illini are "tremendous at taking the elbow away from you" and that their athleticism and defensive intent allows them to cover a lot of court.
In conference play, they are allowing just 1.02 points per possession — third-best in the league. But the main comparison to Ohio State comes in Illinois's turnover percentage: Opponents turn the ball over 18.8 percent of the time in conference play, second-best in the Big Ten.
"They create a lot of havoc," Crean said. "They create turnovers, they get their hands on a lot of basketballs. "
And because of that, the Hoosiers are trying not to look past the Fighting Illini as the test is already tall in itself. And if they can pass test No. 1 in their dream to get to the NCAA tournament, test No. 2 will be only hours away.
"This will be my last go-around," Sheehey said. "So hopefully the guys will really behind that and whatnot and we can get it going."
Crean says Hoosiers are healthy heading into Indianapolis
After 33 games played this season (including two exhibitions), Crean said on Wednesday that his team is relatively healthy heading into the Big Ten tournament starting this Thursday.
"I think for the most part, we are (healthy)," he said. "No one has missed time."
Sophomore Hanner Mosquera-Perea has been wearing a walking boot around campus, senior Evan Gordon is in a finger splint and freshman Noah Vonleh has been in a walking boot, as well.
Vonleh missed two straight games with left foot inflammation before returning to the court on Saturday against Michigan, but Crean noted he should be good to go for Thursday's game against Illinois.
"We've been very careful with Noah this week but he's been involved in everything," he said. "But we've been very careful with how much we've had him out there, just so he can continue to heal."
Filed to: Illinois Fighting Illini, Will Sheehey