What to Expect: Illinois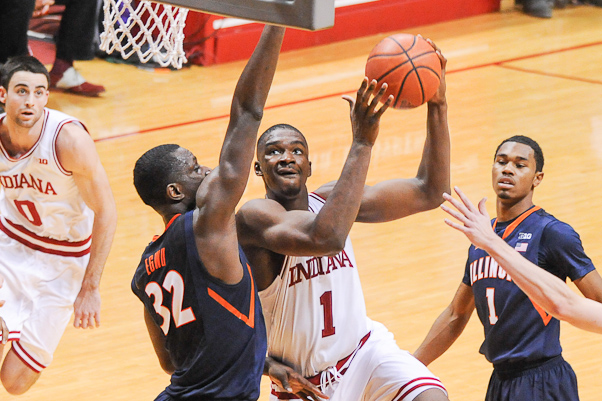 Indiana travels 50 miles north to Indianapolis on Thursday for the 2014 Big Ten tournament, where the 8th seeded Hoosiers will open opposite 9th seeded Illinois. The winner will advance to meet top seeded Michigan at 12 p.m. ET on Friday. The Fighting Illini are 18-13 overall and have won four of their last five games.
The game will be broadcast at 12 p.m. ET on the Big Ten Network and on the IU radio network:
Ready or not, postseason play is here. And after an entertaining regular season in the Big Ten, the conference figures to take center stage of the college hoops world this weekend in Indianapolis. For the fourth straight season, the Big Ten is the top league in the country according to the KenPom rankings and while it may not have a national champion since 2000, the quality of the league from top to bottom is unmatched.
Indiana, of course, has fallen back into the bottom half of the league after winning it outright last season for the first time in 20 years. Most of the preseason prognostications slotted the Hoosiers as the fifth or sixth best team in the conference, but IU never managed to build the consistency needed to reach its full potential and finds itself in need of four wins to reach the NCAA tournament.
That all goes out the window tomorrow for teams like IU, Illinois, Purdue, Penn State, Northwestern and Minnesota, at least temporarily, as all 12 teams come together at Bankers Life Fieldhouse with an automatic NCAA tournament bid on the line. If the Hoosiers can make a run to Sunday and win it for the first time ever, it would be a surprising turn of events on an otherwise disappointing season. If not, the NIT awaits.
PERSONNEL
After his team dropped its eighth straight game on Feb. 4 to Wisconsin, Illinois coach John Groce made a change in his starting lineup that may have helped turn the Fighting Illini's season around. The move was to insert freshmen Kendrick Nunn and Malcolm Hill in the starting lineup in place of seniors Jon Ekey and Joseph Bertrand.
On Monday's Big Ten coaches teleconference, Groce said the change was to help balance the rotation as Illinois had all four of its freshman coming off the bench. The switch has paid off as Illinois won five of its next eight games to dig itself out of last place and arrive in Indianapolis as a dangerous team.
The Illinois starting five is now essentially four guards — Nunn, Hill, Rayvonte Rice and Tracy Abrams — with junior Nnanna Egwu manning the post. Rice is the team's leading scorer in Big Ten games at 13.9 points per game, but his efficiency (40.7 eFG%) leaves plenty of room for improvement. Rice has torched Indiana twice already this season with 49 points on 15-of-31 shooting, but he's been a volume shooter and at his worst, can shoot the Illini right out of a game. Rice, however, is one of the best rebounding guards in the Big Ten at 6.4 per game.
Abrams is the team's second leading scorer in Big Ten games, but is even less efficient than Rice with an effective field goal percentage of just 35.5. He does, however, rank ninth in the Big Ten with an assist rate of 24.9. Nunn, who was named to the Big Ten All-freshman team, averaged 8.6 points per game in conference play and may have the brightest future of any Illinois player. He's hitting close to 44 percent of his 3s in league play and has an effective field goal percentage of 57.4.
Hill isn't much of a scorer, but does knock down the occasional 3-pointer while Bertrand and Ekey now give Illinois a pair of veterans coming off of the bench. Bertrand's 7.4 points per game is fourth on the team and he's much more effective on 2s (47.7 percent) than 3s (27.6 percent). Ekey is a 3-point specialist with 73 of his 111 field goal attempts coming from behind the 3-point line, where he's hitting just 32.9 percent. Freshman Jaylon Tate also plays about 10 minutes off the bench, but has been dreadful offensively (21.2 field goal percentage).
Up front, Illinois goes with Egwu, who had 37 blocks in 18 league games and freshman Maverick Morgan in spot duty. Egwu is a decent rebounder (6.4 per game), but his field goal percentage (39.1) is poor for a 6-foot-11 post player and also driven somewhat by a tendency to take midrange jump shots.
TEMPO-FREE PREVIEW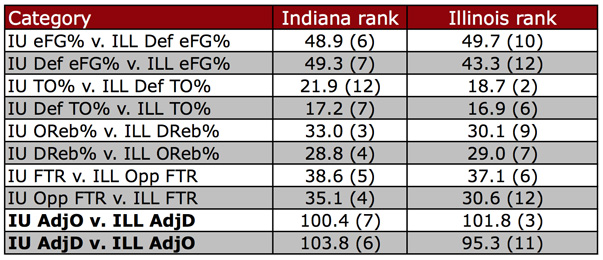 Since changing its starting lineup, Illinois has been much better defensively as the Illini have allowed 55 or fewer points in four of their five wins since Feb. 9. The Illini are the Big Ten's third best defense and the third slowest club in terms of pace, so the chances this game looks more like the meeting in Bloomington (56-46 IU win) than the game in Champaign (83-80 Illinois win in overtime) are high.
So what does Indiana have to do well in order to win? Take care of the ball and get on the offensive glass.
The Hoosiers have turned it over at a high rate against Illinois in each of the first two meetings and a third performance could be a recipe for disaster. Illinois is also susceptible to second chance points (ninth in defensive rebounding percentage), which provides Indiana an opportunity to drum up some offense even if its shots aren't falling. The chances Illinois goes to a trapping zone are extremely high, which means Indiana is going to need sharp ball movement (and movement away from the ball) to find open looks.
Free throws could also loom large as Indiana has a free throw rate (FTA/FGA) about eight percent higher than Illinois in Big Ten games.
WHAT IT COMES DOWN TO
The KenPom projection likes Indiana to win 64-62 as it calls the game "semi-away" for Illinois because it's being played in Indianapolis in front of what figures to be a strong Hoosier crowd. Sagarin likes Indiana by a half of a point.
That said, Illinois has been the superior team away from its home venue this season with an 8-7 record while IU is just 3-10 away from Assembly Hall. The Illini come in playing solid basketball of late since their lineup change and present a solid challenge with a formidable defense and a young player (Nunn) who has gained a lot of confidence since these teams last met.
How Indiana is able to weather runs when they come and how the Hoosiers attack pressure and value the ball will likely determine the outcome in what should be an intriguing game to open a great weekend of basketball.
Filed to: 2014 Big Ten tournament, Illinois Fighting Illini