Big Ten Power Rankings: March 10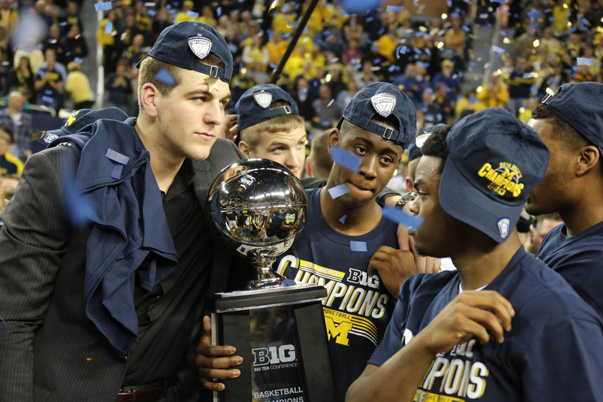 (Photo credit: Dustin Johnson, UMHoops.com)
The Inside the Hall Big Ten Power Rankings are back following the final week of league play. This week's rankings feature a look at where all 12 teams in the Big Ten stand following what was a thrilling — and unpredictable — regular season.
Without further ado, check out where each team stands after all 18 games of league play: 
12. Purdue (15-16, 5-13, PPP: 1.0, PPP Allowed: 1.08) (LAST WEEK: 11) … The Boilermakers are in free-fall mode, losing their sixth-straight game this past Sunday — at home — to Northwestern. And with that, it sealed the Boilermakers' spot alone in last place in the conference standings. After the loss to the Wildcats, coach Matt Painter said the fall of his program has been "my fault." Well, the Boilermakers now have a ways to go to get back to the top echelon of the league.
11. Northwestern (13-18, 6-12, PPP: .88, PPP Allowed: 1.03) (LAST WEEK: 12) … It took until the last game of the regular season, but the Wildcats finally got back into the win column. After losing seven straight after starting the Big Ten season with a 5-5 mark, the Wildcats went into West Lafayette on Sunday and breezed their way to a 74-65 win in which Purdue did not offer much resistance. Finally, the Wildcats got something to build on.

10. Penn State (15-16, 6-12, PPP: 1.0, PPP Allowed: 1.06) (LAST WEEK: 10) … Pat Chambers' squad might not have gotten the end to the season it had hoped for in an 18-point loss at Minnesota on Sunday, but it's been a season of progress for the Nittany Lions, who finished the regular season outside of last place for the first time since the 2010-2011 season. They do get a second chance at the Golden Gophers this Thursday in Indianapolis in the opening round of the Big Ten tournament.
9. Indiana (17-14, 7-11, PPP: 1.0, PPP Allowed: 1.04) (LAST WEEK: 7) … Take two steps forward, take another two back. After two resume-building wins over Iowa and Ohio State the week before, the Hoosiers followed it last week with two losses to both Nebraska and Michigan in which the Hoosiers' second half effort, once again, came back to haunt them. Against the Cornhuskers, the offense stagnated. Against the Wolverines, it turned the ball over. And the Hoosiers finished the regular season with its worst conference record since 2010-2011 because of it.
8. Minnesota (19-12, 8-10, PPP: 1.05, PPP Allowed: 1.08) (LAST WEEK: 9) … The Golden Gophers are living on the bubble, right now, and they avoided a bubble-bursting loss at home to Penn State in an 81-63 win on Sunday. They get the Nittany Lions again on Thursday with a potential match-up with Wisconsin looming on Friday.
7. Illinois (18-13, 7-11, PPP: .95, PPP Allowed: 1.02) (LAST WEEK: 8) …  Sans the blowout loss to Michigan on Tuesday, the Fighting Illini appear to be peaking at the right time. After an impressive win in East Lansing a week earlier, they followed it with a thrilling win at Iowa on Saturday — thanks to a Jon Ekey, buzzer-beating 3-pointer in the second half. And heading into the Big Ten tournament, John Groce's squad has now won four of its past five games.
6. Iowa (20-11, 9-9, PPP: 1.13, PPP Allowed: 1.06) (LAST WEEK: 3) … There have been times, this season, when the Hawkeyes were declared a potential Final Four squad. It hasn't been an easy road to that point, and they are in the midst of a dangerous slump. With two losses to Michigan State and Illinois this week, the Hawkeyes are losers of five of their past six games heading into Thursday's Big Ten tournament opener against Northwestern.
5. Ohio State (23-8, 10-8, PPP: 1.03, PPP Allowed: .96) (LAST WEEK: 5) … It was a battle, but the Buckeyes emerged with a big, 69-67 victory over Michigan State on Senior Night in Columbus on Sunday. They are certainly a lock for the NCAA tournament, but the win over the Spartans is another résumé-booster in time for Selection Sunday this weekend.
4. Michigan State (23-8, 12-6, PPP: 1.11, PPP Allowed: 1.02) (LAST WEEK: 4) … After the loss to Ohio State on Sunday, Spartans coach Tom Izzo said his team was "a little wimpier than we used to be." It ended a lackluster final month-and-a-half to the regular season in which the Spartans went 5-7 from Jan. 25 to March 9. The Spartans still have a bye, though, in the Big Ten tournament — but don't have much time to build confidence with the "Big Dance" looming. 

3. Nebraska (19-11, 11-7, PPP: .99, PPP Allowed: .99) (LAST WEEK: 6) … The Cornhuskers are having fun, and it's taken them to new heights. With two wins against Indiana (in Bloomington) and against No. 9 Wisconsin this past week, the Cornhuskers have potentially sealed an NCAA tournament bid and have become one of the best stories of college basketball. Last season, the Cornhuskers were 5-13 in Big Ten play. They're now good enough to have earned a bye in the Big Ten tournament. 

2. Wisconsin (25-6, 12-6, PPP: 1.13, PPP Allowed: 1.05) (LAST WEEK: 2) … The streak finally ended in a nine-point loss in a raucous Pinnacle Bank Arena on Sunday, but the Badgers remain hot heading into the Big Ten tournament as winners of eight of their past nine games. This was a 4-5 team in conference play on Feb. 1, but Bo Ryan's squad has turned it around and could be primed to make its first run past the Sweet Sixteen since 2005.

1. Michigan (23-7, 15-3, PPP: 1.17, PPP Allowed: 1.06) (LAST WEEK: 1) … The confetti streamed down from the ceiling of the Crisler Center on Saturday, after the Wolverines had escaped with an 84-80 victory over Indiana. They were Big Ten champions — and they were three games ahead of anyone else in the standings. The Wolverines have had an incredible turn-around after an 8-4 start to the regular season, and they've now won six of their last seven games heading into the Big Ten tournament in Indianapolis, facing either the Hoosiers or Fighting Illini on Friday.

Filed to: Big Ten Power Rankings