Hoosiers can't stop second-half Wolverines effort, fall short in 84-80 defeat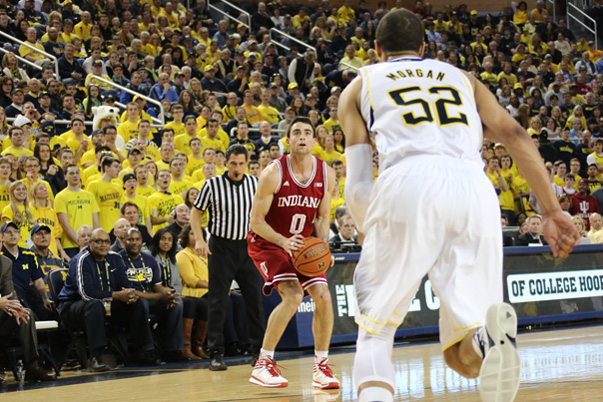 ANN ARBOR, Mich. — The same script has played out over and over for Indiana this season: build a lead on the road and watch it slip away into a loss.
It happened on Saturday, once again.
After the Hoosiers built a 10-point lead in the first half at the Crisler Center, a 12-turnover second half saw the Hoosiers' lead evaporate. And in the regular season finale, the Michigan Wolverines (23-7, 15-3) emerged with an 84-80 victory over the Hoosiers (17-14, 7-11) in front of an announced crowd of 12,701.
"There's times this year, hence our record, that we haven't been as consistent," Indiana coach Tom Crean said following the game. "Even though we lost the game today, we did a lot of good things that we can build on.
"But it's still the same things."
Throughout Saturday afternoon's game, though, the Hoosiers' offense clicked. Against the conference's No. 10 defense in league play, Indiana averaged 1.23 points per possession — its most since a 102-84 win over Washington on Nov. 21.
Senior Will Sheehey scored 17 points. Sophomore Yogi Ferrell added 16 — 12 of which came from beyond the arc (he has now made a 3-pointer in 30 straight games). Even freshman Troy Williams netted 16, including four dunks. In fact, on the night, the Hoosiers shot a 66.3 effective field goal percentage.
"Our guys had great confidence that they would be able to come back and get baskets," Crean said. "We just had to get stops."
And those were hard to come by against the nation's No. 3 offense. On a night in which Indiana once again shut the Wolverines down from beyond the arc — they shot just 4-of-15 from long distance but average nearly 40 percent this season — they instead excelled inside the paint. Freshman Noah Vonleh returned from injury (left foot inflammation that caused him to miss two games) on Saturday, however, the big man played only a total of 21 minutes.
On big man Jordan Morgan's senior night, the Michigan veteran set the tone early with six points and two offensive rebounds with Vonleh on the bench. Michigan, in fact, finished with seven offensive rebounds and a 57.1 2-point field goal percentage in the first half alone but still trailed Indiana, 42-36, at halftime. It went 3-for-11 from beyond the arc and forced only three Hoosiers turnovers.
"We were moving the ball," Williams said. "And everybody had the right chemistry."
But the second half, as has been often for the Hoosiers this season, was a different story. The Hoosiers continued to shoot and execute their offense well — just not as consistently. Suddenly, the turnovers started piling up. Sheehey, who had one of Indiana's 12 second half turnovers, called his performance "trash." The familiar tale was unfolding, once again.
Michigan, meanwhile, continued to pound the ball into the paint. It shot only four 3-point attempts the entire second half. And though it only shot 55 percent on 2s in the second half, it was getting to the line, as well. In fact, the Wolverines were 23-of-24 on free throws in the final 20 minutes. It finished the game with 44 points in the paint and 11 offensive rebounds. And they were capitalizing on the Hoosiers' misfortunes, too.
Off those 12 second-half Indiana turnovers, the Wolverines scored 18 points. Their points per possession rate skyrocketed to a 1.37 mark. By the time just 4:55 remained, the Wolverines had produced a 17-point swing, leading 73-62.
"They are very opportunistic with it," Crean said. "There were a couple times that we didn't take their guys' strengths away. When they got their little run going, I didn't think our ball pressure was very good and they hurt us on some cuts."
Still, as much as the Hoosiers couldn't stop the Wolverines for much of the second half, after that 4:55 mark they forced three straight Michigan misses. A Williams dunk, Ferrell 3, two Stan Robinson free throws and a Devin Davis layup later, the score was 73-71 with 2:39 left. Indiana tied it at 75 just a minute and 14 seconds later with a Robinson lay-up on a fast-break.
But Glenn Robinson III, who netted 20 for the Wolverines, would sink his only 3-pointer of the night from the right baseline on the following possession. Indiana responded with a rushed Robinson 3-pointer on the following possession. It missed, and the Wolverines were able to ice the game at the free throw line.
And with just the Big Ten tournament remaining before whatever postseason awaits the Hoosiers, they even admit there is still plenty of work — and improvement — to be done.
"It's very disappointing, I mean nobody is happy about it," Williams said. "The most you can do is look to the next game. You can't just dwell on the past, you've got to look forward to the future. And next in the future is the Big Ten tournament. So we'll get ready for that."
Filed to: Michigan Wolverines, Tom Crean, Troy Williams