Five takeaways from Indiana's loss at Michigan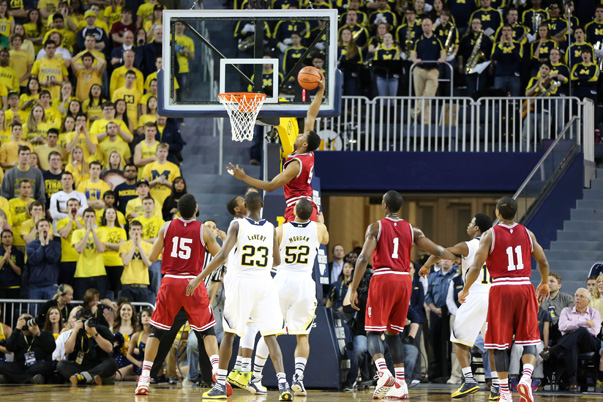 Indiana wrapped up the regular season on Saturday night with an 84-80 loss to No. 12 at the Crisler Center in Ann Arbor. The Hoosiers are 17-14 overall and 7-11 in the Big Ten and will play in the 8-9 game on Thursday at noon in the Big Ten tournament in Indianapolis.
Here's a look at five takeaways from the loss to the Wolverines:
· An offensive showcase: Michigan finished with 1.28 points per possession in the win and Indiana finished at 1.22, its best offensive output this season in the Big Ten. The Hoosiers also posted an effective field goal percentage of 66.3, its highest mark in a Big Ten game, but it wasn't enough as Michigan made a few more plays down the stretch to hold off a late rally.
So why was Indiana so good offensively? Balance.
The Hoosiers had four players in double figures and a fourth, Devin Davis, had nine points. Will Sheehey set the pace with 17 points, with Troy Williams and Yogi Ferrell adding in 16 points each. While Indiana can usually count on a solid performance from Ferrell, he hasn't gotten help consistently this season which is why the Hoosiers have been so hit and miss offensively. On Saturday, IU shared the ball (17 assists) and got dribble penetration consistently, which is a big reason they were able to score 80 points.

· This game had a different feel than IU's other road losses: Indiana went to Ann Arbor as a decided underdog and just as it looked like the Wolverines would pull away late, the Hoosiers reversed course on some of its previous Big Ten road efforts and made a game of it late.
In fact, Michigan needed a 3-pointer from one of its worst shooters, Glenn Robinson III, in order to stave off an IU rally that tied the game at 75 with 1:25 to play. Rather than Indiana folding late, it was Michigan that was just trying to hold on down the stretch.
"Even when we got down there was no fear and our guys have great confidence that they would be able to come back and be able to get baskets," Indiana coach Tom Crean said. "We just had to get stops and unfortunately we got one or two less than we needed."
· Defense, turnovers prove costly: On the flip side of Indiana's offensive performance, its defense against the Big Ten's best offense was an uphill battle.
Unlike the first game in Bloomington where IU was able to turn Michigan over and force them into uncomfortable looks for most of the afternoon, the Wolverines were able to find driving angles for easy baskets at the rim and also limit their turnovers (9.2 turnover percentage). Michigan's 1.28 points per possession were a Big Ten high against Indiana's defense and the Wolverines also had a free throw rate of 51.8, the third highest mark against Indiana in conference play this season.
Indiana only turned it over three times in the first half, but 12 second half turnovers were too much to overcome despite the late run to close the game.
· Freshmen continue to improve: Ten of IU's 15 turnovers on Saturday came from Ferrell, Sheehey and Evan Gordon, which is a sign of progress from Stanford Robinson, Williams, Noah Vonleh and Devin Davis, who combined for just five in 102 minutes.
The play of Davis (nine points, six rebounds) and Williams (16 points, two rebounds) in particular has been impressive over the last two games and a sign that IU's young players are beginning to figure out what it takes to be effective in the Big Ten.
"You look at the other teams that are playing any type of young people that are freshmen, and sometimes even sophomores but especially freshmen, it is inconsistency," Crean said. "You want to have a consistent team because you can't win without it, but at the same time you've got to go through the growing pains of getting it."
· The Big Ten tournament will have plenty of intrigue: After a Big Ten regular season that had plenty of surprises and upsets, the conference tournament should take center stage of the college basketball landscape beginning on Thursday. Indiana's opponent, which is dependent on the outcome later today of Penn State vs. Minnesota, will be either Illinois or the Golden Gophers, with the winner moving on to face top seeded Michigan.
But a look around the rest of the conference provides plenty of other storylines to follow. Among them:
— Can Minnesota and Nebraska's make the conference a seven bid league?
— Can Michigan State, the league's preseason favorite, get on a roll heading into the NCAA tournament?
— Can Iowa rebound from a disastrous finish to the regular season?
— Can a sleeper team make it to Saturday or even Sunday with a chance to steal a tournament bid?
Filed to: Michigan Wolverines