A month after Hoosiers stop Wolverines, teams to rematch in Ann Arbor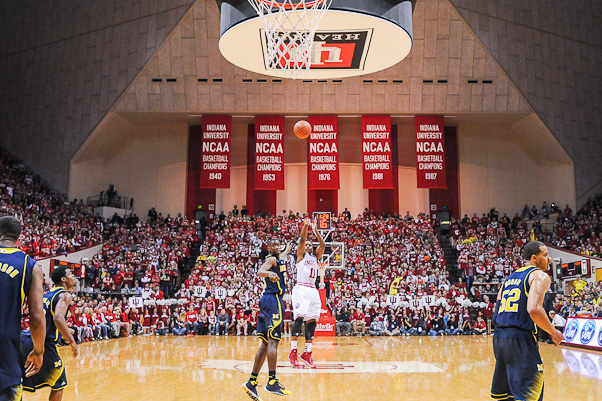 ANN ARBOR, Mich. — Just over a month ago, then-No. 10 Michigan came into Assembly Hall on a 10-game winning streak. It left with a 63-52 loss, its third straight defeat at the hands of the Hoosiers and one of Indiana's four wins over ranked opponents in the 2013-2014 season.
Since then, the No. 12 Wolverines (22-7, 14-3) have gone on to win the outright Big Ten regular season title. The Hoosiers (17-13, 7-10), meanwhile, have continued their up-and-down season — most recently losing by 10 points, at home, to Nebraska on Wednesday.
That 31-game regular-season slate ends today at 6 p.m. in the Crisler Center, as both teams face each other, once again. But the Hoosiers don't expect a similar matchup to that on Feb. 2.
"They'll adjust and we'll adjust," Indiana coach Tom Crean said on Friday. "That's part of it. They'll have different things and we'll have different things. We'll just see what happens when the game comes."
During that February game, the Wolverines' first loss of the Big Ten season, the Hoosiers held the nation's No. 3 offense to its lowest-scoring output of the season. In fact, it's the only time this season the Wolverines were held below 60 points.
That game, the Hoosiers employed certain switches on defense that baffled the Wolverines — that according to Michigan coach John Beilein.
"There's specific ways you have to play Michigan," freshman Devin Davis said. "We've been preparing for it since the Nebraska game, but they have great floor spacing. We'll all have to guard as a team and come in with Indiana toughness."
It's well-documented what the Wolverines do successfully on offense — they have the No. 1 rank in the Big Ten in effective field goal percentage (56.8), 3-point field goal percentage (41.4), 2-point field goal percentage (53.7) and free throw percentage (76.9). 54.9 percent of its field goals are off assists — second in the Big Ten, as well.
And in the Hoosiers' first game against the Wolverines, they held Michigan to a points per possession rate more than 0.2 below its conference-play average and held its leading scorer — Nik Stauskas (17.3 points per game) to just six points.
Since then, Michigan has scored at least 70 points in five games, including three of its past four, and scored its most points since Dec. 28 (vs. Holy Cross) in a Tuesday, 84-53 win, at Illinois.
"They drive the ball and penetrate so well that if you over-help on that penetration, they carve you up," Crean said. "And that's easier said than done, I know, as far as defensively."
And the Hoosiers admit stopping that for a second time today will not be easy against the Big Ten champions, which have only lost twice at home all season.
"We have got to do a great job defensively in that game all the way across the board," Crean said. "They run a lot of different actions and they put everybody on the court that can score."
Crean unsure of Vonleh's playing status
Freshman Noah Vonleh is once again questionable for today's game with left foot inflammation that has caused him to miss the Hoosiers' past two games.
Crean said that Vonleh was participating in practice "some" on Friday, though he wouldn't go as far to say his star freshman would be likely to play. He did say that on Tuesday before the Nebraska game, though Vonleh told Crean on Wednesday that he was not comfortable with playing.
"I fully thought that he'd be a go the other day, but he just wasn't," Crean said. "So we'll just have to wait. I know he wants to play, but we'll just have to wait and see until tomorrow."
Filed to: Michigan Wolverines, Tom Crean