The Minute After: Nebraska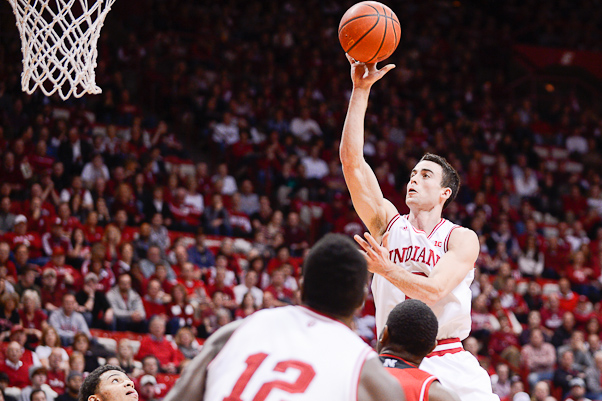 Thoughts on a 70-60 loss to the Cornhuskers:
After back-to-back wins over ranked opponents, the Hoosiers seemed ready to avenge their loss to the Cornhuskers in Lincoln, keeping their slim NCAA Tournament at-large hopes alive in the process.
But they fell short, just couldn't get over the hump, and it's another heartbreaker on senior night.
Tied at 52 with 10 minutes to go after a Will Sheehey 3-pointer, Indiana had a number of shots that would have finally given them the lead in the contest. They just didn't fall. Still, it never trailed by more than three for the next eight minutes of the game, despite the Cornhuskers' zone giving them a bit of trouble. The hustle and effort were there; there was no quit. A Yogi Ferrell missed 3-pointer that air-balled was saved out of bounds by Troy Williams. Devin Davis got his paws on it and scored. Indiana trailed by just one with 2:30 t0 go. A hustle play and the Hoosiers were still right there, still in the hunt.
But Indiana, which had its issues on defense throughout, got a little crossed up on the right wing with some pick action between Terran Petteway and Walter Pitchford. Pitchford got free for a trey and sunk it. 62-58 Cornhuskers and the Hoosiers would never get any closer.
Despite Petteway being in foul trouble and hitting just 3-of-10 from the floor, Nebraska was still able to score 1.1 points per possession in this one. Both Pitchford (17 points) and Shavon Shields (17 points) gave Indiana issues. Pitchford scored the first nine points for Nebraska and it set the tone early that IU was going to have to battle back all night. Too often in the first 20 minutes, Indiana let Nebraska turn the corner around screens and get buckets. The Cornhuskers also scored nine off second-chance points to Indiana's zero. And the Hoosiers, a typically stout offensive rebounding squad, only snagged 18.8 percent of their misses.
After the break, Indiana was able to score 26 points in the first 10 minutes, matching what they pumped in during the first 20 minutes of the contest. It got hot from 3-point range, hitting four in those first 10 minutes. They were able to leak out and get some quicker, easier scores. Problem was, they were trading buckets too much with Nebraska, and once the Cornhuskers sunk back in the zone, Indiana couldn't punch through.
Despite some confusion here and there, it found the gaps and seams enough in that zone to keep it interesting. Troy Williams had 18 points tonight. He hit two 3-pointers after making just three all season coming into the game and was pretty effective in the paint and attacking off the perimeter (7-of-12). He also had six rebounds and a steal. Davis had maybe his best game in conference, making plays on both ends of the floor and finishing with seven points.
But Indiana was a jump shooting team a little bit too much, and it doomed them just enough, as it shot just 5-of-21 from distance. Yogi Ferrell was 1-of-10 from beyond the arc to go along with his aforementioned air-ball. He was just 4-of-14 from the field. Sheehey made only 2-of-7 from deep.
Tim Miles has his Cornhuskers at 10 wins. They entered this game with the second-best defense in the conference from an efficiency standpoint and it showed tonight. Make no mistake, this team, despite the name on the front of the jersey, has proven to be pretty good in conference this year and is clearly in the mix for an at-large NCAA tournament bid.
The Hoosiers, on the other hand, just played their way out — save for a Big Ten Tournament championship.
Filed to: Nebraska Cornhuskers