Hoosiers set stage for Senior Night showdown with Nebraska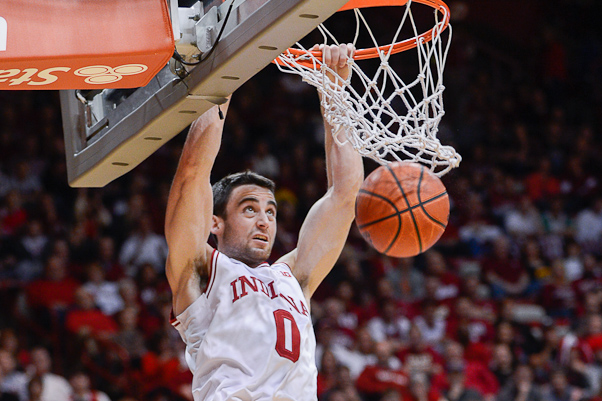 Just a week before the season started, the Big Ten media released a preseason poll of where it projected the 12 teams in the conference to finish. Indiana was rated No. 6. At the bottom of that list: Nebraska.
Fast forward more than four months, and the end of the season is near. Indiana (17-12, 7-9) ranks seventh in the Big Ten standings. But tied for fourth in the league is Nebraska (17-11, 9-7), winners of eight of its past ten with just two games to go.
Tonight in Assembly Hall, those two teams will face off for the second time this season — and the first matchup was long before each team established where it is now.
"It's going to be two teams battling for their NCAA tournament life," senior walk-on Taylor Wayer said. "I think a lot of it is going to come down to who wants it more."
Yes, this is the same Nebraska squad that started the season just 9-9 and 1-5 in the Big Ten. The same squad that has only won twice on the road this entire season.
But here the Cornhuskers are, right in the mix for an NCAA tournament bid. As of March 3, ESPN bracketologist Joe Lunardi had Nebraska right on the brink of a bid — as just the second team out of the bracket.
So what has changed for the Cornhuskers over the past month-and-a-half?
"There's no question they are playing as well as anyone in the league," Indiana coach Tom Crean said.
With the emergence of sophomore Terran Petteway — who is second in the Big Ten with an average 18.4 points per game in conference play — the Cornhuskers have been able to spread their offense effectively with Shavon Shields, Walter Pritchford and Leslee Smith as additional scoring threats.
On defense, they have controlled the boards and have amassed the second-best efficiency rate in the league. The Cornhuskers allow just .99 points per possession, second only to Ohio State, the No. 2 defense in the nation.
The result of that mix of both offense and defense: Nebraska has gone 8-2 since the 9-9 start with wins over Michigan State in East Lansing and Ohio State and Indiana at home. And against the Hoosiers on Jan. 30, it overcame a double-digit deficit to win the game at Pinnacle Bank Arena.
"They beat us, and we will remember that," Crean said. "As will they."
Indiana's players are dreaming about an NCAA bid right now, too. It's almost hard to imagine, when less than three weeks ago the Hoosiers were 14-11 and coming off their worst of the season in an 18-point defeat at Purdue.
But the team has won three of its past four games, including two straight against ranked opponents. The offense is clicking. The defense has stiffened.
"We're really hungry right now," Wayer said.
And the Hoosiers hope that will transfer into tonight's game against the Cornhuskers.
The emotion will already be there with senior night festivities planned. But dealing with it, as the Hoosiers — and Cornhuskers — chase their NCAA tournament aspirations, will be a completely different story.
"We have to take all of the emotion out of that and play with great energy, fierceness and toughness," Crean said. "And we are going to need our crowd to absolutely help carry us the whole way through."
Crean hopeful Vonleh will play
Speaking to the media on Tuesday afternoon, Crean said he is hopeful freshman Noah Vonleh will play against Nebraska tonight.
"We're hopeful, as long as there's no setbacks," he said. "We'll plan to have him, but we'll wait until tomorrow to see how he feels."
Vonleh has been dealing with a left foot inflammation that has been affecting him all season and caused him to miss Sunday's game against Ohio State.
The 6-foot-10 forward has started every game in which he has played for the Hoosiers this season and leads the Big Ten with 9. 1 rebounds per game.
Filed to: Nebraska Cornhuskers, Noah Vonleh, Taylor Wayer