Hoosiers, with Noah Vonleh on the bench, beat Buckeyes, 72-64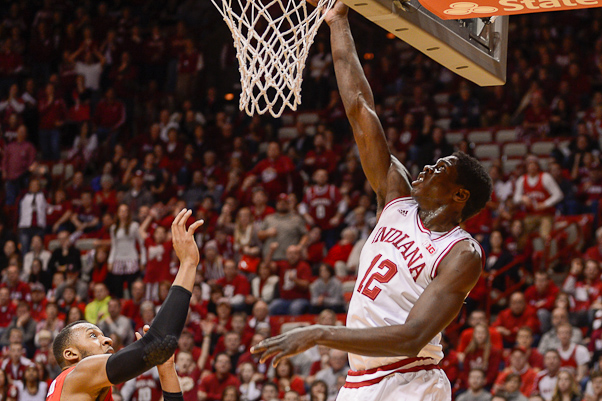 Indiana coach Tom Crean said the Hoosiers had been waiting for this game for a long time.
Well, at least since after last season's loss to Ohio State on March 5, 2013: Indiana's senior night. 362 days later, on Sunday, Crean got the rematch he had been waiting for at Assembly Hall.
And in a dominating performance — even without one of its best players — Indiana (17-12, 7-9) got the win it had been looking for in a 72-64 victory over No. 22 Ohio State (22-8, 9-8).
"Our players just responded," Crean said. "I mean, this league is so tough that the only thing you can liken it to is a 15-round fight every night, and we've been answering every round, and we've been dealing with it in a good way. I'm really, really proud of the way our team played today."
It doesn't come as news that this has already been a season full of ups and downs for the Hoosiers. Just in the past two and a half weeks Indiana has collapsed (with losses to Penn State and Purdue), experienced the arrest of one of its own players and somehow built itself back up, winning two of its past three (at Northwestern and vs. No. 20 Iowa on Thursday) before Sunday.
It received yet another twist before the game against the Buckeyes.
Freshman Noah Vonleh, who was supposed to be critical in the Hoosiers' game plan in handling the Buckeyes around the rim, had been dealing with an inflamed left foot. Indiana had no choice but to declare him out.
"The biggest concern we had there," Crean said, "is are we going to answer the bell rebounding-wise?"
It didn't come easy, but Indiana did. As Vonleh watched his teammates from the sideline, clad in a grey warm-up outfit, Ohio State got plenty of the early looks inside. The Hoosiers had trouble getting inside penetration, too.
The Buckeyes opened with a 20-12 lead in the first 13 minutes of the game. Crean admitted it took his team a while to get solidified down low. But even with the Hoosiers' struggles inside, the offense started to click. The Buckeyes started missing shots and turning the ball over. The Hoosiers got out in the fast break and made quick layups. Jump shots started to fall.
Indiana went on a 16-0 run in a 3:18 span to take a 28-20 lead over the Buckeyes. Suddenly, the tide had changed.
"We pride ourselves on defense," Ohio State coach Thad Matta said. "We missed layups and we missed free throws, and then all of a sudden, we clammed up and we lost our defensive intensity. We lost our juice on the defensive end."
But this has been a season full of ups-and-downs. There have been plenty of times this season where the Hoosiers got ahead and blew it early in the second half. And on Sunday, that almost happened again.
Despite leading at eight at halftime, Ohio State got within two at 37-35 just 4:25 into the second half. Will Sheehey answered with a jumper, though, and the run had been stalled.
Again, Ohio State would get close — within one point at 48-47 with 9:22 left. This time, after an Evan Gordon 3-pointer that extended IU's lead to four, Sheehey (19 points) answered on the following possession with a 3 of his own to put the score at 54-47. The Buckeyes would never get closer than five the rest of the way.
"That's what a senior leader does," sophomore Yogi Ferrell (20 points) said. "He steps up to the challenge. He's done that for us both games. He's pretty much carried us."
In the second half, the Hoosiers got the shots they wanted, utilizing switches on offense that gave them beneficial match-ups. Turnovers weren't resulting in immediate Buckeyes points. They shot 56.5 percent from the field with a 63.0 effective field goal percentage in the final 20 minutes. Indiana had solved Ohio State's defense that was ranked No. 2 in the country before Sunday's game.
On defense, the Hoosiers were just as effective. Bringing in sophomore Hanner Mosquera-Perea off the bench, the 6-foot-8 forward gave the Hoosiers the post presence they desperately needed. In that second half, he recorded four rebounds and blocked three shots. Mosquera-Perea wasn't alone, either.
On three straight possessions in the final 3:20, Sheehey shut down Buckeyes senior guard Aaron Craft (seven points), resulting in two turnovers and one missed layup. Indiana's lead went from 61-53 to an insurmountable 65-55 margin.
And on an afternoon in which the Buckeyes could not get anything going from outside the paint — the Buckeyes made only one shot from outside the paint all afternoon — Indiana's defensive shutdown was the difference.
The Hoosiers out-rebounded Ohio State on Sunday, 34-32.
"It just shows the grittiness of our team, I feel like," Mosquera-Perea said. "Everybody steps up to the challenge. They gave us a little bit of extra juice to it, really. Now that Noah's out, everybody just stepped up to the challenge, really. You know, we really wanted this one. We did not want to come out here with a loss.  So I think everybody had in their minds that it just kind of clicked.
"We just wanted to get this win."
Vonleh day-to-day with left-foot inflammation
Just minutes before tipoff on Sunday, Crean tweeted that Vonleh would miss the Hoosiers' game against the Buckeyes due to inflammation in his left foot.
It has been an ongoing issue this entire season, Crean said following the game, and that he knew on Saturday that it was possible IU would be unable to play. The realization that Vonleh couldn't play occurred on Sunday.
"That's been bothering him for some time," Crean said. "There is no stress fracture or anything like that. It's just bothering him, and he's not very comfortable with it. So it's truly going to be a day-to-day thing with him."
Crean said that Vonleh's playing status for Wednesday's game against Nebraska is still unknown at this point and that he is undergoing daily rehabilitation for the injury.
In 28 games played for the Hoosiers this season, Vonleh leads Indiana with 9.1 rebounds per game and is averaging 11.6 points.
Filed to: Noah Vonleh, Ohio State Buckeyes, Tom Crean