What to Expect: Ohio State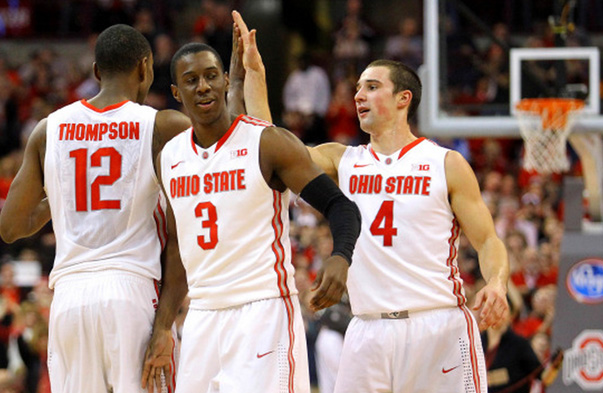 (Photo credit: Rob Leifheit-USA TODAY Sports)
Indiana returns to Branch McCracken Court at Assembly Hall on Sunday afternoon for the second contest in a three-game home stand. The Hoosiers will welcome No. 22 Ohio State, which is coming off a loss at Penn State, to Bloomington. The Buckeyes are 22-7 overall and 9-7 in the Big Ten.
The game will be broadcast on CBS at 4 p.m. ET and on the IU radio network (Sirius 91, XM 91).
Despite its setback on Thursday in State College, Ohio State has been one of the conference's top teams after a disappointing to start to league play. The Buckeyes went unbeaten in the non-conference, but lost five of its first eight Big Ten games.
A loss to Penn State in Columbus on Jan. 29, however, was backed up by road wins over Wisconsin and Iowa, which got the Buckeyes rolling again. They're now 6-2 over their last eight games, with the only setbacks in that stretch coming at home against conference-leading Michigan and the loss Thursday at the Bryce Jordan Center.
This won't go down as one of Thad Matta's best teams, but it's still elite defensively and good enough to win in March because of its experienced core of players that includes two seniors in the backcourt.
So what's on the line for each team on Sunday? Indiana obviously needs any win it can get with just three to go in the regular season and Ohio State is still fighting for a Big Ten tournament bye and NCAA tournament seeding. The stakes certainly aren't as high as last March when the Buckeyes spoiled senior night in Bloomington, but a late-season CBS game should still produce quite the atmosphere.
PERSONNEL
The Buckeyes are the Big Ten's most experienced team (per the KenPom experience rankings) with two seniors, five juniors, a sophomore and a freshman in the rotation.
Junior LaQuinton Ross is the team's leading scorer in conference games with 15.6 points per game and an effective field goal percentage of 49.2. Ross has been asked to be counted on to pick up some of the scoring load vacated by Deshaun Thomas, who left early for the NBA but is playing in France. He's also the team's top rebounder in league play with 5.6 per game.
The backcourt is the same as last season with seniors Aaron Craft and Lenzelle Smith Jr. As limited as Craft is offensively, his effective field goal percentage in conference play is 55.5 percent, and he's tied for third in the league in assist rate (27.8). Defensively, he's setting the league pace in total steals (42), steals per game (2.6) and steals percent (4.7). Smith Jr. is the team's second leading scorer in Big Ten play at 10.1 points per game but has struggled with his shooting (45.8 percent on 2s and 28.6 percent on 3s).
Junior guard Shannon Scott and junior wing Sam Thompson have both started half of Ohio State's Big Ten games and each has a different role. Thompson has improved his 3-point shooting (41.7 percent) and is one of the league's most spectacular finishers at the rim. Scott can be a lockdown perimeter defender and is right behind Craft in many of the steal categories referenced earlier.
Up front, junior Amir Williams, a former McDonald's All-American, still struggles to find consistency. Williams is averaging seven points and 4.7 rebounds in Big Ten games and is fifth in the league in block percentage. Junior Trey McDonald is Williams' backup and is making 55.2 percent of his 2s in about 12 minutes per game.
Two other players who could make an appearance are sophomore Amedeo Della Valle and freshman Marc Loving. Both have taken more than half of their field goal attempts in conference play from behind the 3-point arc with varying degrees of success. Della Valle is hitting 36.4 percent from distance while Loving is hitting just 20 percent.
TEMPO-FREE PREVIEW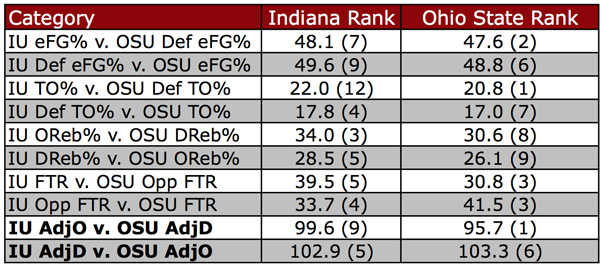 Indiana's chances on Sunday will rely heavily on limiting mistakes as the Buckeyes are turning over Big Ten opponents on 20.8 percent of their possessions, which leads the league. The turnover woes for the Hoosiers have been well-documented, but in a game that's unlikely to go above 65 or 66 possessions, IU simply cannot afford to have anywhere near its season average of turnovers and expect to win.
Defensively, the Buckeyes are leading the conference by allowing just .96 points per possession. Big Ten opponents are shooting just 29.7 percent on 3s, but there's an opportunity to be effective in the paint if the defensive pressure on the perimeter doesn't result in a turnover. Ohio State's defensive field goal percentage on 2s is just 49 percent and it's allowing opponents to rebound 30.6 percent of their misses.
The free throw line could also be critical as both teams get to the line frequently and also keep their opponents off the line. Craft and Ross, in particular, are effective in this area, as both have a free throw rate (FTA/FGA) over more than 50 in conference play.
WHAT IT COMES DOWN TO
If you found Thursday's game against Iowa a joy to watch, you may be saying the exact opposite about this contest. Both teams are averaging in the mid 60s in conference games, and there's little doubt that Ohio State will look to keep this game in the half court and try to grind out a win.
Craft is likely to shadow Yogi Ferrell for most of the afternoon, which means that Indiana is going to need offensive contributions from guys like Will Sheehey and Stanford Robinson, both of whom played very well against Iowa on Thursday. When the Buckeyes have the ball, Ross is a major key for Indiana to contain, as is Craft, who will look to get into the lane and get to the line or create for others.
The Vegas line isn't available as of this writing, but Pomeroy likes Ohio State to win by 2 and Sagarin likes the Buckeyes by 3. Indiana's NCAA tournament hopes are still out of reach for now, but wins over the next two home games could at least keep things interesting heading to Michigan. If the Hoosiers can take care of the ball and navigate the Big Ten's best defensive unit, IU will be one step closer to 20 wins and a bubble rebirth.
Filed to: Ohio State Buckeyes