The Minute After: Iowa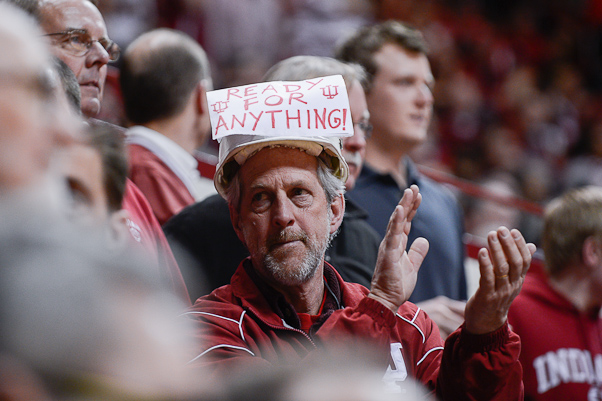 Thoughts on a 93-86 victory over the Hawkeyes:
This one was like none other.
After the Big Ten season had slowed the Indiana transition attack, the Hawkeyes presented themselves as a willing partner in a fast-paced dance. Up and down the court these teams went in the first half, trading quick bucket after quick bucket. It was called an AAU game, a track meet, a defensive-averse first 20 minutes. It was also something else: fun. It would end as the contest with the most possessions of the Big Ten season to date.
Tom Crean wasn't afraid to push the pace and keep running it back at Fran McCaffery. There were possessions after Iowa makes where Crean implored his team, two hands sweeping in circles, to not slow down, to keep it going fast despite a made basket from the other team. A total of 101 points had been poured in by halftime.
Indiana won this one because it was able to slow down Iowa just enough in the second half, stringing together some nice defensive possessions. The Hoosiers pushed the Hawkeyes into a higher turnover percentage than average (21.7 percent) and shut down Roy Devyn Marble (14 points in the first half, just six in the second).
And then there was Will Sheehey. Simply put: It's been a bit of a rocky, up-and-down year for No. 0. But with his big trey against Northwestern to seal it late, his strong start against Wisconsin and his career performance this evening, you wonder if he's cresting just when the Hoosiers need him, salvaging a season that looked bleak just over a week ago.
Will's 3-point shot is still a little rough (2-of-7), but he sprinted down the court ahead of everyone like he was like Cody Zeller for buckets at the cup, including an emphatic dunk late that (just about) sealed the victory. Sheehey hit jumper after jumper and made cuts off the ball as well en route to a career-high 30 points. He was hunting for shots at times tonight — something he's not known to do — but you know what? It worked. Hats off to the senior.
Stanford Robinson has been benched from the starting five in favor of Austin Etherington over the last couple games, but after a strong first half, Robinson was back in the starting lineup to start the second half. He was magnificent going to the hole and drawing fouls and even hit 7-of-10 from the line after shooting around 50 percent on the season heading into the game. Robinson ended the night with a career-high 17 points and Crean's concerns about production out of the 2-guard spot, for a night, were put to rest.
For a stretch in the first half, Jeremy Hollowell probably put together his best chunk of time this season. He was active and engaged on both ends of the floor. He scored seven points tonight and it was clear he gave a damn. Evan Gordon had some bad turnovers in the first half, but he also was aggressive on the attack, hitting on some big drives and banking in a trey in the second half. He had 12 tonight, scoring in double-digits for the first time since the overtime loss to Illinois on New Year's Eve, when he had 10.
Yogi Ferrell (eight points, just two in the second half on late free throws with 39.9 to go) and Noah Vonleh (four points) took a back seat tonight. Not the worst thing in the world. These two have carried much of the offensive load this season and are getting a lot of defensive attention game after game, including tonight.
And really, If IU is to keep going from here to pick up a couple late wins in the Big Ten season and flirt with a .500 conference mark, it's going to need the rest of the crew to step up like they did in tonight's wild one against Iowa.
Filed to: Iowa Hawkeyes, Will Sheehey