Indiana offense outpaces Iowa, races to 93-86 victory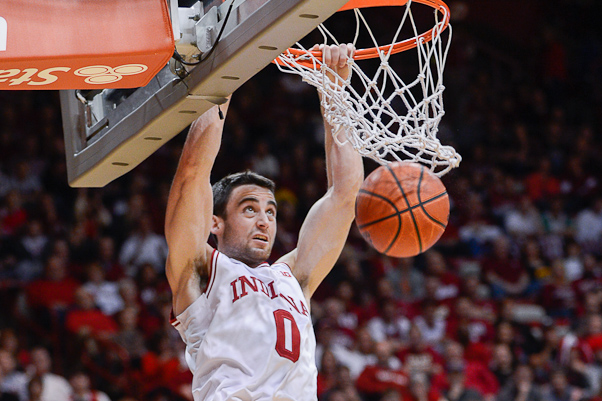 Well before Indiana took the court on Thursday night against Iowa, Tom Crean declared how his team would match up with the No. 20 Hawkeyes on his pre-game radio show appearance.
They were going to run with them, play at Iowa's desired tempo and go deep into their bench to support their style of play. If there was a time for the Hoosiers' supporting cast to step up, this would be it.
And that is exactly what they did. In one of the most exciting, up-tempo games in the Big Ten this season, the Hoosiers scored a whopping 93 points behind 42 bench points and 81 from players outside of their two leading scorers (Yogi Ferrell and Noah Vonleh). And in a game where stops were at a premium, it was enough for Indiana (16-12, 6-9) to pull off a 93-86 victory over Iowa (19-9, 8-7) at Assembly Hall.
"Great respect for Iowa," Crean said. "Really proud of our players and the way they kept taking punches and responding to it. From the beginning of the game, to the second half, it was a game of runs, and we were right in the middle of it. I thought our response, our intent, our resiliency was excellent."
From the opening tip at 9:10 p.m., both teams exchanged blows. Iowa had a 10-2 lead just 1:49 into the game. By the first media timeout, the two teams had already combined for 27 points.
The Hawkeyes got penetration inside. Lay-ups came easily. The inside-out game was working. In the first half alone, Iowa shot 20-of-28 on 2s with 17 of those makes in the paint. It had eight points off eight Indiana turnovers.
But the Hoosiers matched each blow the Hawkeyes dealt them. Playing at the Hawkeyes' tempo, Indiana found open looks of its own. Players got the shots they were looking for.
By halftime, the Hoosiers would have eight different players score for a 59.4 effective field goal percentage on 1.12 points per possession. Will Sheehey led the way with 19. It was one of their best offensive halves of basketball this season. But they still trailed Iowa, 52-49, at the break.
"They took the punches," Crean said. "They just kept going. That's why that's such a good analogy for this. They just kept, kept playing."
And the hits kept coming. By the 18:02 mark of the second half, Iowa led Indiana 58-51. But a Stan Robinson dunk from a Sheehey pass in transition showed the Hoosiers weren't going to back down.
By the 14:34 mark, Indiana was within one. With 13:13 left, Evan Gordon banked in a 3-pointer to give the Hoosiers the 62-60 lead.
"We just finally said let's play our game," said Robinson, who finished with a career-high 17 points. "The way coach Crean has been wanting us to play since day one. They're a good running team, so we decided to just run back with them. Good things happen when we run."
The Hoosiers' shots continued to fall. Robinson eclipsed his career-high. Sheehey shattered his, finishing with 30 points.
Iowa's shots, however, started to miss. With Indiana playing a three-guard lineup, something it hasn't done often this season, it enabled the Hoosiers to switch on Iowa's big men. Suddenly, the Hawkeyes had trouble getting the ball to Adam Woodbury and Melsahn Basabe. Vonleh, playing with three fouls, was impacting any paint opportunities the Hawkeyes had.
From the 9:47 to 1:24 mark of the second half, Iowa would not make a single field goal. It would go 0-for-7 from the field and score just seven points in that span. What was a 66-64 Iowa lead had turned into an 82-73 deficit.
"This game was high scoring and we knew the teams were going to score," Sheehey said. "But what we did was start switching more. Our smaller guys got switched on the bigs and they did a fantastic job really fronting them and making the touches hard for those guys."
Though it took 15 minutes to play the final 62 seconds — both teams shot a combined 18 free throws in that span — the Hoosiers would battle through to their 16th win of the season. Ferrell finished with eight points and Vonleh with four. Ten different Indiana players scored on the night.
Crean knew it would be the battle of offenses. It was Indiana's that reigned, finishing with a 55.9 eFG% and 1.12 points per possession.
And though Iowa shot just as well for most of the game, the Hoosiers did enough to emerge victorious.
"We beat a really good team tonight," Crean said. "No doubt about that."
Sheehey notches 30, smashes career-high scoring mark
Before Thursday's game, Sheehey was honored at center court for scoring his 1000th career point 12 days earlier at Purdue. It was his first game back in Assembly Hall since then and potentially his third-to-last game ever in Bloomington.
And Sheehey came out firing. He scored 10 of Indiana's first 17 points, but that was only the start of what he would do against the Hawkeyes.
"Our game plan was to run to the corners and space the floor, and I guess that's what happened," Sheehey said. "We'd run the corners and the middle would be open. I just jumped down the middle and got open looks."
By the end of the first half, Sheehey shot 8-of-13 from the floor for 19 points. His career-high before Thursday night was 22 points. By the 14:58 mark of the second half, he would tie it on a 3-pointer. With 8:16 left, he would top it on a jumper — the bread-and-butter type of shot Sheehey has thrived on throughout his career.
He would score another six points on the night in a 30-point effort off of 13-of-20 shooting. Six of those makes were off assists. He would assist on another three baskets.
"I mean, really I was scoring without the ball in my hands and these guys found me," he said. "So a night like this really just shows the kind of teammates we have."
After the game, after Crean realized Sheehey had scored 30 points — he thought it was "unbelievably ironic" the effort came on the night Sheehey was honored for his 1000th point — he saw his players congratulating Sheehey in the locker room. The senior deflected the credit to his teammates instead.
"All his friends that he's come up with are here and gone, and we have huge leadership expectations for him because he's capable," Crean said. "And I think he's embracing those right now."
"We need Will to be Will, and everybody in here that covers us knows what that means, and that's exactly what he's doing."
Filed to: Iowa Hawkeyes, Stanford Robinson, Will Sheehey