Indiana finds its rhythm, notches second road win of the season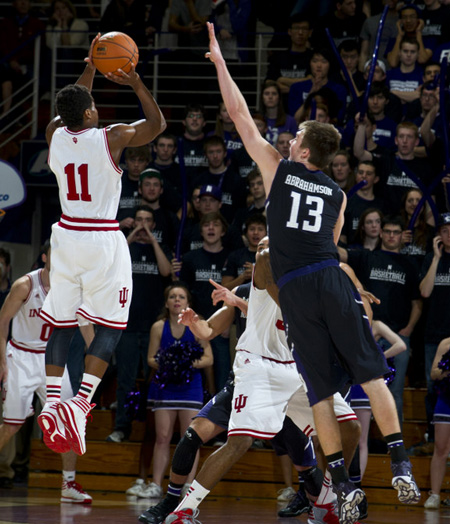 This was exactly what Indiana needed.
On the heels of a wild ten days — from the Penn State and Purdue losses to the arrest of sophomore Hanner Mosquera-Perea to the collapse of a metal beam at Assembly Hall which postponed Tuesday's scheduled game against Iowa — Saturday night's game at Northwestern gave the Hoosiers a chance to clean the slate heading into a six-game in 15-day final stretch to the season.
And the Hoosiers (15-11, 5-8) did just that in their 61-56 victory over the Wildcats (12-16, 5-10) in Evanston, only their second road win this season.
"That's what makes this league so hard but it's also what makes every win so gratifying," Indiana coach Tom Crean said. "It's what makes every win so incredibly — not just valuable in standings and things — but just precious because they're so hard to come by. Especially when you go on the road."
This was an Indiana team that, before Saturday night's game, had blown double digit leads in three of its past five games. This was an Indiana team that lost four of its past five and had little going for it. None of that mattered on Saturday, though.
Against a Northwestern squad that only one month earlier baffled the Hoosiers into their worst offensive output of the season, Indiana did everything it needed to in order to succeed in their second matchup.
From the start, the Hoosiers attacked the rim. Ball movement was a priority. Whereas in their first matchup with the Wildcats the Hoosiers got stagnant — to the point in which they shot 26.2 percent on 2s and 26.7 percent on 3s — the exact opposite occurred on Saturday.
The Hoosiers finished around the rim. They connected on cuts and inside-out plays. And most importantly, perhaps, they did not turn the ball over.
Indiana had only seven on the night, a season-low, compared to 10 assists. It was the first game since the 75-72 win over Wisconsin on January 14 that it had more assists than turnovers.
"Everyone just did what they do," senior Will Sheehey said. "Troy (Williams) was flying around, being athletic. Noah (Vonleh) was making himself a presence in the lane and Yogi (Ferrell) ran the team tonight. Everyone contributed and did what they do."
After leading at halftime by just two points, the Hoosiers broke out to start the second half — unlike many of their previous road performances this season. A 12-2 run had them leading, 44-32, with 12:35 left. And this time, Indiana withstood an eventual run and held on.
Northwestern trimmed the score to 54-50 with 2:21 on the clock, but the Hoosiers sealed the victory with a Williams baseline layup on the following possession and a Sheehey 3-pointer from the left wing to put Indiana up eight with 51 seconds to go.
"Those were big plays at crucial times, and it was fantastic for Will to make that shot," Crean said. "He's worked so hard, his leadership has been so good."
"The things we needed to do happened," he would say, later.
And recently, for Indiana, that hasn't happened very often.
This was about as complete of a performance Indiana could have hoped for: The Hoosiers played smart, got their offense going (shooting 55.6 percent on 2s this time) and played like the better team on the floor.
With all the ups-and-downs Indiana has faced this season, Saturday's win at Northwestern was one of those ups. Whether the Hoosiers can carry that momentum into their five remaining games this season — with three straight games ranked opponents on slate — is yet to be determined.
But the truth of the matter is, after everything this team has been through recently, any positive momentum is important. And that's exactly what the Hoosiers left Evanston with on Saturday.
(Photo credit: Stephen Carrera, NUSports.com)
Filed to: Northwestern Wildcats