Five takeaways from Indiana's win at Northwestern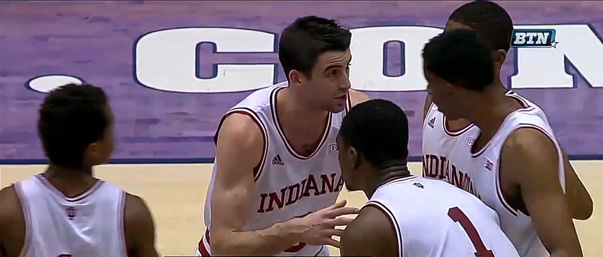 EVANSTON, Ill. — Indiana snapped a three game losing streak and picked up its second conference road win on Saturday night with a 61-56 triumph over Northwestern at Welsh-Ryan Arena.
Here's a look at five takeways from the win over the Wildcats:
· Indiana closed the deal on the road: After IU held second half leads in earlier conference road losses at Michigan State, Nebraska and Minnesota, it was fair to wonder if the Hoosiers would win again away from Assembly Hall this season. And as Northwestern trimmed a 12-point IU lead all the way down to four with 2:21 to play, it looked as if the Hoosiers may let another opportunity for a win slip away.
But rather than just trying to hold on, Indiana took control late and made the plays necessary to win the game. It started with Noah Vonleh finding a cutting Troy Williams on the baseline to make the lead back to six with 1:59 to play. And then came the dagger: A 3-pointer by Will Sheehey with 52 seconds remaining to make the lead eight and put the game away for good.
"Really to win a close game, it means a lot for our team," Sheehey said. "It means we're progressing."
· A balanced offense: Rather than relying on a big night from Yogi Ferrell, who came into Saturday averaging 21 points in IU's four previous conference wins, the Hoosiers hurt Northwestern in a variety of ways as four players finished in double figures.
Ferrell, Sheehey, Williams and Vonleh each had 12 points, but it was the different ways in which they scored that made things difficult for Northwestern to defend.
Ferrell hit a timely 3-pointer to push the lead to nine with 8:43 to play and also mixed in a few difficult pull-up jump shots. Sheehey found holes in the middle of the zone and knocked in consecutive jumpers to push the lead to 10 with 6:18 to play. Williams, as Sheehey put it, was "flying around and being athletic" and finished several plays emphatically. And Vonleh gave Alex Olah problems out on the perimeter by putting the ball on the floor and driving to the basket.
The result was a strong offensive performance that ended with an effective field goal percentage of 51 and 1.10 points per possession.
· A low turnover night: Turnovers are a major reason that Indiana is sitting at just 15-11 overall this season, but for a night, the mistakes that have plagued the Hoosiers all season disappeared.
Indiana posted a season low in both turnovers (7) and turnover percentage (12.7). So what was different?
"We fed the post, we played inside-out, we didn't try to throw home run passes," Crean said. "These guys know if we get good looks and if we get a chance to get on that board and if we get to that foul line, we can be pretty good."
· Indiana won at Northwestern's pace because it had better movement: The Wildcats have been shortening games all season by design and Saturday was no different. It tied the Michigan game for the lowest possession game Indiana has played all season at 55, but the pace wasn't a deterrent for the Hoosiers.
As much as Indiana tried to run early in the season, the Hoosiers have proven to be more successful in Big Ten play when forced to execute in the halfcourt rather than trying to run when it isn't there.
Indiana had good ball movement and ball reversals on Saturday, something it didn't have in the first meeting in Bloomington. That allowed the Hoosiers to come up with much cleaner looks and connect on 55.6 percent of its 2s, up significantly from the 26.2 percent mark against the Wildcats on Jan. 18.
· This win is a positive in an otherwise tough 11-day stretch: Not much went right for Indiana over the 10 days leading up to Saturday's win, but the Hoosiers showing resolve and bouncing back exemplifies some growth took place.
Whether it's a springboard to a strong finish for the final five conference games remains to be seen, but the Hoosiers needed this win to stop the negative momentum.
"The fact that we got off to a good start in the second half was a real maturity point for us," Crean said. "We're working hard to build on it."
Filed to: Northwestern Wildcats