Indiana looks to solve Northwestern defense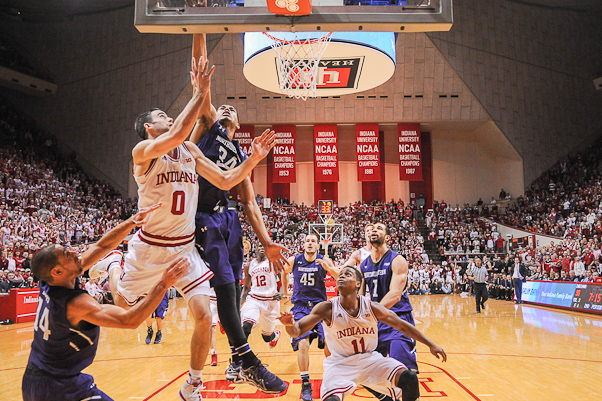 It stands as Indiana's worst offensive performance of the year: Fewest points scored, worst offensive efficiency rate and worst 2-point shooting percentage.
Just over one month ago, the Hoosiers' 54-47 home loss to Northwestern was their first black eye in what was once a hopeful NCAA tournament-bound season. It set the wheels in motion, as since that game, the Hoosiers have won just two of seven.
Today, though, in Evanston, Ill., Indiana (14-11, 4-8) will have a chance to avenge that loss to Northwestern (12-15, 5-9), as two of the bottom four teams in the Big Ten battle at 8:15 p.m. ET.
"You can't settle, there were far too many times in our first game here that we settled," Indiana coach Tom Crean said during a teleconference on Friday. "We tried to force things that weren't there rather than attacking what was there. What we have to do a much better job of, and some teams have done a better job than others against them, is look for those opportunities."
The numbers from Indiana's first bout with the Wildcats are sobering: a .73 points per possession rate, a 22.2 3-point shooting percentage, a 26.2 2-point shooting percentage and a 28.3 effective field goal percentage is all the Hoosiers mustered against the then 8-10 (1-4 Big Ten) Wildcats. Indiana turned the ball over only nine times, but missed shots did the Hoosiers in, anyway.
Since that game, Northwestern continued its success in low-scoring, poor-shooting affairs. It beat Purdue, in double overtime, by a 63-60 score. It beat Wisconsin and Minnesota — each on the road — by holding each opponent to 56 and 54 points, respectively.
But in their past four games, the Wildcats have faltered. They have lost four straight and have allowed at least 75 points in two of those games. And with Northwestern's recent struggles, it has perhaps allowed Indiana an opportunity to find a way to solve the riddle of the Wildcats' defense. One that has, at times, simply dumbfounded opponents into shooting their worst performances of the season.
Just like how the Wildcats did just that against the Hoosiers on January 18.
"We need to make sure that we get good post touches and get a lot of movement off the ball," senior Will Sheehey said. "We are going to try to set some screens off the ball and things like that to get more movement."
Hoosiers prepare for six games in 15-day stretch
Crean wasn't afraid to admit it during Friday's teleconference: Tuesday's postponement of Indiana's scheduled tilt against Iowa threw a wrench in the Hoosiers' plans.
He had gotten his team mentally prepared for the challenge of facing the surging Hawkeyes' offense. After the drama of the prior week, with the two devastating losses to Penn State and Purdue and the arrest of Hanner-Mosquera-Perea, he felt his team was ready to play well.
"There was no doubt with this team," Crean said. "We didn't practice for very long (on Tuesday), but there was such an edge with them. They were 'game ready.'"
But with Tuesday afternoon's fall of the metal beam in the northwest corner of Assembly Hall, the game they prepared for never happened.
Crean gave his team an off day on Wednesday and started preparations for Northwestern on Thursday. Except, in addition to preparing for the Wildcats, he also is readying the Hoosiers for an action-packed end to the season and finding the balance between keeping his team fresh and making sure it continues to improve.
On Friday, it was announced the Hoosiers and Hawkeyes will play on Feb. 27, which means the Hoosiers will play Northwestern (Feb. 22), Wisconsin (Feb. 25), Iowa, Ohio State (March 2), Nebraska (March 5) and Michigan (March 8) in just over a two week span.
All the while, Sheehey said, the Hoosiers will try to focus on "each game as they come." And they will come quickly as the regular season winds down.
"Bottom line is there is nothing we can do about it," Crean said. "The preparation is what it is. We prepared hard for Iowa and we continued to prepare for Iowa on Tuesday night and then we just have to rekindle that next Wednesday.
"We have to get ready for Northwestern and then Wisconsin but we also have to get better."
Filed to: Northwestern Wildcats