What to Expect: Iowa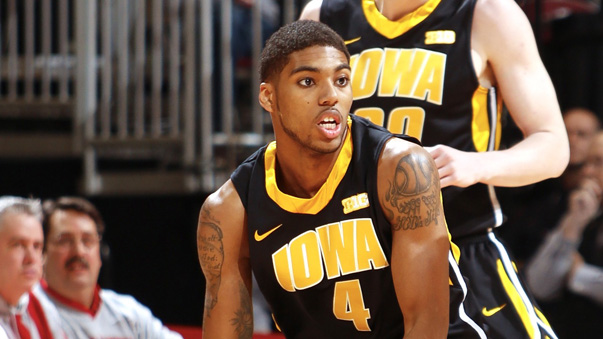 Indiana returns to Assembly Hall tonight for a primetime matchup with No. 15 Iowa. The Hawkeyes are 19-6 overall and 8-4 in the Big Ten.
The game will be broadcast at 9 p.m. ET on ESPN and on the IU radio network (Sirius 91, XM 91):
There's a three-team race for the 2013-2014 Big Ten regular season championship. Indiana's opponent tonight, Iowa, is in the thick of it, but can probably only afford one more loss at most if it hopes to remain there.
The Hawkeyes are one back in the loss column to Michigan and Michigan State, but the remaining schedule seems to favor the Wolverines:
— Michigan: Michigan State, at Purdue, Minnesota, at Illinois, Indiana
— Michigan State: at Purdue, at Michigan, Illinois, Iowa, at Ohio State
— Iowa: at Indiana, Wisconsin, at Minnesota, Purdue, at Michigan State, Illinois
So what does this have to do with Indiana, you ask? Well, the point is that the Hoosiers still have a seat at the table in terms of determining who wins the Big Ten. The Hoosiers have already knocked off Michigan and Wisconsin at home and tonight's game at Assembly Hall is pivotal for Iowa to remain in the race.
This is the type of game Indiana has played its best in over the past few seasons: Big stage, ranked opponent and something to prove. With its first three-game losing streak of the season, will the Hoosiers take another punch or hit back?
PERSONNEL
When Fran McCaffery took over a depleted Iowa program for Todd Lickliter, this is the year he was building toward. It's year four in Iowa City and McCaffery has constructed a roster that is deep, versatile and experienced enough to make a run in March.
McCaffery isn't piling up highly rated recruiting classes, but he's assembled talent that is now seasoned enough to finish in the top three of another brutally tough Big Ten. And while Iowa's future appears stable, this is probably as good of a year as any for the Hawkeyes to make a run as their best offensive player, Roy Devyn Marble, is a senior.
In league play, Iowa is playing nine guys 15 or more minutes per contest and a tenth man, Anthony Clemmons, is playing about eight per contest. The offense, the second best in the Big Ten with 1.13 points per possession, is led by Marble, who is averaging 17.6 points in conference play with an effective field goal percentage of 49. Marble is using 27.2 percent of Iowa's possessions, which hurts his efficiency a bit, but he's good enough to take over a game.
Iowa's most efficient player is junior forward Aaron White, a teammate of Yogi Ferrell and Will Sheehey over the summer in the World University Games. White is making 62.8 percent of his 2s in Big Ten play and his free throw rate (FTA/FGA) of 66.3 is third in the conference.
In addition to White, Iowa's frontcourt rotation also features senior Melsahn Basabe, Gabrial Olaseni and Adam Woodbury. This trio has the potential to cause major foul issues for Noah Vonleh, so it'll be interesting to see how McCaffery chooses to attack the paint. Iowa is getting more than 20 points and 15 rebounds a game in Big Ten games from Basabe, Olaseni and Woodbury and the depth gives the Hawkeyes plenty of options if one of the three is having an off night.
Sophomore point guard Mike Gesell is Iowa's third leading scorer in conference play with 9.6 points per game and his assist rate of 33.7 tops the league.
Jarrod Uthoff, Josh Oglesby and Zach McCabe will all contribute off the bench. Oglesby, who was recruited to be a 3-point specialist, has found the range this season as he's hitting close to 44 percent of his 3s in conference play.
TEMPO-FREE PREVIEW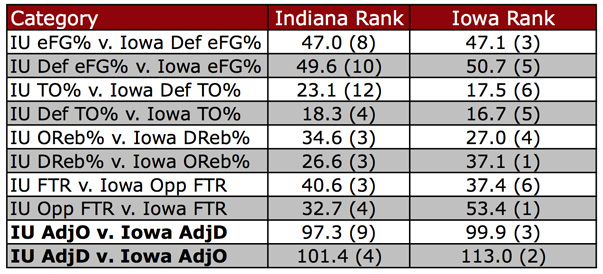 Both teams are excellent on the glass and at getting to the foul line, but Iowa is the far superior shooting team and is also significantly better at taking care of the ball despite playing the Big Ten's fastest pace.
Indiana is going to have to win this game on the defensive end as getting into an up-and-down contest with a team that can fill it up like Iowa is unlikely to yield favorable results.
The Hoosiers were successful in devising a game plan to slow down another potent offense (Michigan) earlier this month, but that performance was also aided by a huge shooting night from Yogi Ferrell. The Wolverines were also a much weaker team defensively than Iowa is, so Indiana is going to need notable offensive contributions from more than just Ferrell.
WHAT IT COMES DOWN TO
Pomeroy and Sagarin both like Iowa by six, while the Vegas line currently favors Iowa by four after opening at 3.5. Indiana is 3-3 at home in conference play thus far with wins over Illinois, Michigan and Wisconsin and losses to Northwestern, Michigan State and Penn State.
When playing its best, Indiana can play with any team in the conference in Assembly Hall, but the Hoosiers have yet to play a game where they've entered with this much adversity. The Penn State collapse clearly carried over to Saturday's blowout at Purdue. With young players playing major roles, there has to be a legitimate concern about confidence.
That said, this is typically a spot where Indiana is at its best. The Hoosiers are the underdog and this is a primetime spot with ESPN in Assembly Hall. The NCAA tournament is no longer a realistic goal (short of a run through the Big Ten tournament), but there's still plenty at stake in terms of the conference race and finding some positive momentum coming out of a disappointing couple of weeks.
Filed to: Iowa Hawkeyes