Five takeaways from Indiana's press conference on Assembly Hall damage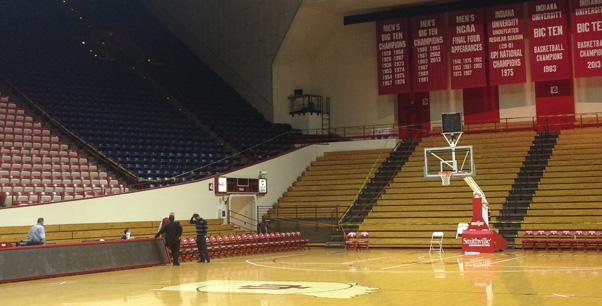 Following the fall of a piece of metal from the ceiling of Assembly Hall on Tuesday afternoon, Indiana athletic director Fred Glass, men's basketball coach Tom Crean and University vice president Tom Morrison spoke to the media regarding what happened.
Here are five takeaways — some of the main points — from Tuesday's press conference:
· Indiana believes the incident was weather-related: Following a preliminary review and analysis from Indiana University chief engineer Jeff Kaden and two external structural engineers from Fink, Roberts & Petrie, it appears the collapse was weather-related and that there are no structural issues with the 42-year-old building.

Simply put, in the four corners of Assembly Hall, a facing of steel plating — which serves no structural purpose to the building — runs from each side up the middle at a curve. The preliminary assessment revealed that the snow and ice accumulation settled at the lowest point in the curve on the northwest side of the building, perhaps due to warm weather and melting.
The heavy weight of the snow and ice was so significant that it essentially popped that bottom, northwest corner plate off, and the 8-foot-long and 14-inch wide, 50-pound slate fell on seats located in the first five rows of Section F.
· Indiana will know by Wednesday afternoon how significant the damage is: Engineers will bring a piece of equipment — essentially a lift — to Assembly Hall on Wednesday morning to examine if there is structural damage to the plates on the corners of the building.
If those plates need to be removed, if pieces are loose or not tight, they will be removed. That is the solution Indiana plans on pursuing, though they are unsure how long that might take and whether men's games would have to be relocated.
"It's a little bit of unchartered territory," Morrison said. "Our university engineer did tell me a little bit ago that he thinks the process could go quickly, but too early to tell until we get up there tomorrow morning."
· Administrators are optimistic: With the problem confined to the corners of the building, Indiana has roped off certain areas to Assembly Hall, including the north and south bleachers and the four blue sections in each corner.
Because of a lighter anticipated crowd, Indiana's women's basketball game against Michigan on Wednesday will proceed as scheduled.
As far as men's games are concerned, though, Glass said he is optimistic that the Hoosiers will be able to play their remaining home games at Assembly Hall, based on the preliminary review, but will know more on Wednesday.
· Make-up game date with Iowa still unknown: Only an hour after the fall, at 3:30 p.m., Kaden advised that Indiana postpone Tuesday night's game with Iowa. Only 20 minutes later, word was released that game had been postponed.
As of Tuesday night, Iowa had left Bloomington and no make-up game date had been set, though Glass said the two sides are confident it will be rescheduled within the next 72 hours. If that does not happen, the Big Ten will intervene.
Bankers Life Fieldhouse offered to host the Indiana-Iowa game on Wednesday night, and Iowa was open to it as well. However, based on logistics of trying to plan a game within a 24-48 hour turn around, the Hoosiers declined the offer.
"Just the collective efforts that need to go in to putting on a Big Ten game," Glass said, "our event staff felt like we couldn't do it in a way that they were comfortable with."
· A tragedy avoided: As Crean said on Tuesday night, "an incredible, tragic crisis was averted."
Should that 50-pound piece of metal have fallen 100 feet during Tuesday night's game, there would have been a certain risk of significant injury and potentially death.
The general vibe from IU officials, from the time they were assessing the damage on the court to the press conference three hours later, was that they are thankful this incident occurred while the building was empty instead of at the capacity of 17,472 fans.
Crean said he and his team were preparing for their walkthrough at the time this happened and even had 49ers coach Jim Harbaugh speak to his players pre-game. He had a feeling his players were "extremely ready to play" and had a positive mindset heading into Tuesday night. But the Hoosiers will adjust, accordingly.
"I'm disappointed we didn't get to do that," Crean said. "But that pales in comparison to what any of us would have felt like at 9:30, 10:00 tonight if something would have happened inside that building, and that is exactly how I said it to the players after practice."
Filed to: Assembly Hall, Fred Glass, Tom Crean