A blast to Indiana's past in Iowa matchup tonight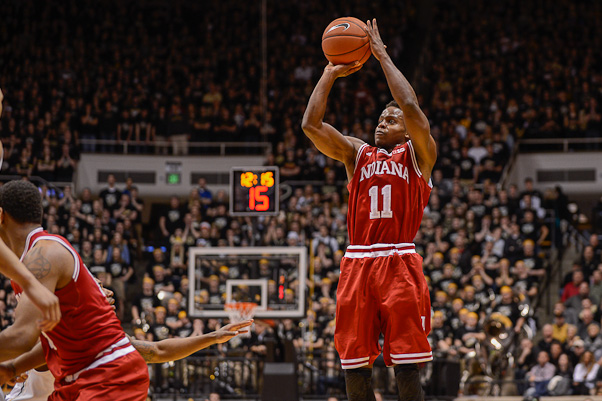 Throughout this season, one in which Indiana has struggled with the ups and downs of having a young team, Hoosiers coach Tom Crean has watched plenty of other teams and evaluated how they are doing. It's part of his job, after all.
One team he has watched quite often is No. 15 Iowa (19-6, 8-4), who makes the trip to Bloomington for tonight's 9 p.m. matchup against the Hoosiers (14-11, 4-8).
And each time Crean has watched the Hawkeyes, one recurring thought comes to mind.
"It reminds me when we watch them — and it has been this way all year — of what we had last year with our team with the experience, shooting, scoring and guys that have been there in a lot of hard games," he said on Monday's Big Ten coaches teleconference. "And also some young fire power that brought some energy to the table."
Indeed, Iowa comes into Assembly Hall tonight as one of the most seasoned teams in the Big Ten, with almost all of its active players having at least a season and a half of experience. On Crean's radio show Monday night, he commended Iowa coach Fran McCaffery on how he has built the Hawkeyes program with talent but without the "pro hits" that Indiana has suffered.
That mix Crean referred to, that the Hoosiers had in the 2012-2013 season in seniors Christian Watford and Jordan Hulls and future NBA players Cody Zeller and Victor Oladipo, has helped the Hawkeyes this season. Coming into tonight's game led by seniors Roy Devyn Marble and Melsahn Basabe, junior Aaron White and sophomores Adam Woodbury and Mike Gessell, Iowa is just one game out of the Big Ten lead.
A direct comparison of the 2012-2013 Indiana squad and the 2013-2014 Iowa squad shows both teams have a top-two offense in Big Ten play, both have the top tempo, both are No. 1 in FTA/FGA ratio and 3-point shooting percentage and both are in the top three in opponent's effective field goal percentage. For this year's Hawkeyes, an NCAA tournament bid is all but certain.
Indiana, a year removed from that same success, has struggled with consistency all season with the Big Ten's second-least experienced squad. In fact, only one starter from that 2012-13 squad remains on the Hoosiers roster: sophomore Yogi Ferrell. And come tonight, he and his teammates will have the task of stopping a team quite similar to the one he played on one year ago.
"Iowa is a very deep and talented team with a lot of versatility and an excellent offense," Ferrell said. "You have to defend with a purpose because so many guys can score for them. We have to be ready for the challenge."
Ferrell selected as finalist for Bob Cousy Award
On Monday, the Basketball Hall of Fame announced Ferrell is among 23 finalists for this year's Bob Cousy Award, given to the nation's top collegiate point guard.
Ferrell was one of only three Big Ten guards chosen as a finalist, the others being Michigan State's Keith Appling and Ohio State's Aaron Craft. LIU Brooklyn's Jason Brickman, Syracuse's Tyler Ennis and Connecticut's Shabazz Napier were among others chosen.
In his sophomore season, Ferrell leads the Big Ten with 17.9 points per game while shooting a 52.8 eFG% and a 42.1 3-point rate, up from only a 7.6 PPG clip last season. He also is sixth in the conference with 3.9 assists per game.
Filed to: Iowa Hawkeyes, Tom Crean, Yogi Ferrell