Quotes from Tom Crean on Big Ten coaches teleconference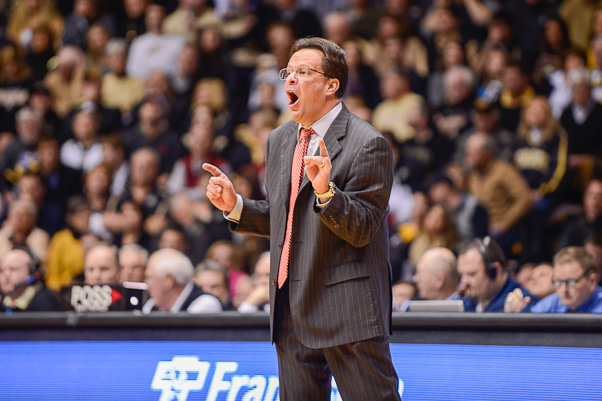 The Big Ten held its weekly coaches teleconference on Monday morning to review the seventh week of conference play. Here are some notes and quotes from Tom Crean's appearance:
· Prior to the call, the conference announced that Wisconsin's Nigel Hayes was named the league's freshman of the week for the fourth time this season and Nebraska's Terran Petteway and Wisconsin's Frank Kaminsky were named the league's co-players of the week.
· Opening statement: "Iowa is very hard to get ready for, and that's why they are so successful. They have excellent players and Fran is one of the top coaches in our league and in the country. He does such a great job of going from game-to-game, doing whatever it takes to win that game. He has a lot of things in the gameplan that he can go to. At the same time, they have their constants and their principles.
"You can see with them being as old as they are and as experienced as any team in this league, that they are playing that way. They are extremely unselfish with one another and cause so many issues with their versatility. We have a great task in front of us and that's what we are looking forward to tomorrow night.
"A tough week caught up with us in the second half yesterday at Purdue. We ran out of gas and Noah's fourth foul call hurt. We need to regroup quickly. We allowed Purdue to hurt us in transition and with some uncontested 3-pointers. We missed too many close shots and couldn't break their momentum.
"But today is a new day and we have a group that works very, very hard. Each day provides new challenges but also new opportunities. Preparing for Iowa reminds me of us form last year. (They have) an explosive running game, excellent shooting and veteran leadership. We are going to have to be very good in transition defense, active on the glass and keep drivers from creating havoc while making the simple plays on offense."
· On the depth that Iowa has: "We have to make it work for us. We have to take the speed of the game and make it work for us. They can do numerous things, whether it is pressure or man or zone or switching because of the versatility. He has recruited a very versatile team. It reminds me when we watch them – and it has been this way all year – of what we had last year with our team with the experience, shooting, scoring and guys that have been there in a lot of hard game. And also some young fire power that brought some energy to the table.
"We have to challenge shots. They are as good as anyone in this league at getting out (on the fast break) after makes or misses. There are some very good transition teams in this league, but they are as good as any. Not only because they get the ball up the court with the dribble or down the middle, but the way they shoot the 3-pointer in transition. So we have to be really good there."
· On breaking out of the recent slump with a young team versus experienced teams from past seasons:
"I think you definitely approach it differently. You need to get after it. You need to work at it, in the sense of positive energy and fuel that. We have a lot of hard workers in here and a lot of guys that put a lot of time and effort into it. You don't want to press too hard. You don't want to feel an outside, unneeded pressure that can wear you down physically and mentally. So you absolutely try to do different things."
· On defenses focusing on Yogi (Ferrell) and the challenges that presents:
"I think that is pretty obvious thing, that coaches are playing the percentages, or lack there of, of some of our other players shooting. So we have to keep the game in movement. I think Yogi is doing an excellent job with the ball because he is off the ball more, and that's the most important thing – you have to be in movement. At certain times, it can look like the offense is slowing down because the defense is in a help position and a lot of the driving lanes aren't there. That is where the screening has to be great. We are not reading back cuts as well as we should be. We are not reading some of the open gaps. And what happens is when guys that are used to getting the ball and having the defense centered around them – especially the young guys – when that isn't happening because the defense is not respecting what you do, then you really have to go and be creative. That's where offensive rebounding has to come up big.
"It's the same thing with Noah. He touches the ball but he isn't as aggressive as he needs to be with the ball. Some of that is the offensive rebounding. Some of that is taking advantage of driving opportunities when they are there. Some of it is being ready to shoot. Some of it is not looking to just pass the ball as soon as he touches it and he usually looks for it in the post. But Noah has to move around somewhat too. No question that when you don't have as many outside shooters, the defense dictates so much of how the offense is going to look as a whole. But it can't dictate how it looks from a person in movement, and the person in movement has to constantly try to create a look or opportunity for someone else. It doesn't matter if it's a set play or random basketball. That is why transition is good for us. That's why transition pick-and-roll's are good for us because the game is in movement and the defense isn't set yet.
"But we have some of our guys that are not making as many shots have to be more aware of what they need to do with cutting, screening, flashing and those types of things right now. That is the consistency that we haven't gotten."
· On having freshmen in the starting lineup compared to other teams with older players: "I don't think there is any question that plays into it. We are certainly as young as anyone in the league and at times we play that way. What happens is, when you are young and you don't have the experience, you don't have the consistency. What we have is a consistency in work habits and work ethic, which is good and part of the process. But we don't have that consistency of what it takes, physically and mentally, to win the games. That is where awareness comes in. That's where needing to make this cut or that cut or I don't need to pass the ball here or running the play the way it needs to be run or I need to take one more dribble at the basket or I need to slow down…those kinds of things are all part of it.
"We have been down that road before and have played with young players. Our older players, with the exception of two, are basically sophomores. They are all trying to figure it out too. Bottom line is we just have to do a better job of being consistent and then when things get tight, we have to have even more internal leadership, which leads to external leadership when they are out on the court, where guys make their teammates feel like everything is going to be OK and it's going to work out. And then they have to carry that out on the court. When you have guys that are struggling, sometimes for the first times in their lives, that takes a while to go through that process where they can get that confidence and get that consistency when things are going well for them. That's what we are trying to work through right now."
Filed to: Tom Crean