Notebook: Crean, on radio show, says Penn State loss 'really devastated us'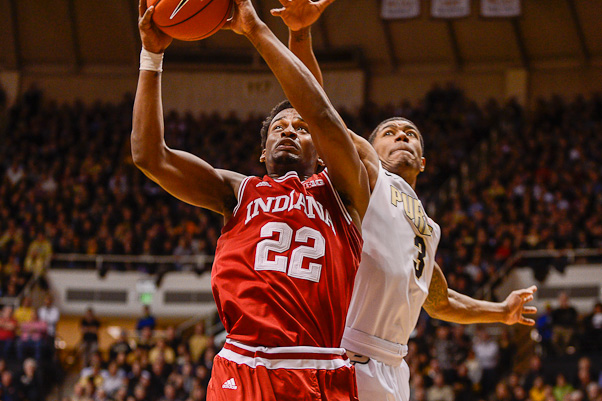 On Tom Crean's weekly radio show on Monday night, host Don Fischer opened his introduction of the Hoosiers coach by saying "Coach, it was a tough week for your basketball team…"
Crean interjected. "You think?"
By now, everyone knows what happened. Wednesday: Indiana leads a lowly 12-12 Penn State squad, 64-53, with 2:26 left and loses. Friday: Sophomore Hanner Mosquera-Perea is arrested on suspicion of operating while intoxicated. Saturday: The Hoosiers get blown out by rival Purdue, 82-64, in West Lafayette.
It was, arguably, the most turbulent week in the Tom Crean era. And on his radio show Monday night, Crean reflected on the week that was, starting with the second-half collapse against Penn State.
"We should have never been in that situation," he said.
But what Crean admitted he did not calculate very well was the impact that 66-65 loss would have on his team. The arrest of Mosquera-Perea, who Crean likened to a "family member," only hurt the team's morale even more, he said. Crean has preached plenty of times, this season, a game-by-game mentality, but during Saturday's game at Purdue he could tell his team's spirit wasn't there.
Just based on his team's huddles, he could tell his team wasn't in the right mental mindset.
"I think we really underestimated how much that one really devastated us," he said.
"We got away from it there. And it's too bad because it was a winnable game and it ended up affecting us the next game."
And the result was an 18-point loss to the Boilermakers — the largest margin of defeat the Hoosiers have faced this season. Indiana is now 10th in the Big Ten standings with a 4-8 record. Only the Nittany Lions and Illinois have worse records.
But perhaps there is an even bigger, underlying concern with this team, only exemplified by the struggles of last week: effort. Crean said it's there, but his players' level of effort is not in the context he would like it to be at.
"Your effort can be one thing, but your attitude toward it can be another," he said. "And that's what we've got to improve."
Crean looks back at 2012 recruiting class
When Crean was asked, Monday night, about the 2012 recruiting class and whether it's been a disappointment, he said that neither he nor his assistants have coached them with "unrealistic expectations."
Those unrealistic expectations Crean referred to was the nickname of that recruiting class, "The Movement," as dubbed by former commit Ron Patterson. The nickname caught on via social media, Indiana's press corps started to use it and the group consisting of Patterson, Yogi Ferrell, Peter Jurkin, Jeremy Hollowell and Hanner Mosquera-Perea became known as the ones — fair or not — that would help the Hoosiers to its first national title since 1987.
Of course, Patterson didn't last one summer in Bloomington and Jurkin has dealt with injuries, barely seeing the floor in his first two seasons. Mosquera-Perea was a work in progress, according to Crean, and now has legal issues to deal with. Hollowell, Crean says, has "not played to the level of his abilities."
Out of that five-man class rated No. 8 in the 247Composite team ranking, Ferrell is the only one starting for the Hoosiers less than two years after they arrived on campus. And he has carried the bulk of the load, averaging 17.9 points and 3.9 assists per game this season.
Hints about 2014-2015 schedule revealed
Though he was hesitant to give many details away, Crean talked a bit about next season's schedule, which already has the Hoosiers slated to play Louisville and Butler in neutral-site, non-conference games.
"There will be a few more marquee names on there," Crean said.
One of those marquee names could potentially be a Big East team. Another will be against an ACC team in the Big Ten/ACC Challenge, which will most likely be played in Assembly Hall.
Crean also said his team will play in an exempt tournament, which will include four home games, with the fourth against a "very, very good team."
Indiana had lacked a marquee, non-conference opponent this season, which Crean had been hoping for but was unable to achieve in his efforts with Fred Glass.
Filed to: 2014-2015 schedule, Tom Crean